Blackbird 4K 1x2 HDMI Splitter
Description
Blackbird 4K 1x2 HDMI Splitter
In a technology driven world high definition content has become the standard. If you need to simultaneously view HD content on multiple displays, you need a way to split the signal between the displays. Normally a source is connected directly to a display, but that will not work if you need to push the signal to more than one display.
These splitters are powered so besides splitting the signal, they can also be used at the end of a cable to regenerate and essentially boost the HDMI® signal. Whether your need is at home, at school, in a retail store, or in a corporate office, these plug-n-play splitters are the perfect portable solution to view HD content on multiple displays at the same time.
Features:
Splits one HDMI 1.4 signal to two HDMI displays at the same time
3D content support - this splitter can automatically detect the EDID and output 3D content
Consumer Electronics Control (CEC) Support - if supported by the source and display, users can control all devices with one remote
Plug-n-Play technology - There is no configuration for these units; just plug them in and you are ready to go
Small and portable - the splitters are small enough to travel with and light enough to be mounted in permanent locations
Supports Digital Audio Formats, such as Dolby TrueHD™ and DTS-HD Master Audio™
Supports HDCP 1.4
Up to 36-bit Deep Color support
10.2Gbps maximum data rate
Energy Saving power consumption as low as 1 watt
Power Source: 5 VDC, 1A (power adapter not included)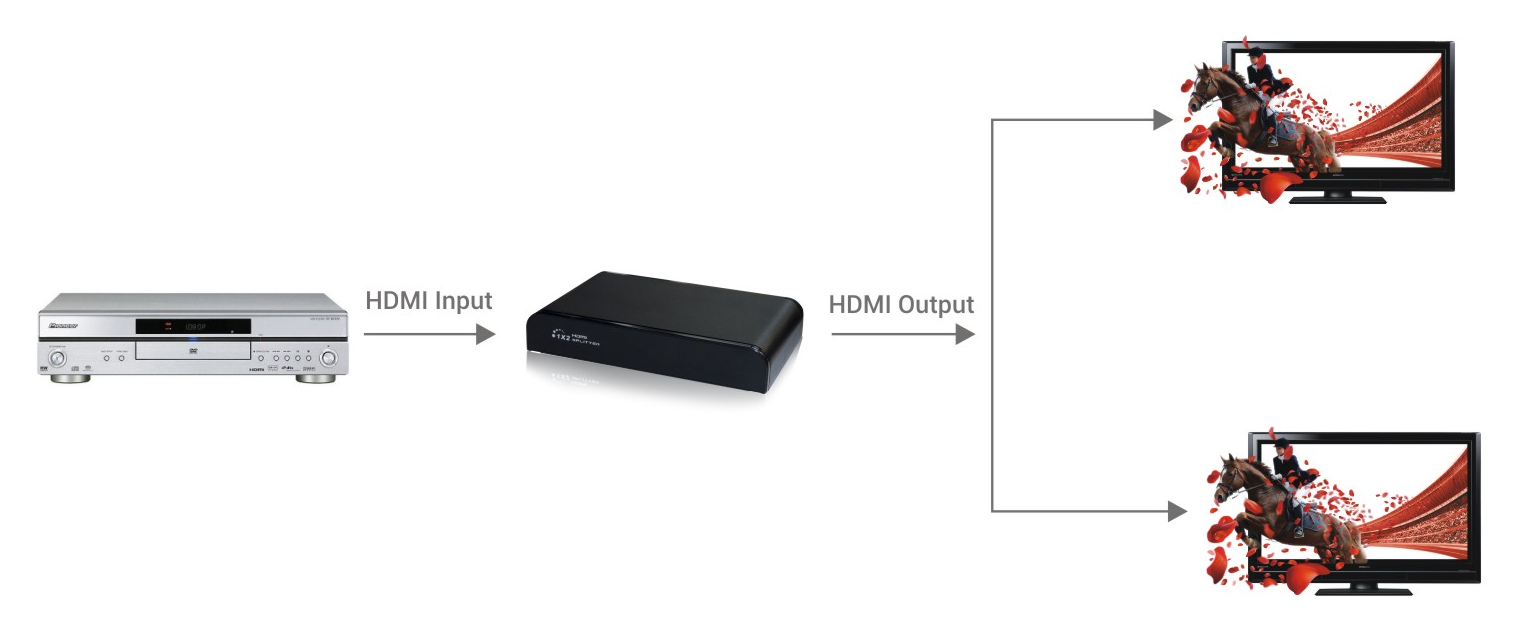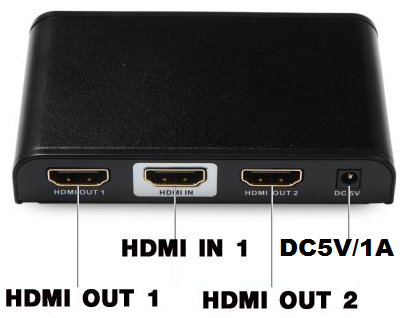 HDMI Resolutions Supported:
480i@60Hz
480p@60Hz
576i@50Hz
576p@50Hz
720p@50/60Hz
1080i@50/60Hz
1080p@50/60Hz
1080p@24Hz 3D
720p@50/60Hz 3D
4K@30Hz
Size and Weight:
Weight: 3.2 oz. (92g)
Dimensions (L x W x H): 3.7" x 2.3" x 0.6" (95 x 58 x 16 mm)
Package Contents:
1x 4K 1x2 HDMI Splitter with 3D support
1x Power Adapter
1x User Manual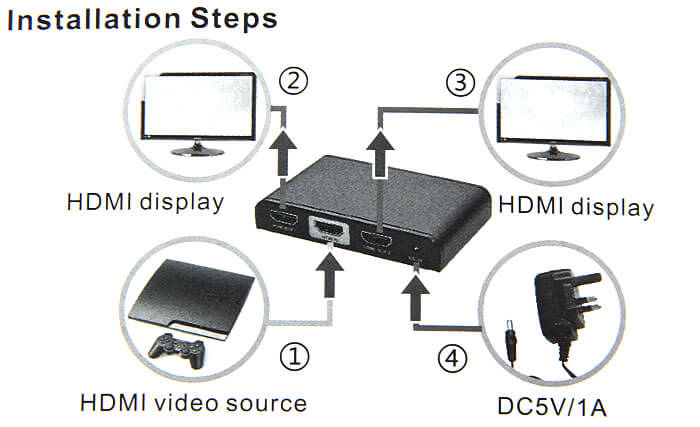 Operating Environment:
Operation Temperature: +14 ~ +131°F (-10 ~ +55°C)
Storage Temperature: -4 ~ +158°F (-20 ~ +70°C)
Relative Humidity (noncondensing): 0 ~ 95%
Note: For optimal distance and performance, please use High Speed HDMI Cables
HDMI®, the HDMI Logo, and High-Definition Multimedia Interface are trademarks or registered trademarks of HDMI Licensing LLC in the United States and other countries.
DTS® is a registered trademark and the DTS logos, Symbol, DTS-HD™ and DTS-HD Master Audio™ are trademarks of DTS, Inc.
Dolby® and the double-D symbol are registered trademarks of Dolby Laboratories.