What is it about Tubes that makes audio sound so much better?
As hybrid amps with both tube and solid-state amplifier stages, these amplifiers are the best of both worlds. The tube preamplifier section ensures that harmonics generated by overdriven signals are pleasant and musical, while also ensuring the output stage is never given a clipped, DC signal to amplify. This means that the solid-state power amplifier is less likely to distort, thereby avoiding harsh, unmusical harmonics and ensuring that speaker-killing DC signal is not produced. Since the audio signal cannot clip the tube, you do not need the higher power output levels of pure solid-state amps, which use the extra power as headroom to handle musical peaks without clipping. A 25-watt tube or hybrid amp can sound as loud as a 50-watt solid-state amp.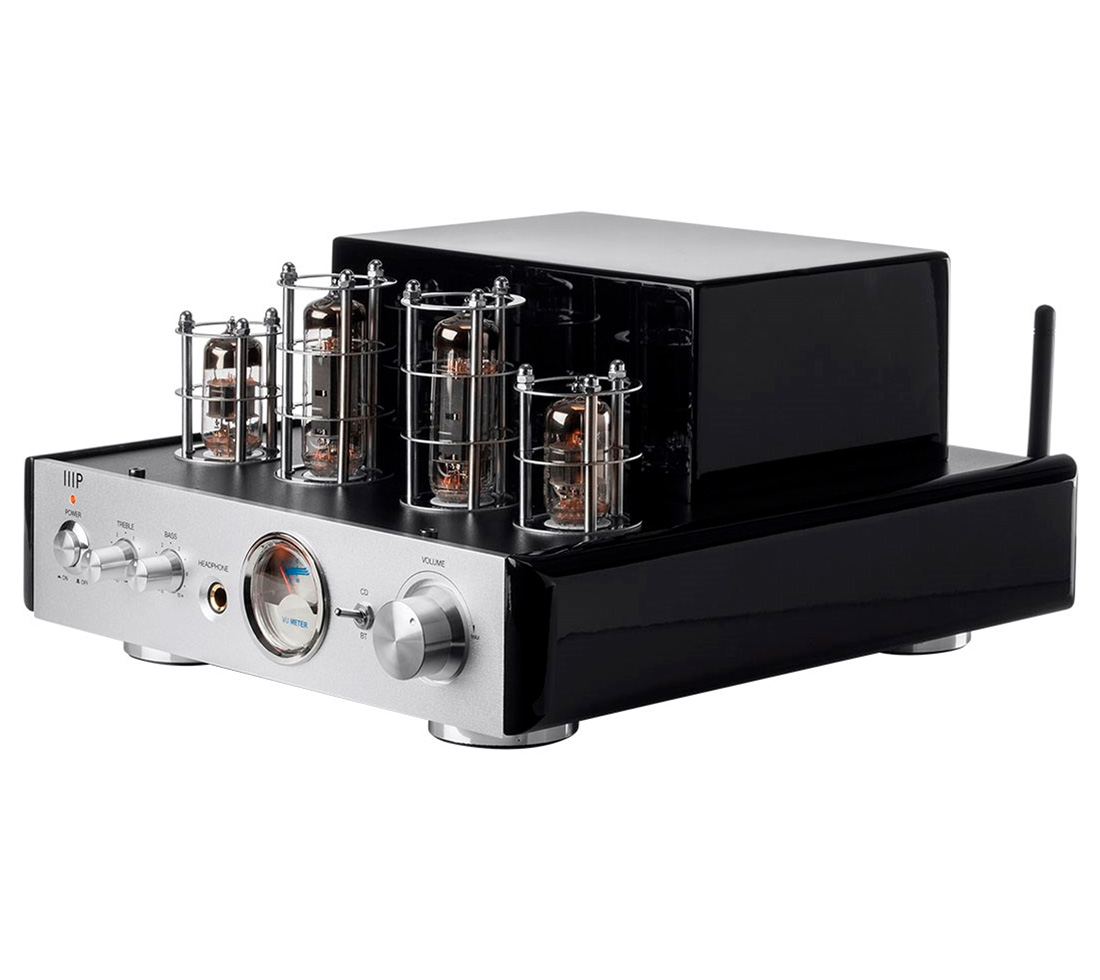 COMPACT STEREO HYBRID 15W TUBE AMP WITH BLUETOOTH®
This compact Stereo Tube Amp will provide warm soothing sound to help you get the work done without listening to the pinched sound of a regular Bluetooth® speaker. The minimalist retro look will compliment any office decor. Enjoy the glorious warmth and glow of tubes as you finish your proposals, generate spread sheets, or watch cat videos. This stereo amp provides 15W of power per channel so the sound is not too loud but still sounds clean and full.
STEREO HYBRID 25W TUBE AMP WITH BLUETOOTH®
Enjoy the experience of sound, style, and convenience with the original 25-Watt Stereo Hybrid Tube Amp with Bluetooth®! The tube preamp glows and adds warmth and richness that solid-state circuits can't touch, breathing new life into your digital music. The black and chrome appearance with exposed tubes will take you back to a time when the journey was the destination. Perfect for any office or study and ready to throw down on a Friday night. Featuring wired RCA and wireless Bluetooth® connections, it achieves a level of versatility and easy usability that is unsurpassed.

The original tube amp that Wall Street Journal calls "The Miracle of a $150 (or Less) Tube Amplifier." Find out why >>
Stereo Hybrid 50W Tube Amp with Bluetooth and Preamp Out
Time to party in style with this 50-Watt Stereo Hybrid Tube Amp! Enjoy the convenience of streaming Bluetooth® at full volume without the digitized sound of compressed audio. The tube preamp stage adds warmth and richness that solid-state circuits can't touch, breathing new life into your digital music. The Black on Black appearance with exposed tubes gives a look of uncluttered simplicity, which looks great with its soft warm glow. If more bass is your game then use the Dual RCA preamp outs and connect your favorite powered sub to the system. Featuring wired RCA and wireless Bluetooth® connections, it is versatile and simple to use.
Stereo Tube Headphone Amp with DAC, Bluetooth and Preamp Out
Sometimes you just need to lose yourself in your favorite tunes. Grab your favorite headphones and plug in to the Stereo Tube Headphone Amp. Most streaming services and your iTunes™ library are easy and convenient but are not the best sounding. The Stereo Tube Headphone Amp solves this. Whether you are using the 24bit/96kHz USB DAC or using Bluetooth from your phone, the sound is greatly improved with warmth and depth. The USB DAC is fully capable of handling all of your lossless audio files for truly superior sound.
FAQ's
A: Yes, the humming is completely normal. Tube Amps require significantly more power than circuits (one of the reasons they stopped making tube amps for a while). The large black box behind the tubes is the power transformer that activates the tubes and the reason for the mechanical hum. It converts AC current from the wall to DC power to drive the unit. The hum should be less than 50db (normal speaking voice is 60db). As the unit warms up, the humming will decrease to about 40db. The hum will be inaudible once music is played at moderate room levels.
A: Properly operating tubes will have a warm glow. The warmth is due to the filament in the glass heating up just like a light bulb. It will not get as bright or as hot as a light bulb but it will generate some heat. The tubes help produce the signature warm sound of a tube amp.
A: Yes, tubes will degrade over time. With moderate use (4-6 hours per week), tubes will need to be replaced once every one to two years. It's time to replace the tubes when the sound starts to get distorted regardless of input gain or output volume. Also, many tubes look very similar but have different wiring schematics. If the wrong replacement tube is used, it can cause damage to the tube amp. Refer to your owner's manual for proper replacement.
Quality
Monoprice believes that the whole point of listening to music is to hear it as the artist intended. Our engineers and audio experts have spent countless hours listening to and comparing various speakers and headphones until we were satisfied we had found models that fit our demanding standards.