mBot Wi-Fi® version - Beginner
Quantity:
Note:
Due to limited supply, all products are sold on a first-come first-serve basis. Auto Notification does not guarantee either availability or price. All prices are subject to change without notice.
*Your information will only be used to notify you when this item becomes available.
Description
mBot Wi-Fi® version - Beginner
What is mBot?
mBot is an all-in-one solution for kids to enjoy the hands-on experience about programming, electronics, and robotics. Working with mBlock inspired by Scratch 2.0, controlled by Bluetooth, this easy-to-assemble mBot provides infinite possibilities for your kid to learn STEM (Science, Technology, Engineering, Mathematics).
Contracted But Not Simple
Contains 38 assembly parts that can be assembled in 10 minutes and color-labeled RJ25 ports for convenient wiring, making sure more time can be spent on programming and creativity.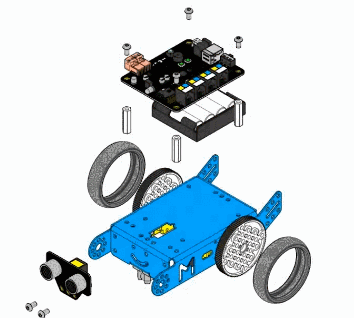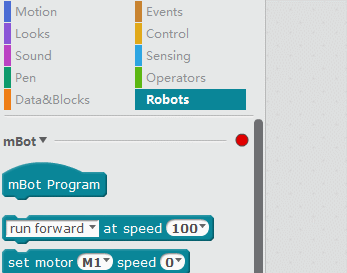 Graphical Programming
Drag-and-drop graphical programming software mBlock developed based on Scratch 2.0 provides a quick way for kids to learn programming, control the robot, and realize multiple functions from the robot.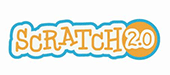 Fun, and Fun
mBot is all about fun and creativity. It comes with various basic pre-assembled options, including obstacle-avoidance car, line-following vehicle, remote control car, and can be used in multiple games like balloon bursting game, soccer playing, sumo, and etc.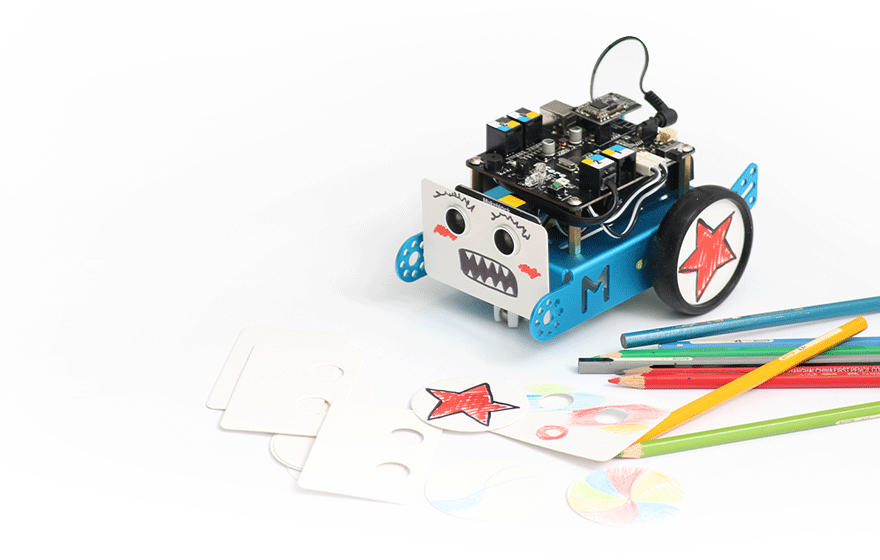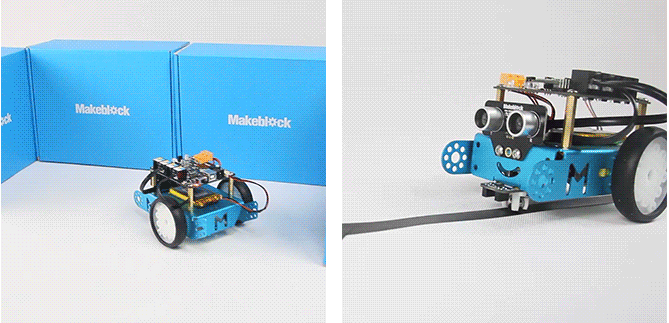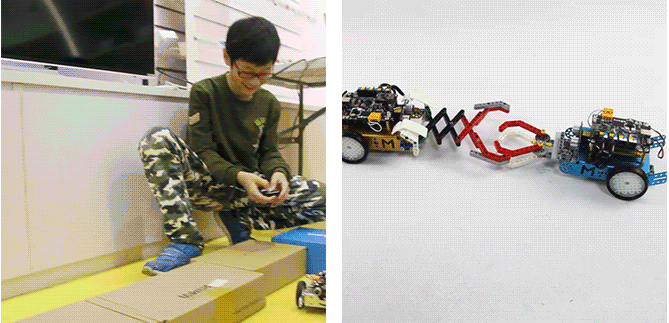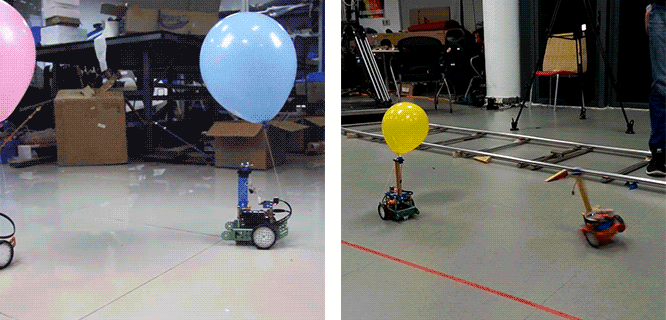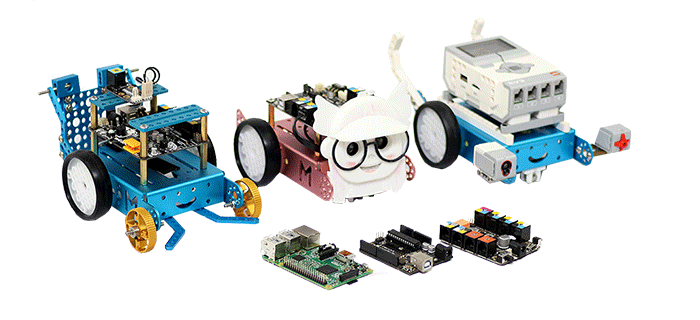 Infinite Extensibility
The mechanical body of the mBot is compatible with Makeblock platform and most of Lego parts, while the electronic parts of it is developed based on the Arduino open source ecosystem. This makes sure that the mBot has infinite extensibility, using any mechanical parts and electronic modules you need to turn it into your "dream robot".
Unique Curriculum System
To help teachers, parents, or kids get started easier and faster, you will also find that we provide online manuals and two online courses that will be updated regularly. These online tutorials are developed and maintained by teachers, especially scratch teachers, at home and abroad. Know more here.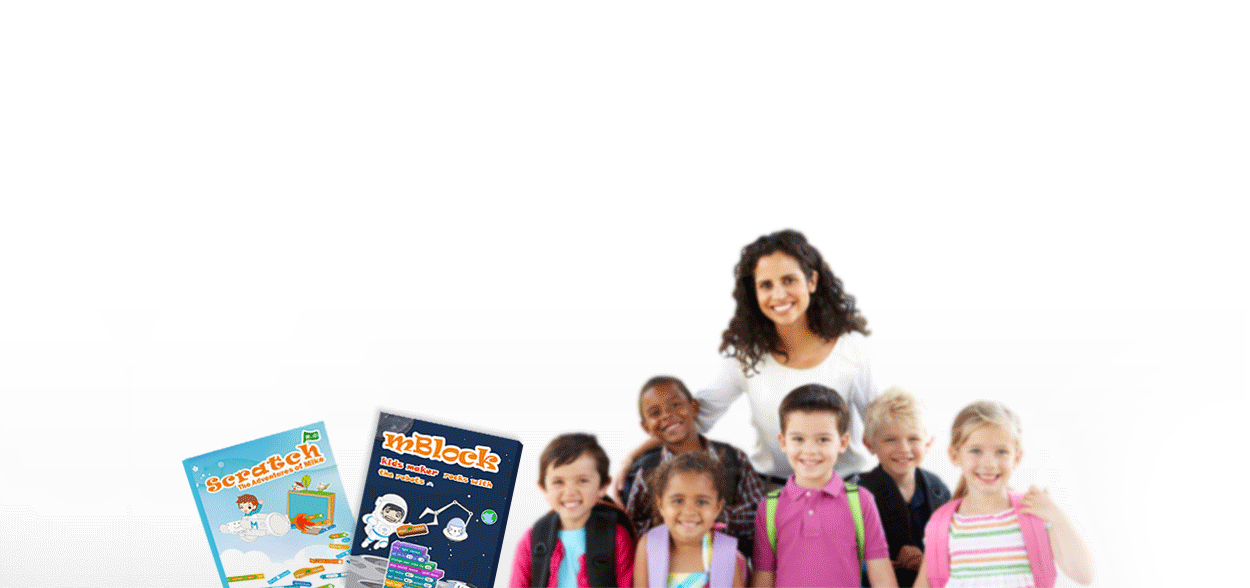 Full Specs
Software and Programming
mBlock(graphical) based on Scratch 2.0 - Mac®, Windows®
Arduino IDE
Inputs
Light sensor, button, infrared receiver, ultrasonic, sensor, line follower
Outputs
Buzzer, RGB LED, Infrared emitting, two motor, ports
Microcontroller
Based on Arduino Uno
Power
3.7VDC lithium battery(charger on board) or four 1.5V AA batteries (available separately)
Wireless Communication
2.4GHz wireless serial
Dimensions
17 x 13 x 9 cm assembled
Weight
400g assembled
Support Files:
Wi-Fi® is a registered trademark of Wi-Fi Alliance.
Apple® and Mac® are trademarks of Apple Inc., registered in the U.S. and other countries.
Microsoft® and Windows® are either registered trademarks or trademarks of Microsoft Corporation in the United States and/or other countries.
SIGN UP FOR EMAIL DEALS