Z-Wave Plus Wall Socket Plug-in Receptacle with 2 USB and 1 AC Port up to 2.4A (Works with Alexa & Google Home with Hub)
$20.99
$29.99
On Sale
30.01% OFF
Description
Z-Wave Plus Wall Socket Plug-in Receptacle with 2 USB and 1 AC Port up to 2.4A (Works with Alexa & Google Home with Hub)
Monitor and manage energy consumption to reduce costs with the Monoprice Z-Wave Plus® Wall Socket Smart Plug. This product is a Z-Wave® switched AC plug-in adapter. AC power can be remotely switched on or off manually with a button on the plug, remotely using Z-Wave manual control, or automatically with Z-Wave programming or triggered response.
Using Z-Wave commands, you can query the plug-in to report the power consumption, either as direct wattage or the kilowatt hours (kWh). It also includes two USB ports, one capable of 1A of charging power and the other capable of 2.4A of charging power, so you can keep your mobile devices charged without using another AC power socket for a wall charger.
Features:
Add Z-Wave control to any AC-powered device or appliance
Switch AC devices on/off manually, with manual Z-Wave control, or automatically with Z-Wave programming or triggered response
Compatible with any and all Z-Wave network products from any manufacturer
Includes two USB charging ports, one at 1A and the other at 2.4A
Compatible with SmartThings™, Vera™, Wink®, Vivint™, HomeSeer™, and Zipato®
RBoy Apps Compatibility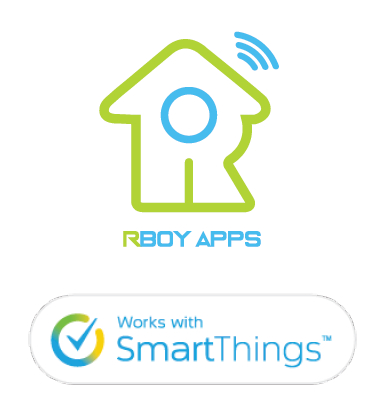 This Monoprice Z-Wave® product supports the Smart Apps iOS® and Android™ applications developed by RBoy Apps (http://www.rboyapps.com). Smart Apps and the accompanying Device Handlers work in combination with the Samsung SmartThings™ hub to interact with devices around your home, such as this and the other Z-Wave devices we sell.
Allows Monoprice Smart Home products to work with SmartThings. (Not all devices are currently supported by the platform).
Allows SmartThings to automatically recognize new devices and select the correct device handlers
Allows users to access/utilize all of the device functions (e.g. multi-function sensors)
Allows users to configure the advanced parameters for the devices
Creates a user friendly interface for the SmartThings platform for Monoprice Smart Home products
RBoy Apps allows users to create a hands free automation environment that's customized to their needs
RBoy Apps allows multiple Monoprice Smart Home products to come together to create a whole home automation experience (one-stop-shop)
*RBoy Apps is an optional add-on and would require a subscription fee to activate.
Support Files:
Z-Wave® and Z-Wave Plus® are registered trademarks of Sigma Designs and its subsidiaries in the United States and other countries.
SmartThings™ is a trademark of Samsung Electronics Co., Ltd.
Vera™ is a trademark of Vera Control, Ltd.
Wink® is a trademark or registered trademark of Wink Labs Inc. in the U.S. and/or other countries.
Vivint™ is a trademark of Vivint Inc.
HOMESEER™ is a trademark and brand of HOMESEER TECHNOLOGIES, LLC.
Zipato® is a registered trademark of Tri plus grupa d.o.o.
Full Specs
Radio Protocol
Z-Wave Plus®
Radio Frequency
908.42
Indoor Z-Wave® Radio Range
Up to 131 ft. (40m), depending on building materials
Outdoor Z-Wave Radio Range
492 ft. (150m)
AC Input Power
120 VAC, ±10%, 60Hz
Rated Current Load
15A
Maximum Resistive Load
1800W
Power Consumption
≤1.5W
USB 1 Output
5.0 ±0.25 VDC, 1A, 5W
USB 2 Output
5.0 ±0.25 VDC, 2.4A, 12W
Operating Temperature
+14 ~ +104°F (-10 ~ +40°C)
Storage Temperature
-4 ~ +140°F (-20 ~ +60°C)
Storage Humidity
0 ~ 80% RH, non-condensing
Dimensions
3.2" x 2.2" x 1.1" (82 x 55 x 28 mm)