DIY Makeblock mGiraffe Aluminum Delta 3D Printer Kit
Note:
Due to limited supply, all products are sold on a first-come first-serve basis. Auto Notification does not guarantee either availability or price. All prices are subject to change without notice.
*Your information will only be used to notify you when this item becomes available.
Description
DIY Makeblock mGiraffe Aluminum Delta 3D Printer Kit

mGiraffe DIY 3D Printer Kit
---
mGiraffe is a new type of do-it-yourself delta 3D printer kit based on the popular Makeblock platform. Consisting of an open hexagon linkage structure and powerful electronic control system, mGiraffe is engineered to deliver an extraordinary 3D printing experience.
---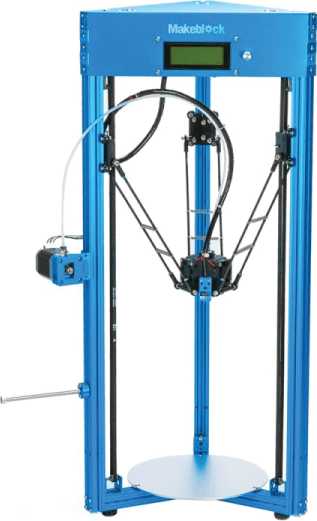 Stable Mechanical Structure
---
Constructed of heavy-duty anodized 6061 aluminum, the mGiraffe is sturdy, stable, and capable of fine printing resolutions, making it well-suited to projects of all sizes.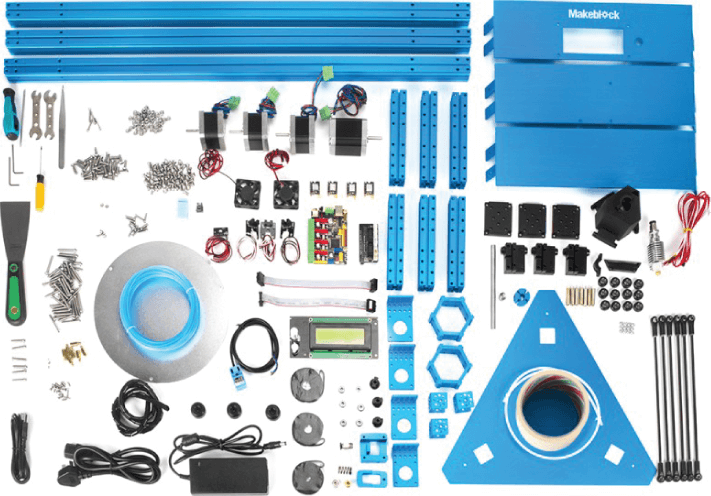 Fun and Engaging Do-It-Yourself Kit
---
Rather than coming preassembled, like many 3D printers, the mGiraffe is a do-it-yourself kit. By assembling the printer from the ground up, you will become intimately familiar all the individual parts, making it easier to modify or repair the printer on your own. Additionally, you'll have the pride of knowing that you put it together yourself and the confidence to tackle other complicated projects. And don't worry about trying to following complicated, poorly written assembly instructions. We provide an easy-to-follow, step-by-step video assembly guide, which will take you from a box of parts to a fully assembled 3D printer in less than an hour.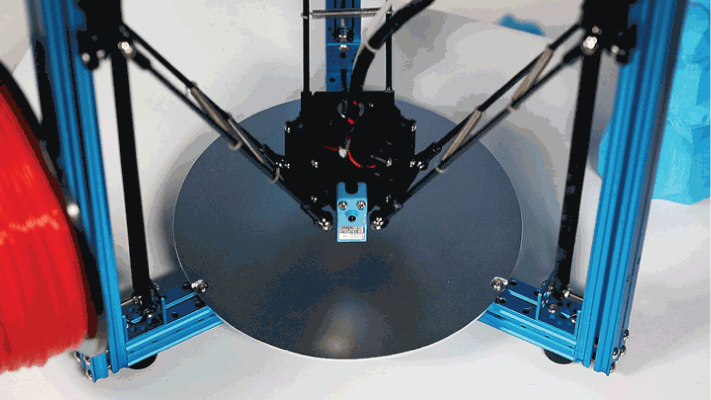 Auto-Leveling System
---
The non-contact photoelectric limit switch and the metal proximity switch of the mGiraffe makes it possible for position compensation of the X, Y, and Z axes for easy, automatic leveling. mGiraffe was designed to be as easy to use as possible, allowing you to focus on creating and enjoying your prints, instead of spending time tweaking and troubleshooting the machine.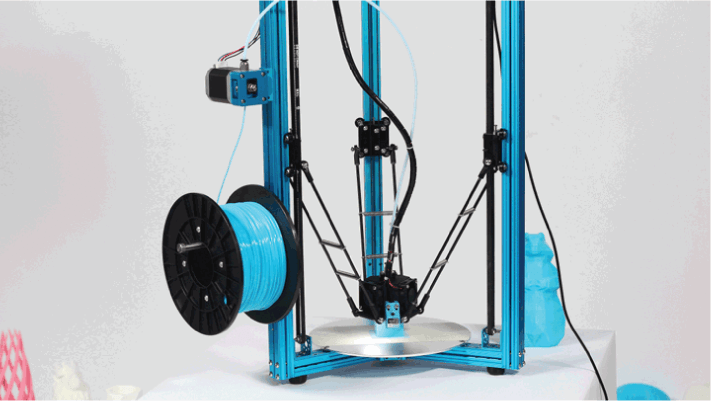 High-Quality 3D Printing
---
The mGiraffe's guide-rail slide and timing belt system allow for layer thickness as small as 0.1mm. This level of precision and accuracy ensures smooth and accurate high-resolution 3D models.
Features
Easy to assemble do-it-yourself 3D printer kit allows you to become intimately familiar with the parts and overall construction, making it easier to modify or repair the printer




Includes easy-to-follow video assembly guide, allowing you to go from a box of parts to a fully assembled printer in under an hour




Automatic leveling system for perfect prints every time




Sturdy and stable aluminum construction allows for high-precision printing
Full Specs
Frame Construction
Anodized 6061 aluminum and plastic
Extruder Construction
All-metal
Build Platform Construction
Aluminum alloy
Heated Build Platform
No
Automatic Leveling System
Yes
Mainboard
Mega2560
Filament Type
PLA
Filament Diameter
1.75mm
Nozzle Diameter
0.4mm
Layer Resolution
0.1 - 0.3 mm
Print Speed
up to 150mm/sec
Build Volume
ø180 x 300 mm
Compatible Software
Cura, Printrun
Supported File Type
.stl, .gcode
Connection Types
USB, MicroSD® card
Offline Printing
Yes, using MicroSD card
Input Power
12 VDC, 5A
AC Adapter Input Power
100 ~ 240 VAC, 50/60 Hz
Physical Dimensions
ø11.8" x 30.2" (ø300 x 766 mm)
SD®, SDHC®, and microSD® are trademarks or registered trademarks of SD-3C, LLC in the United States, other countries, or both.
Questions and Answers
Browse 1 question
Browse 1 question and 2 answers
Would it take much to add a headed print bed to the Makeblock 3D printer?
BEST ANSWER:
Short answer, it would not be easy. Long answer, you'll need to replace the power supply (or at least add a 2nd one), modify and reflash the firmware (uses customized version of Marlin 1.0.0-RC3). I would recommend an external bed heater mosfet as I wouldn't trust the onboard one to carry that large of a load. I have not yet added one to mine, but I plan to eventually.
Josh P

on Jul 23, 2017

Purchased on Jul 10, 2017
SIGN UP FOR EMAIL DEALS