mDrawbot (Four-In-One Drawing Robot), Intermediate
Quantity:
In Stock
This item should ship today (5/26/2017) if ordered
within 11 hours 32 minutes
Description
mDrawbot (Four-In-One Drawing Robot), Intermediate
What is mDrawBot?
mDrawBot is the world's most fully-featured four-in-one drawing robot. It can be assembled into 4 different configurations: mScara, mSpider, mEggBot, and mCar.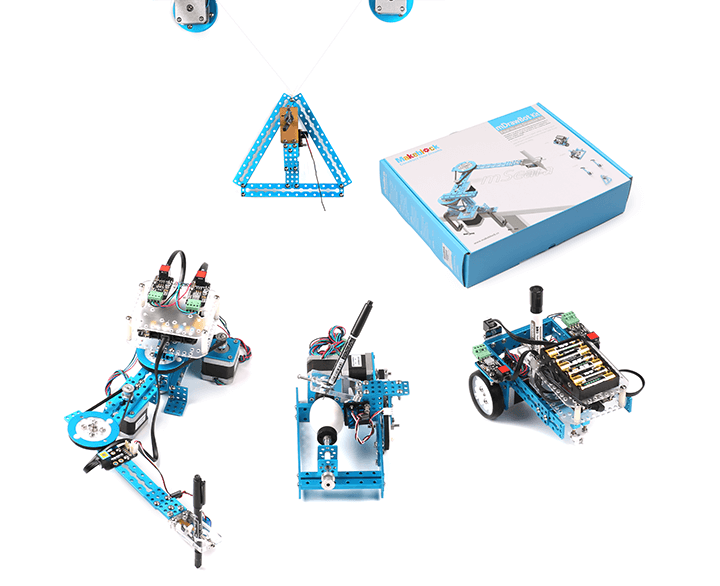 This kit consists of over 60 components from Makeblock, including beams, brackets, motor, etc. It also comes with a specially-designed software named mDraw to control these robots. Here's the picture of all the components.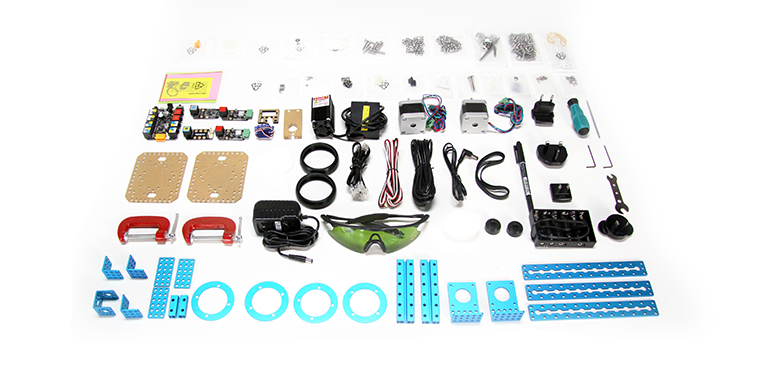 Specifications
1. Frame: Anodized Aluminum
| | | | | |
| --- | --- | --- | --- | --- |
| | mScara | mSpider | mEggBot | mCar |
| Working Area (mm2) | 120° of an annulus (exradius 208mm, irradius 168mm) | / | Cylinder with L×D = 60×(10-60) | / |
2. Power Supply:
| | | | |
| --- | --- | --- | --- |
| | Voltage | Current | Frequency |
| Input | 100 ~ 240 VAC | 0.6A | 50/60 Hz |
| Output | 12 VDC | 2.0 A | / |
3. Main Controller: Makeblock Orion (Arduino UNO compatible)
4. Software: mDraw
5. Connection: USB or Bluetooth
6. Supported File Types: .Plain SVG, .BMP etc.
7. Supported OS: Windows® 7 or later. (Will be available in Mac® OS X®, Linux soon.)
8. Package Contains:
Aluminum Extrusion Parts
Plastic Timing Pulley 90T
Timing Pulley 18T
Pen Lift Mechanism
Makeblock Orion(Controller)
Stepper Motors
Stepper Motor Drivers
9g Micro Servo Pack
Cables
Other Hardware and Accessories
mScara
mScara is a SCARA (Selective Compliance Articulated Robot Arm) driven by stepper motors. Adding a pen on mScara, it can draw pictures on a flat surface. You can also turn mScara into a desktop laser engraver replacing the pen with a laser diode.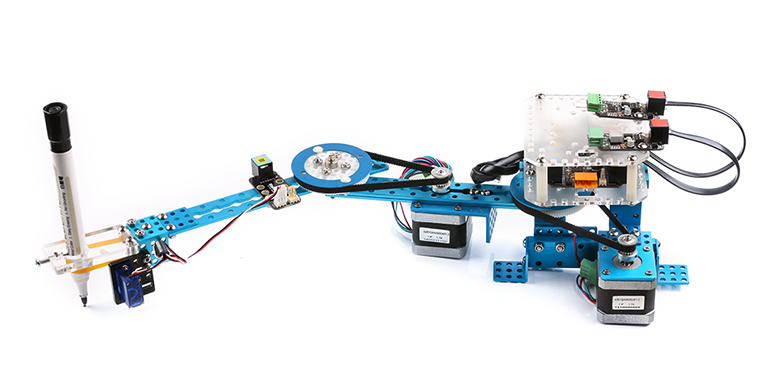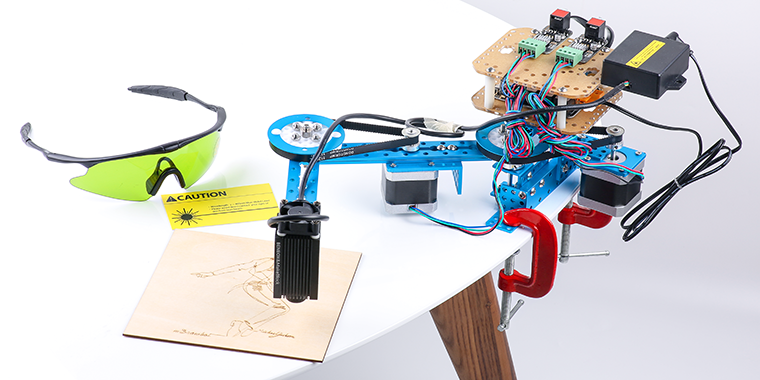 mSpider
mSpider is a drawing robot which can draw pictures on a wall or a white board. Two stepper motors control the movement of mSpider though strings. Theoretically, its drawing range can be expanded by increasing the length of the strings.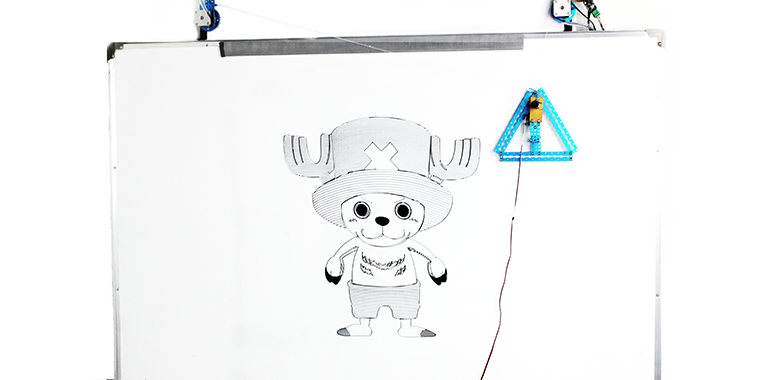 mEggBot
mEggBot is designed to draw on things that are improbable to print on, such as eggs or ping-pong balls. It can be used to write letters, draw expressions on spheroid, or draw Easter eggs.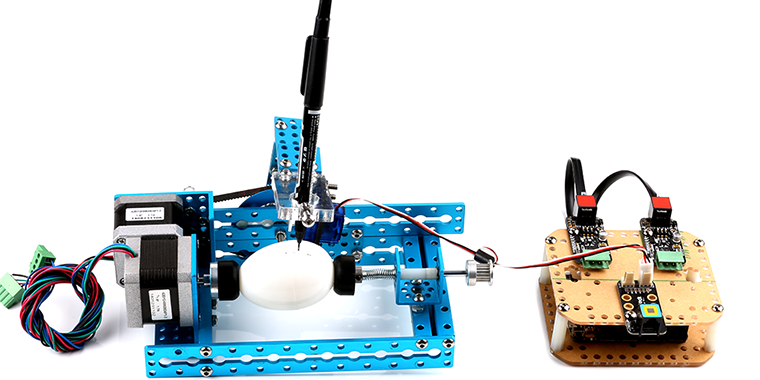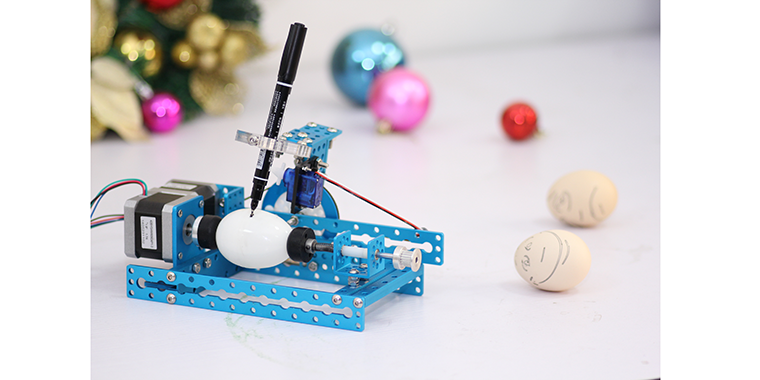 mCar
mCar is a three-wheel robot car, which contains two stepper-motor-drive wheels and a ball-caster wheel. It can draw its own movement tracks on flat surface. Installing a chalk instead of a pen, it can draw on the floor.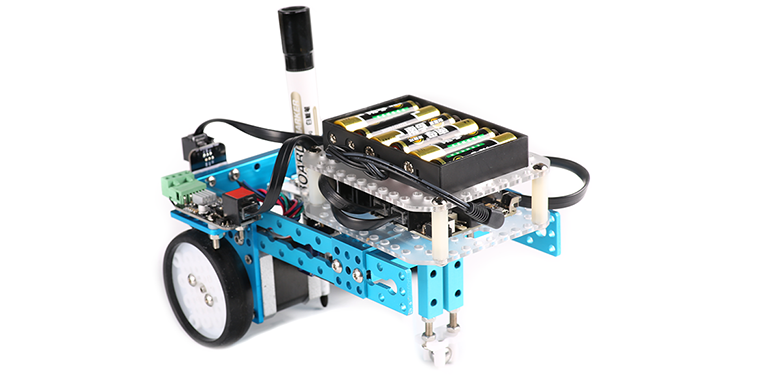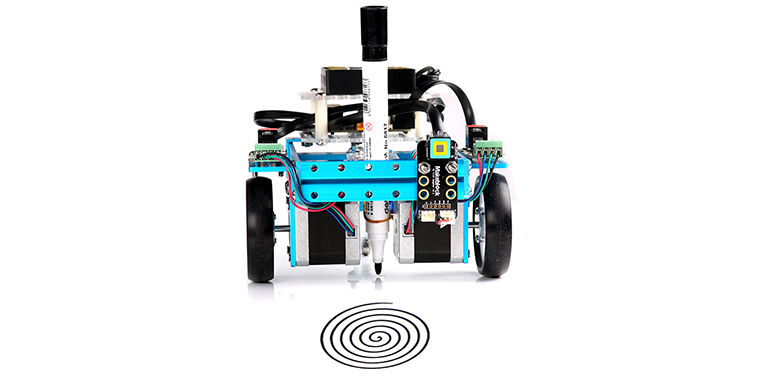 How to Use mDrawBot?
Assembly
Each mDrawBot kit can be assembled into any of the 4 different configurations. We provide the detailed assembling instructions that enables you to build any configuration in an hour.
mDrawBot Animation Assembly
mScara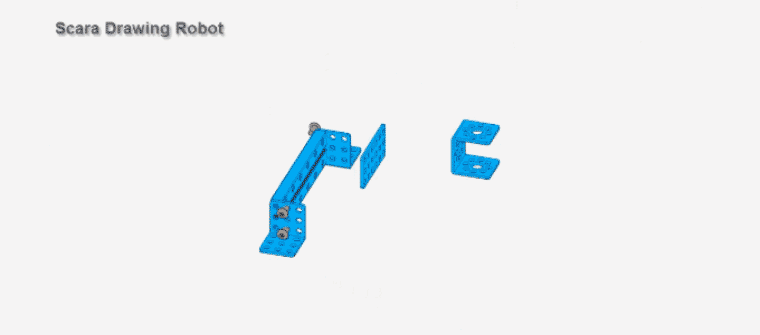 mSpider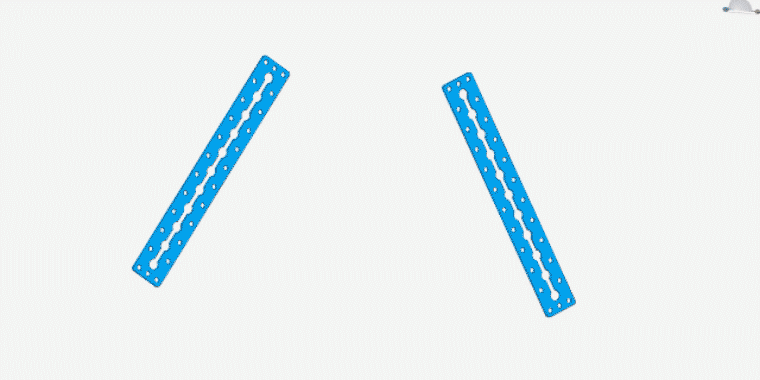 mEggBot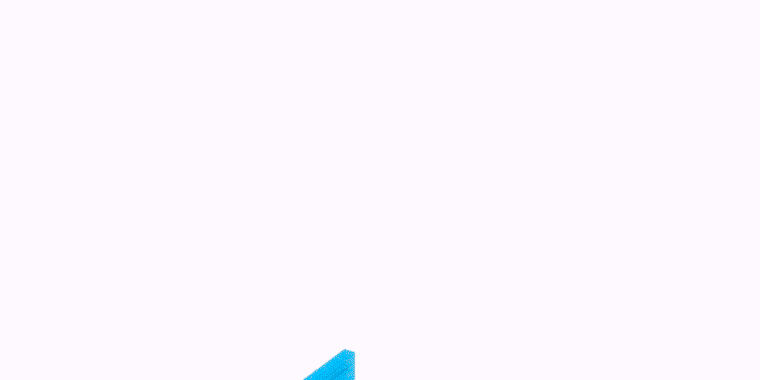 mCar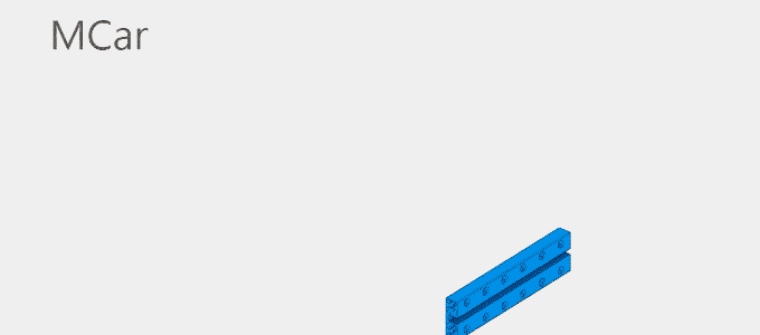 Software
mDraw is the software specially designed for mDrawBot. After installing the mDraw software, you can import images that you wish your robot to draw. It is completely compatible with the four forms of mDrawBot and also both the servo mode and laser mode of Makeblock XY Plotter V2.0.
Features of mDraw
Support mScara, mSpider, mEggBot, mCar, XY
Support both pen drawing and laser engraving
Support custom settings of motor direction, drawing range, etc
Support saving parameters
Support SVG. file
Support conversion from BMP to SVG
Support zooming, rotating, mirroring, and moving the SVG graphics
Support Windows7 or later. (Will be available in Mac OS X, Linux soon.)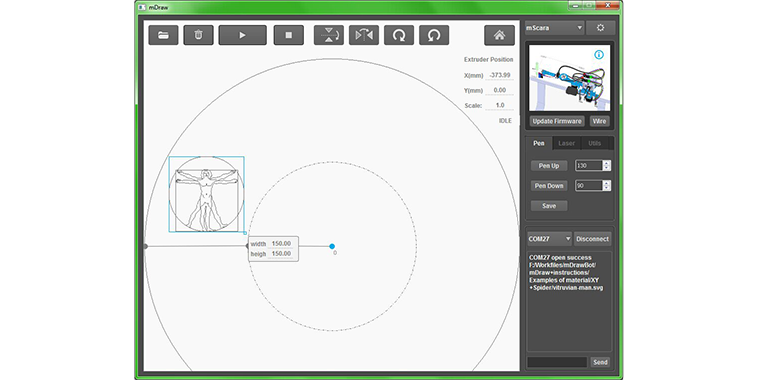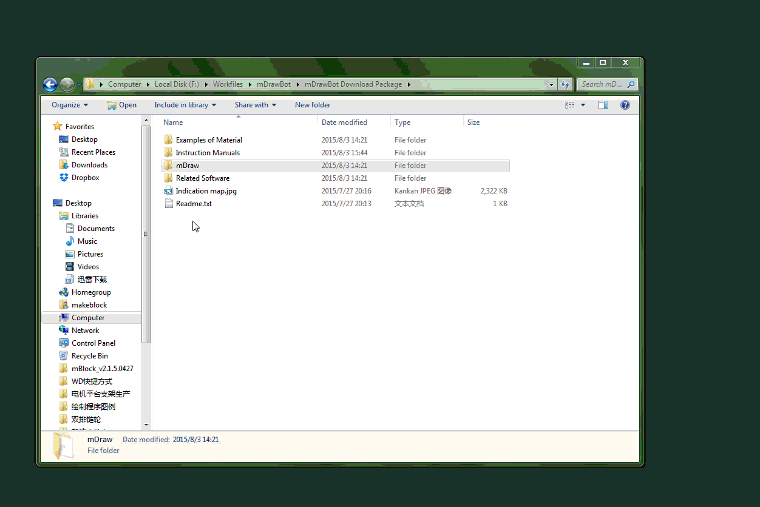 mDraw is an open source project hosted on Github.
A Drawbot, and More than A Drawbot
mDrawBot is a drawbot (or 4 drawbots), and it's more than a drawbot. You can re-use the Makeblock robot parts in countless new projects and it's easy to extend the kit with new parts. Here are some examples of what you can do:
mScara (Standard Version)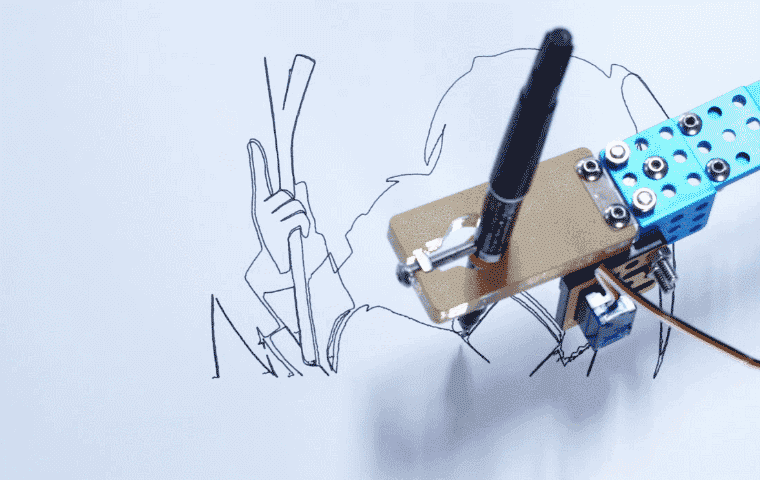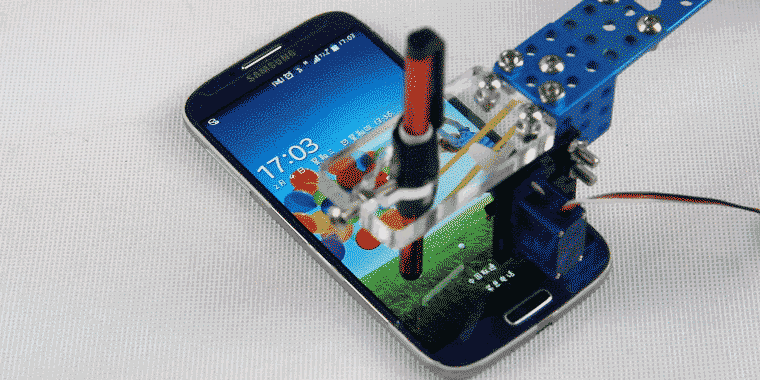 mScara (Laser Version)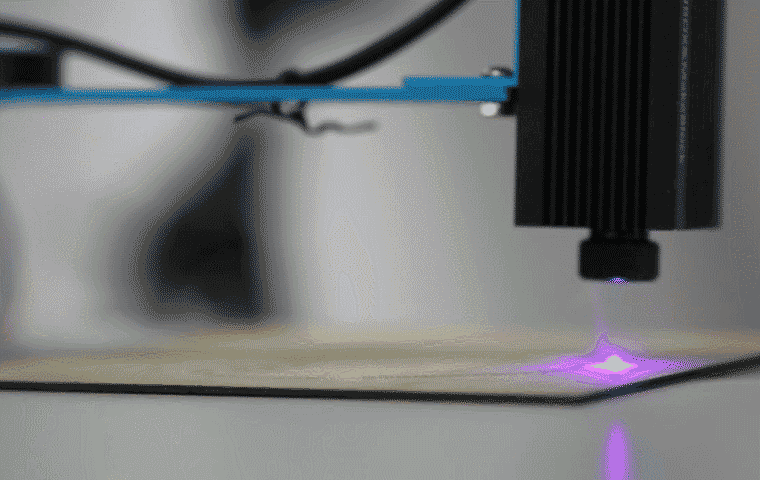 mSpider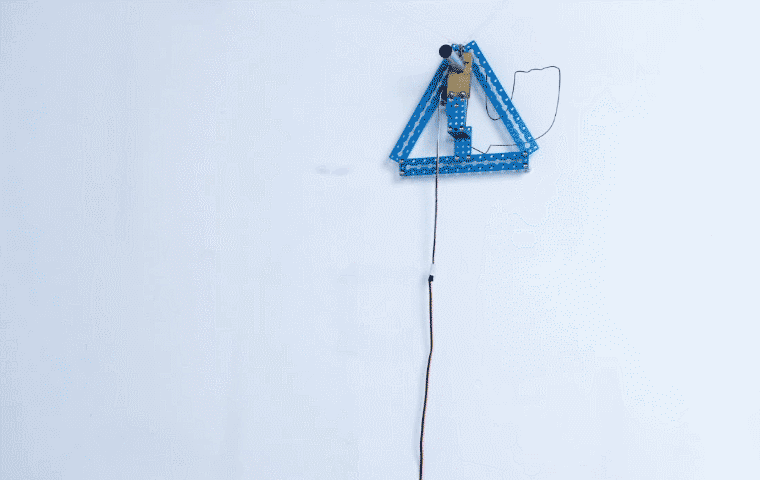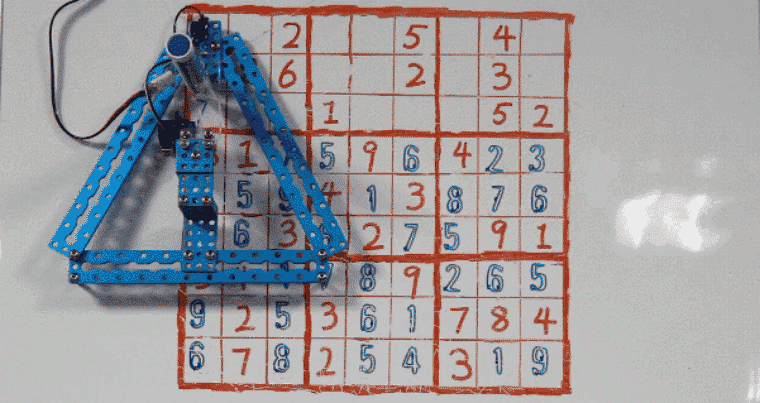 mEggBot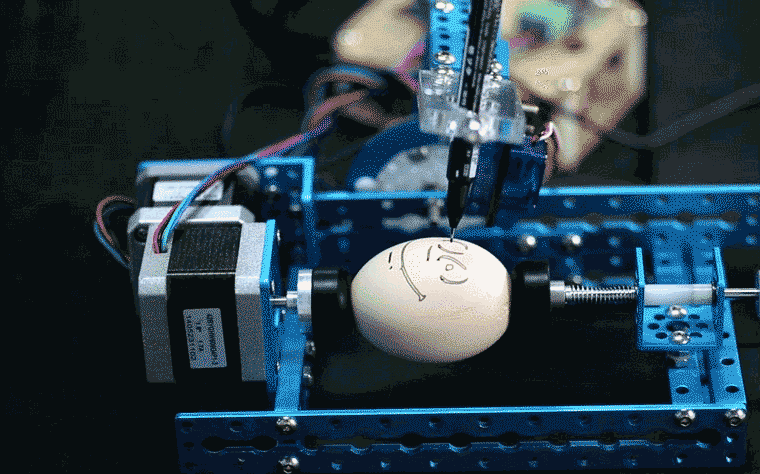 mCar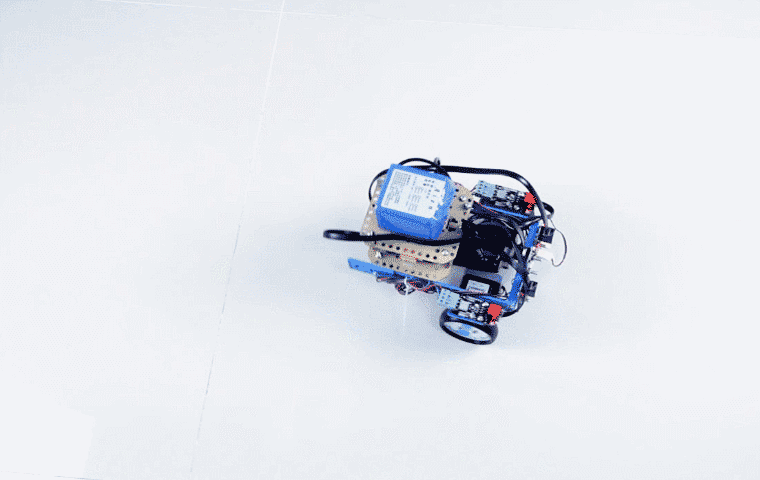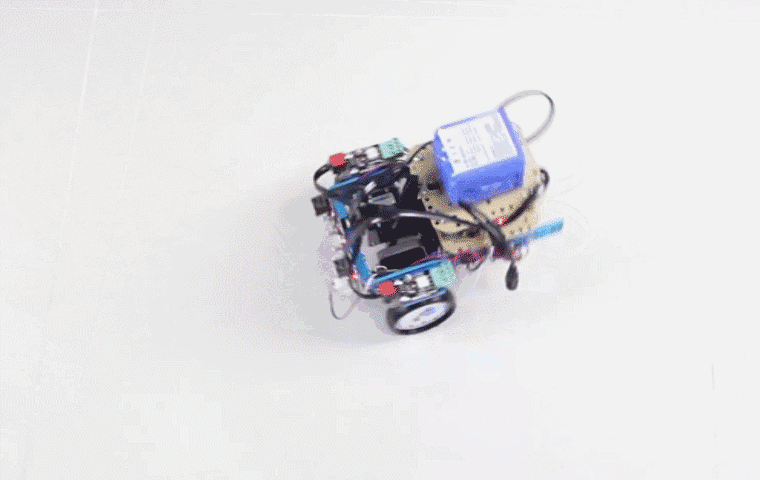 Support Files:
Microsoft® and Windows® are either registered trademarks or trademarks of Microsoft Corporation in the United States and/or other countries.
Apple® and Mac® are trademarks of Apple Inc., registered in the U.S. and other countries.
Lots of Fun. Good for STEM.
"Santa" got this to help my daughters gain confidence in STEM. On Christmas Morning, they were a little confused... it wasn't the usual Barbie/My Little Pony/Disney Princess stuff, and this got set aside so they could tear into more presents.
But later in the day, I urged my oldest, already affecting "jaded teenager" (even though she's not even 10 yet) to sit down with me so we could build it. She reluctantly agreed. "Here, tighten this screw while I hold these parts together." "Okay..." This happened a few times, and with each step being completed, she became more and more interested. "What can I help with next?" she started asking ... Good...
Finally, with the assembly complete (we did the mScara first) we hooked up the computer and had it draw one of the sample SVG files. She was stoked as the articulated arm started to move, then plunk the pen to start drawing on a sheet of paper what was showing on the computer's screen.. "That's neat! Can I take it in to class as my Share? I want to show them what I made!"
Mission Accomplished.
I figure we'll make the EggBot closer to Easter. She hasn't wanted to take apart the mScara yet, but I see about having us do the mSpider when she's ready.
This does require a fair dose of patience, a good measure of diligence, and a little bit of manual dexterity, so I may have jumped the gun age-wise with my oldest, but she still enjoyed it, and I expect her to "grow into it" in the months and years ahead.
NOTE: The "picture of all the components" seems to show the optional Laser Etching (Glasses, etching laser, power supply) These are *not* part of this kit, as the package contents enumeration will show.

PROS: High quality parts.
Pretty reasonable "International Ideograph" instructions. If you can make heads or tails of Lego or Ikea instructions, you should be just fine with these (but *do* pay attention: some parts must be put together just so, and my daughter and I had to back up and redo some steps since we had left a part out or put it together wrong.)
Comes with all the tools and bits needed (except the computer) so you're ready to assemble it once you open the box.

CONS: A minor fitting problem with one collar, where the tiny hex bolt would not thread in, but we worked around that. Other than this, assembly was flawless. While the directions for assembly were excellent, I spent a couple of hours on the software end to finally get the mScara to actually draw something because the excellence in directions dropped precipitously in the Software area. In my case, it required an update of the firmware, which I just did as a final stab, and after that it worked... but the instructions for software could be far improved (or the software itself better at self-diagnosing.) As a software type myself, I'd say be prepared to arm-wrestle the software, as that's the least polished part of the kit.
No an inclusive package
Part of the appeal of this (and reason for ordering) was the laser etching option indicated in all the photos and description. It does NOT include the laser diode. Other than the parts received not being what is advertised it is a good starter package.

PROS: Good for STEM introduction

CONS: Does not include all shown parts

SIGN UP FOR EMAIL DEALS