Beginner Arduino Kit v3.0
Quantity:
In Stock
This item should ship tomorrow (5/1/2017) if ordered
within 2 hours 17 minutes
Description
Beginner Arduino Kit v3.0
We have upgraded the Beginner Kit for Arduino! Now the latest v3.0 kit comes with more useful components, more handy projects and higher quality parts. And most importantly, still the same price.
Welcome to the electronic interaction world! DFRobot proudly presents the Arduino beginner kit for those who are interested in learning about Arduino. Starting from basic LED control to more advanced environmental sensing, monitoring and actuators. This kit will guide you through the world of microcontrollers and physical computing.
A DFRduino UNO R3 (Compatible with Arduino Uno), the most stable and commonly used Arduino processor, together with DFRobot's best selling prototype shield are included in this kit.
The latest version of Beginner kit has upgraded all the details based on previous version. Besides premium quaility jumper wires, double resistors, more Leds, 9g servo, IR remote transmitter and receiver, 4 more useful components are added: relay, motor, fan and potentiometer. Now you can make more fanstastic projects!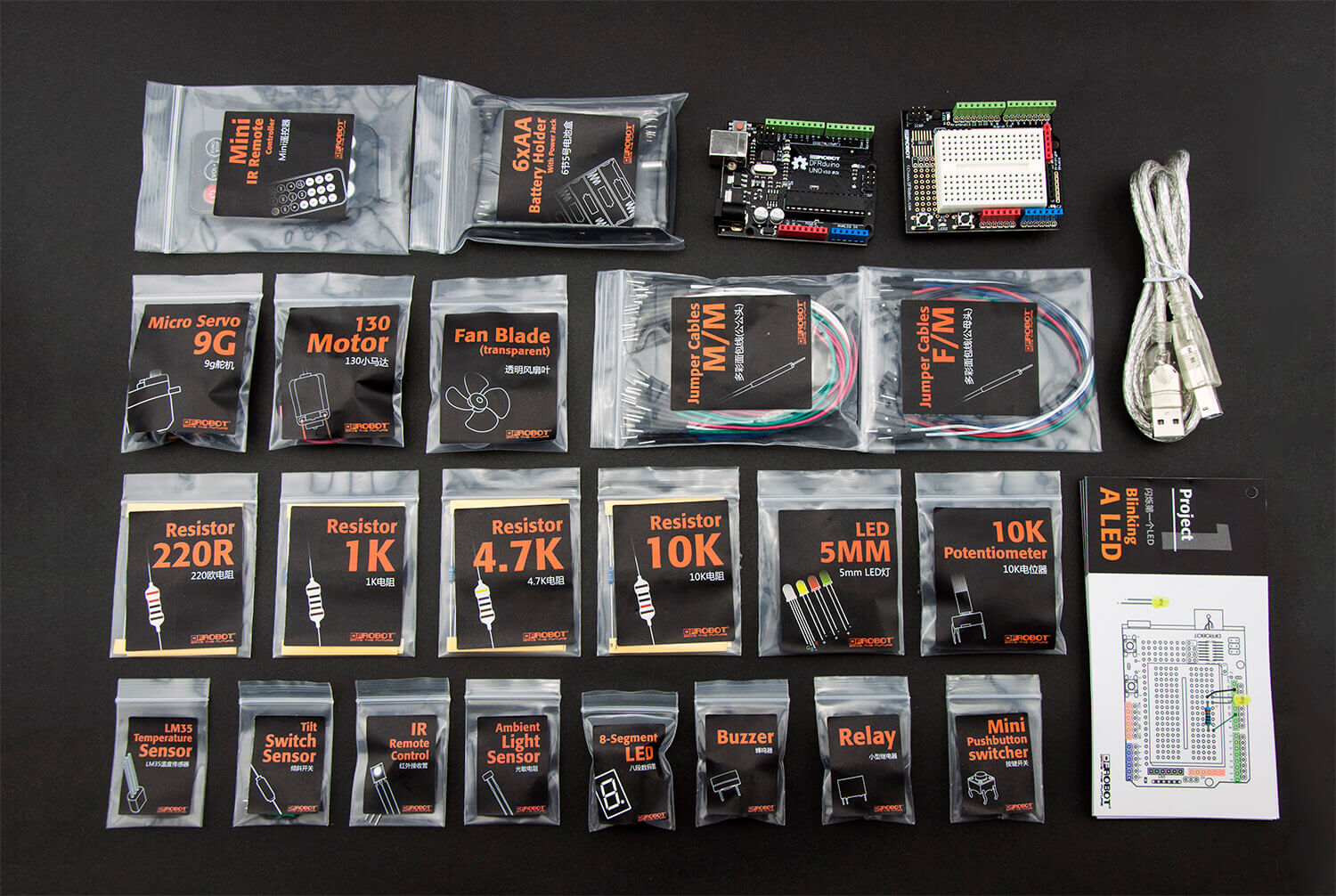 We also created project reference tabs with wiring guides of each project for you, so you can make it faster and minimize errors.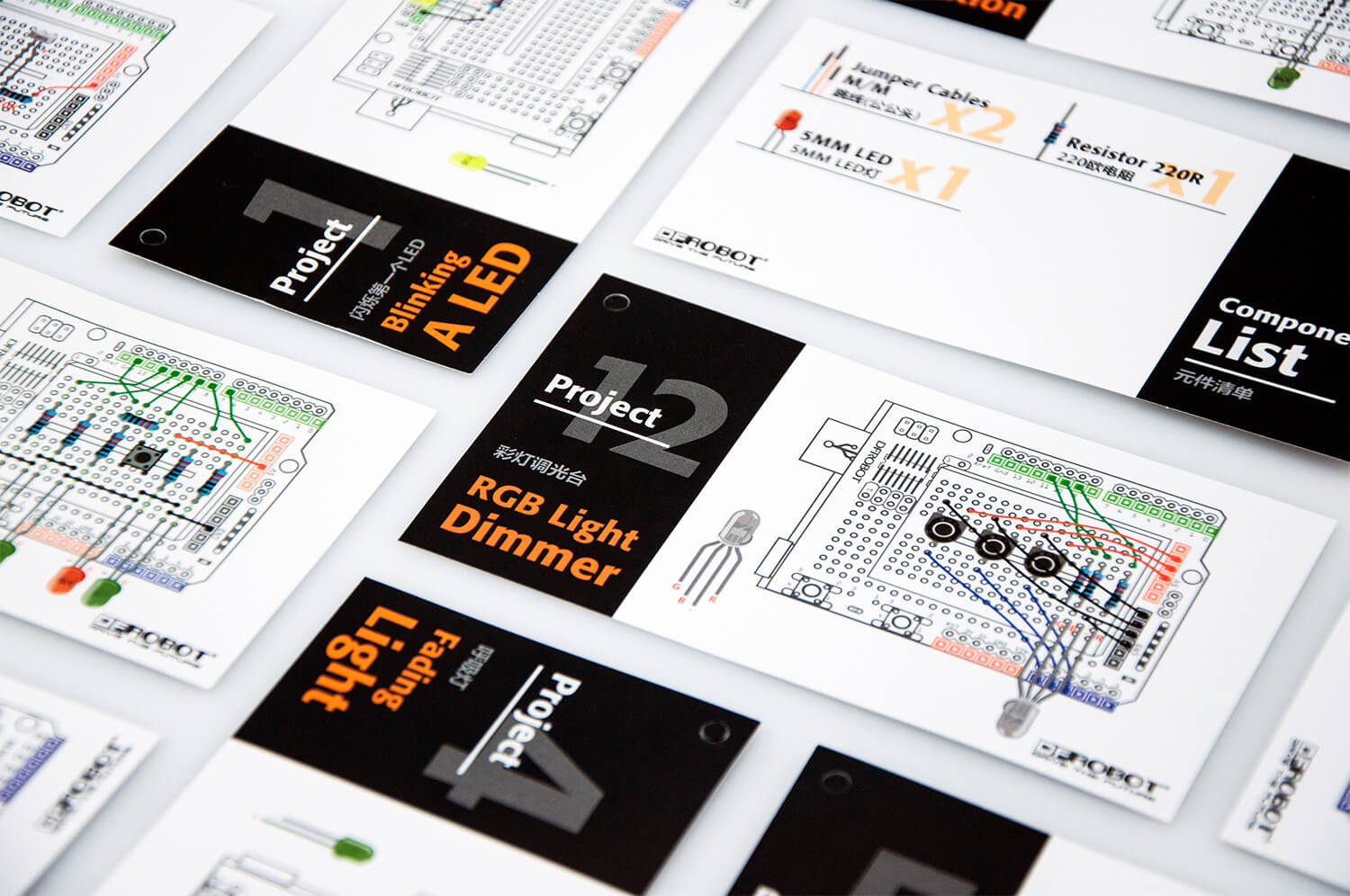 All the components package inside are extremely easy to locate and relocate quickly with our customized black labels.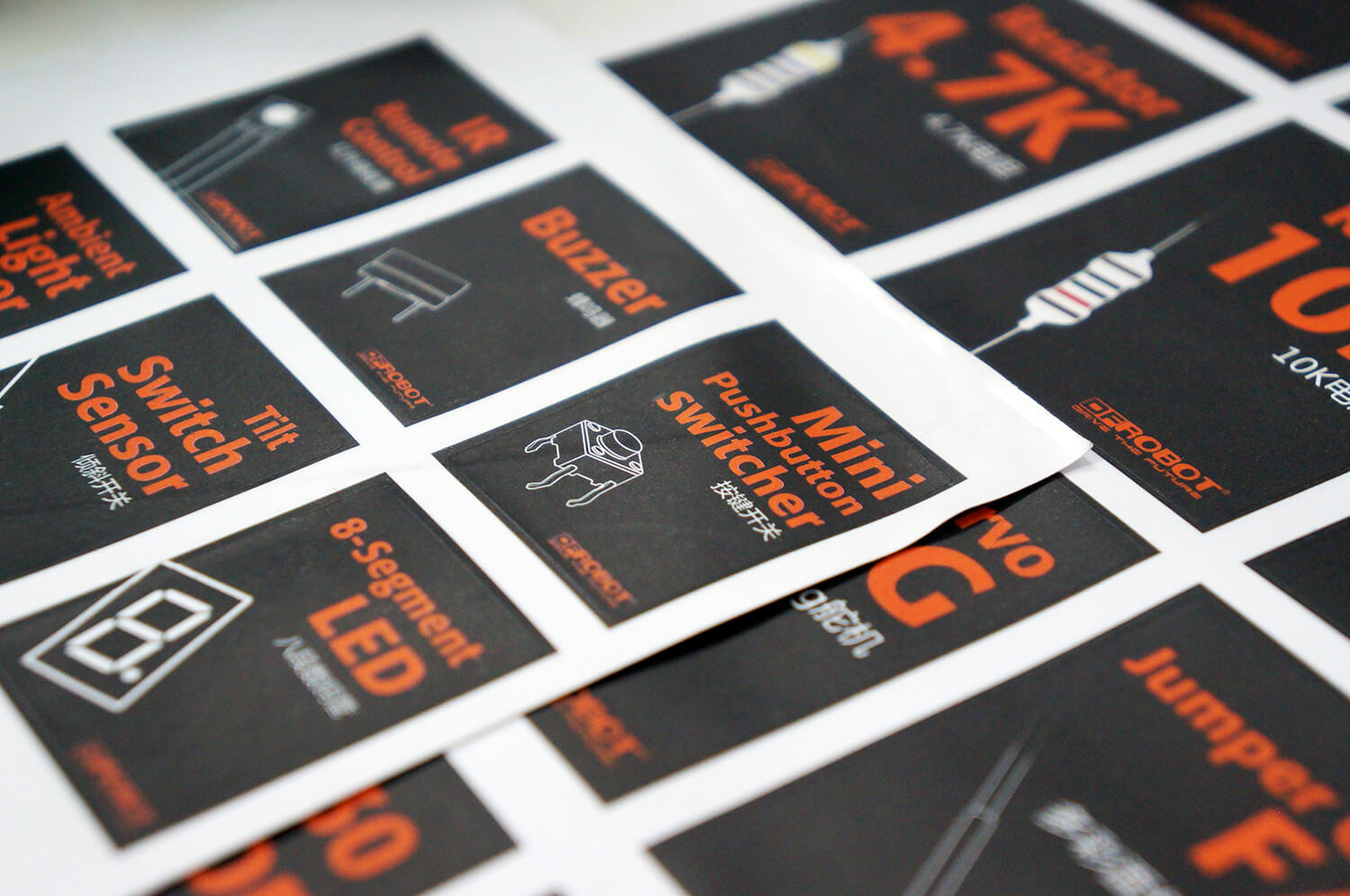 We've listened all your requests and worked to provide better quality kits, even for beginner kits.
Support Files:
Pretty Awesome Kit
For someone who's just starting a hobby in electronics, this kit has a little bit of everything! LEDs, temperature/light sensors, tilt switches and buttons, even a remote and IR receptor! The case is sturdy and bright orange, and after removing some of the packaging (such as the box containing the prototype shield, Arduino, and breadboard), I can fit more stuff in here than what it came with. Only point of contention is that I kind of feel like it doesn't have enough M-F cords, although that could be me being bad at wiring stuff up

PROS: - Has a large variety of parts
- Even comes with an Arduino
- Pretty cheap

CONS: - Potentially not enough of each piece for a larger prototype project
Loaded!
This little kit is loaded with goodies. It should keep me busy for quite a long time.

PROS: Loaded. Each item well labeled and individual packaged. Nice carry case. Nice project cards.

CONS: None.
Good way to begin
Pros: clear instructions, projects help you learn the basics, good variety of sensors.

Cons: no divider in the box
March 9, 2017
Purchased
1 month ago
SIGN UP FOR EMAIL DEALS