Hubsan Q4 H111 Nano Quadcopter Drone, Black
Note:
Due to limited supply, all products are sold on a first-come first-serve basis. Auto Notification does not guarantee either availability or price. All prices are subject to change without notice.
*Your information will only be used to notify you when this item becomes available.
Description
Hubsan Q4 H111 Nano Quadcopter Drone, Black
The nano-scale Q4 Nano H111 Quadcopter from Hubsan is ready-to-fly, requiring only two AAA batteries for the transmitter (radio controller) to get started. This tiny quadcopter features a 6-axis stabilization system to keep it safely in the air while maximizing agility. With the included 2.4 GHz transmitter, aerial acrobatics including flips and rolls can be enabled simply by pressing down on the throttle stick. Propeller guards are included to help avoid damage to the propellers following a light collision.
Features:
Includes 2.4 GHz, 4-channel transmitter (radio controller) with Mode 1 and Mode 2 support and adjustable trim
Perform flips and rolls with dedicated "flip mode" transmitter setting
6-axis flight stabilization system with gyroscope sensor
Included 100mAh LiPo battery lasts up to 5 minutes
USB charger refills battery in as little as 30 minutes (depending on power source)
One-piece PCB (printed circuit board) design
Built in red and blue LEDs indicate front and rear of quadcopter
Nimble and precise flight
Requires 2x AAA batteries (not included)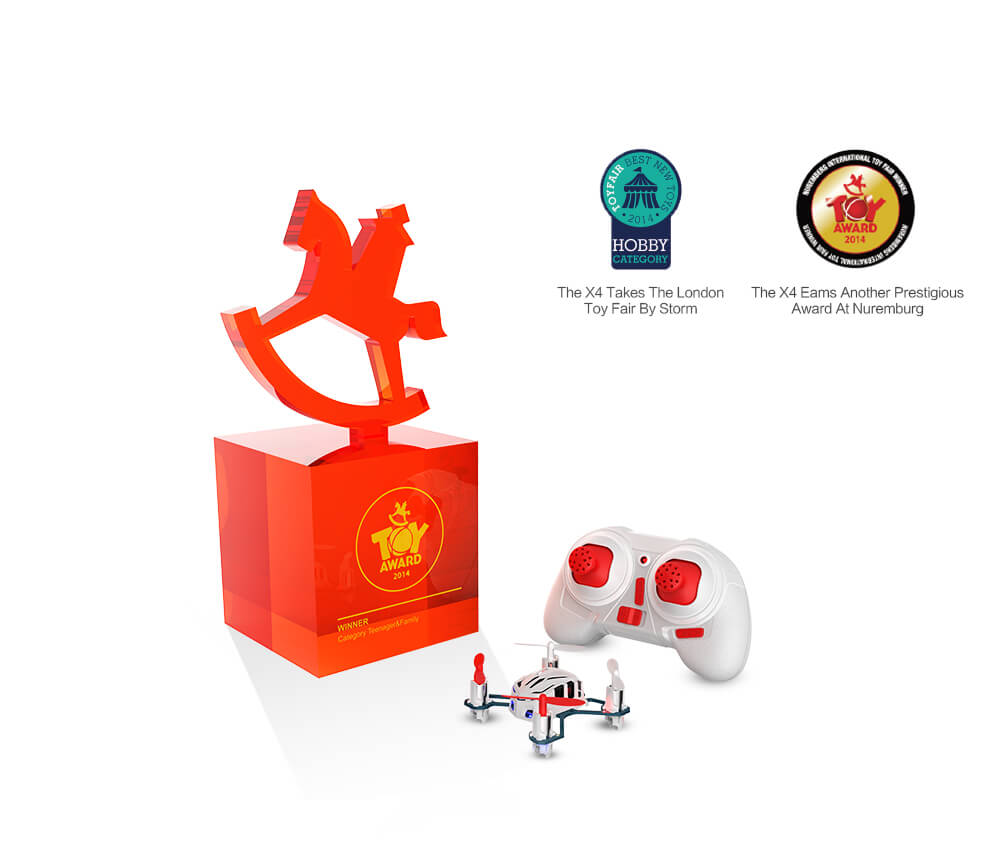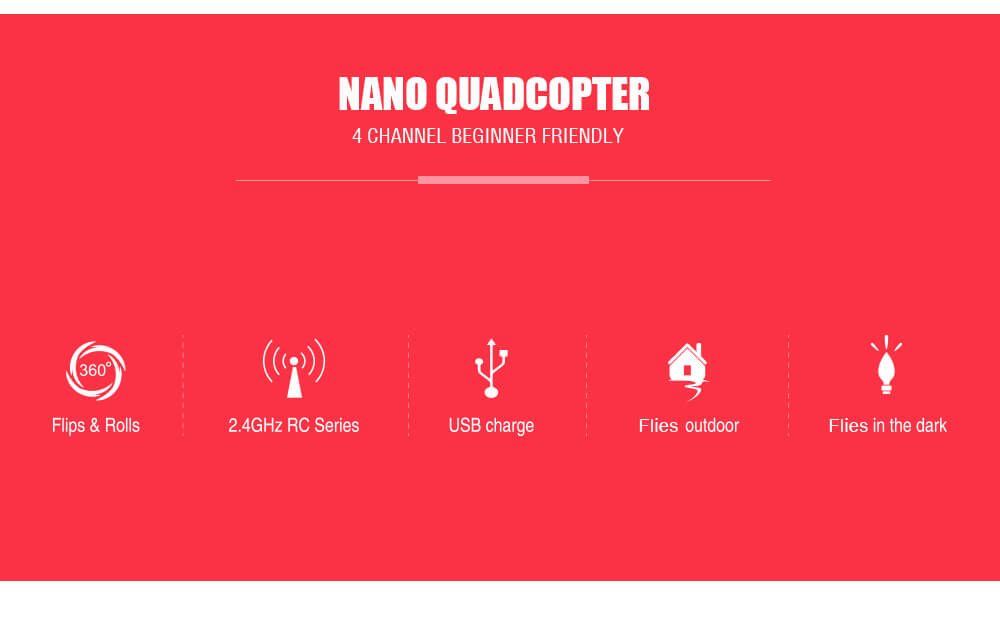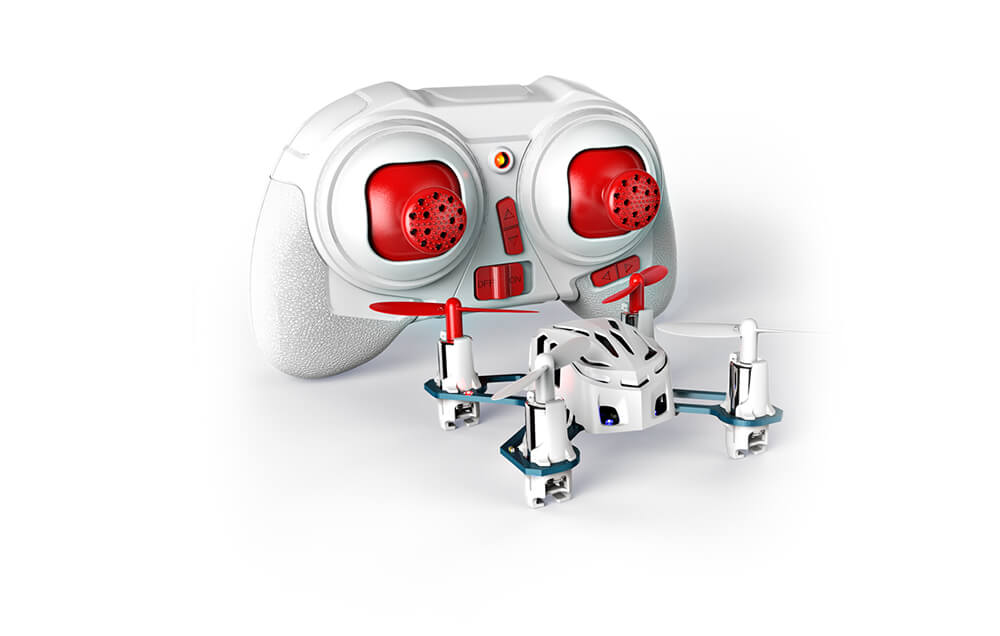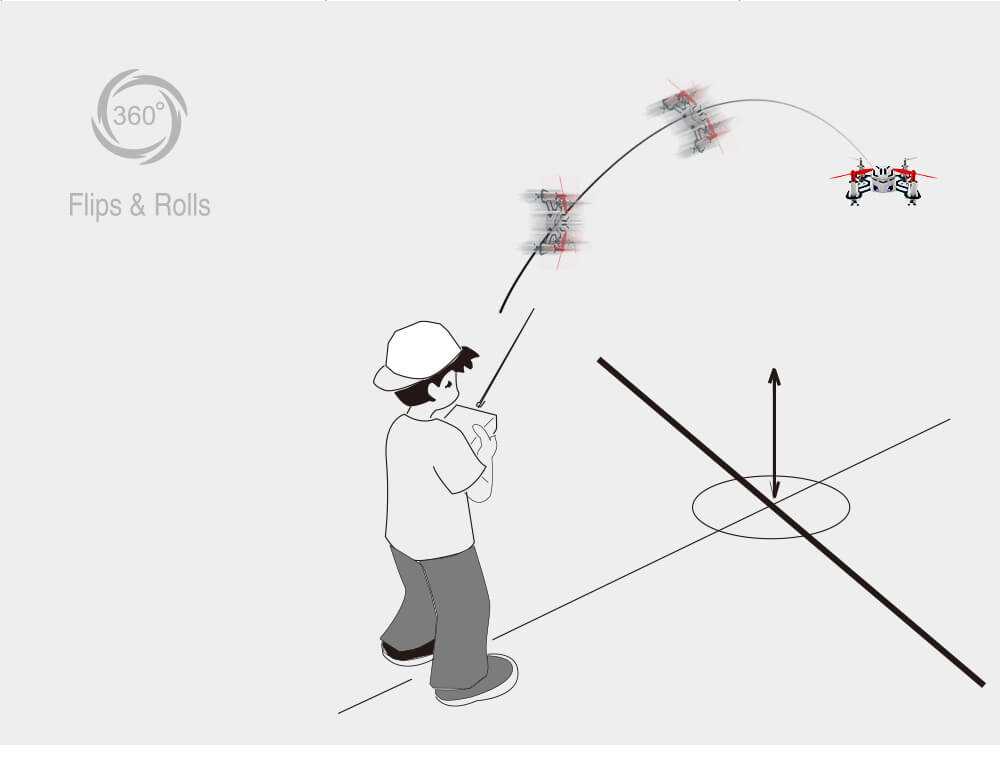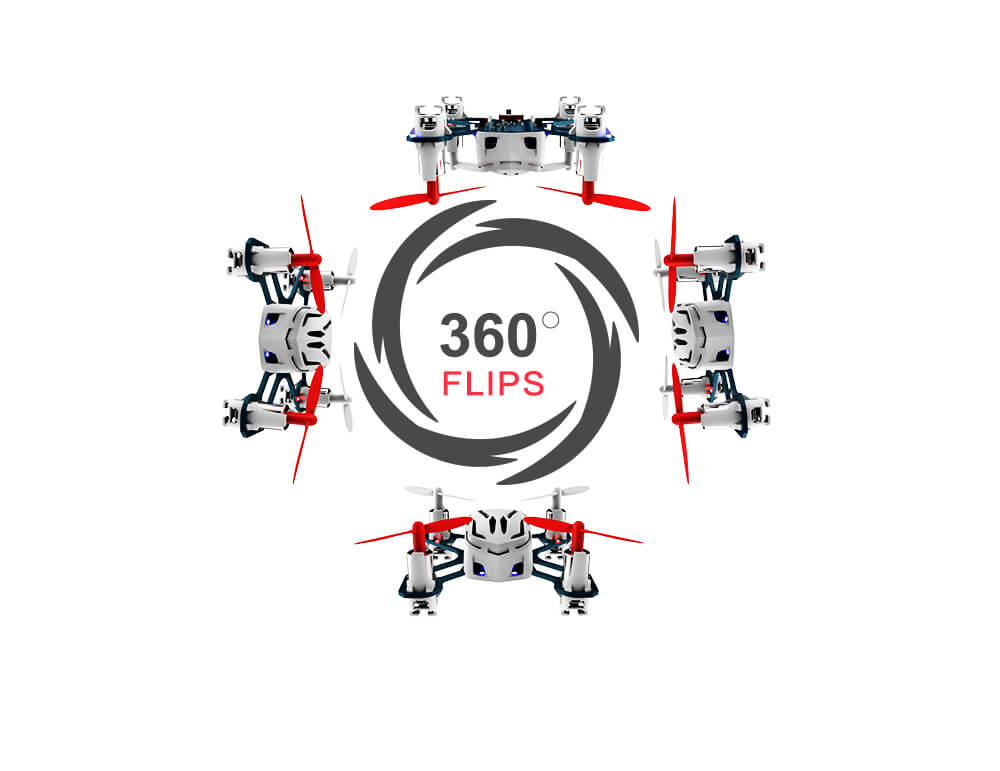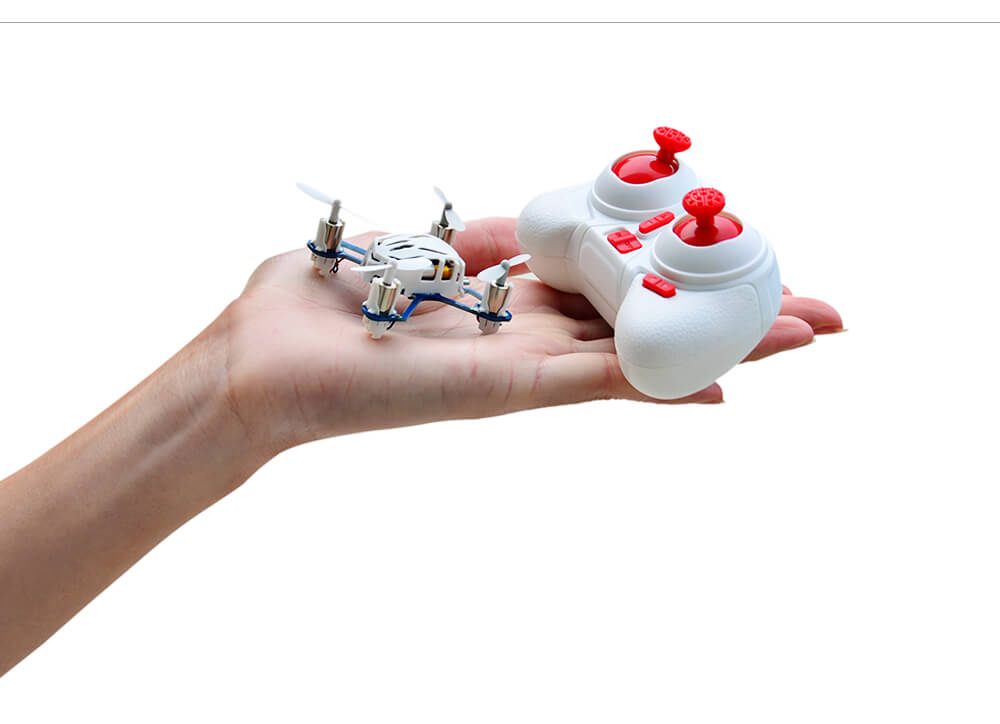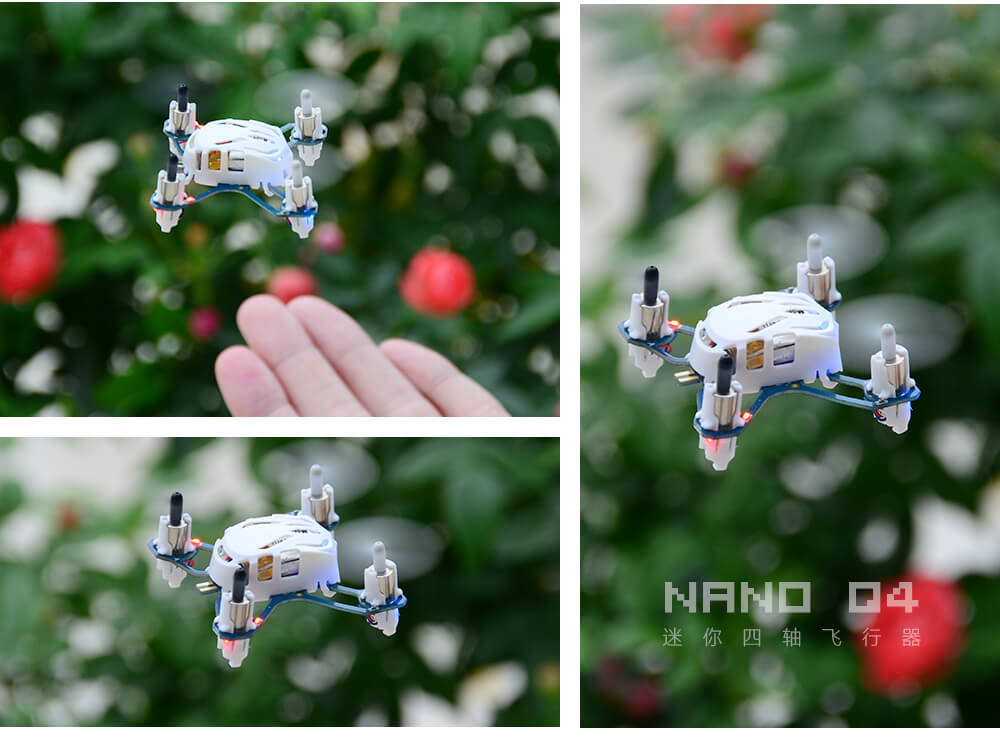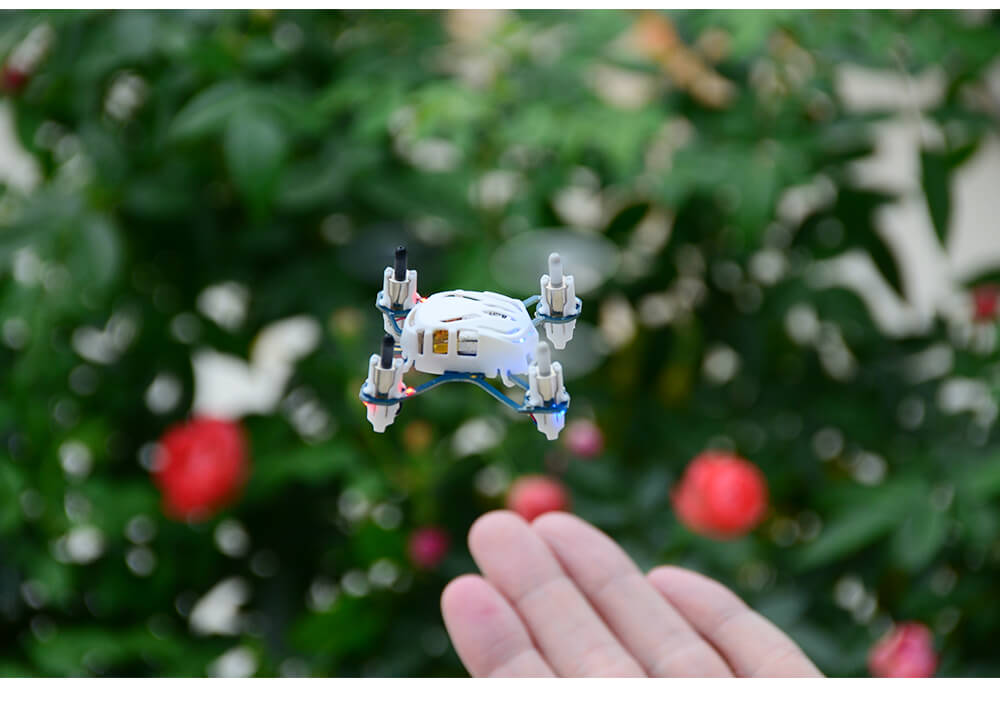 Full Specs
Performance
Flight Time
Up to 5 minutes
Flight Control System
Number of Axes
6
Sensor
Gyroscope
Transmitter
Control Mode
Mode 1/Mode 2 switchable
Frequency
2.4 GHz
Number of Channels
4
Power Requirements
2x AAA batteries
Flight Battery
Chemistry
Lithium-polymer (LiPo)
Capacity
100 mAh
Voltage
3.7 VDC
Charge Time
Approximately 30 minutes
General
Configuration
Quadcopter
Operating Environment
Indoor/outdoor
Indicators
Red and blue LEDs to indicate the front and rear of quadcopter
Dimensions
2" x 2" (5 x 5 cm)