Stage Right 8in x 8in Lite Duty Box Truss 1m (3.28ft) with Hardware
Out of Stock
ETA: 10/12/2017
Note:
Due to limited supply, all products are sold on a first-come first-serve basis. Auto Notification does not guarantee either availability or price. All prices are subject to change without notice.
*Your information will only be used to notify you when this item becomes available.
Description
Stage Right 8in x 8in Lite Duty Box Truss 1m (3.28ft) with Hardware
Take your production, product messaging, or display to a whole new level with a professional truss. Each piece of our aluminum box truss weighs less than 20 lbs., making it ideal for DJs, trade shows, and mobile shows. Spans up to 2 meters across will support up to 500 lbs. center loaded and even more when evenly loaded. The 8" x 8" frames are easy to transport and dolly load for truck packs. The 1.5" outer tubes are convenient for mounting lights, TV monitors, and signage. It is not recommended for speakers or human harnesses.
Losing a bag of truss spigots can mean the death of a show. Do not worry about losing or damaging connecting hardware, since our bolt truss uses standard over-the-counter M10 hex bolts available at any hardware store.
This Stage Right 8" x 8" Aluminum Bolt Truss system is available in several sizes. Simply plan your floor space and take advantage of the versatility of the universal 6-way corner to build arcs, projector screen frames, or complete multi-layer booths complete with warmers and signage.
Features:
Each piece weighs less than 20 pounds
Up to 500 pounds load capacity
Compact 8" square with 1.5" tubes
Uses easy to find M10 bolts
Modular and versatile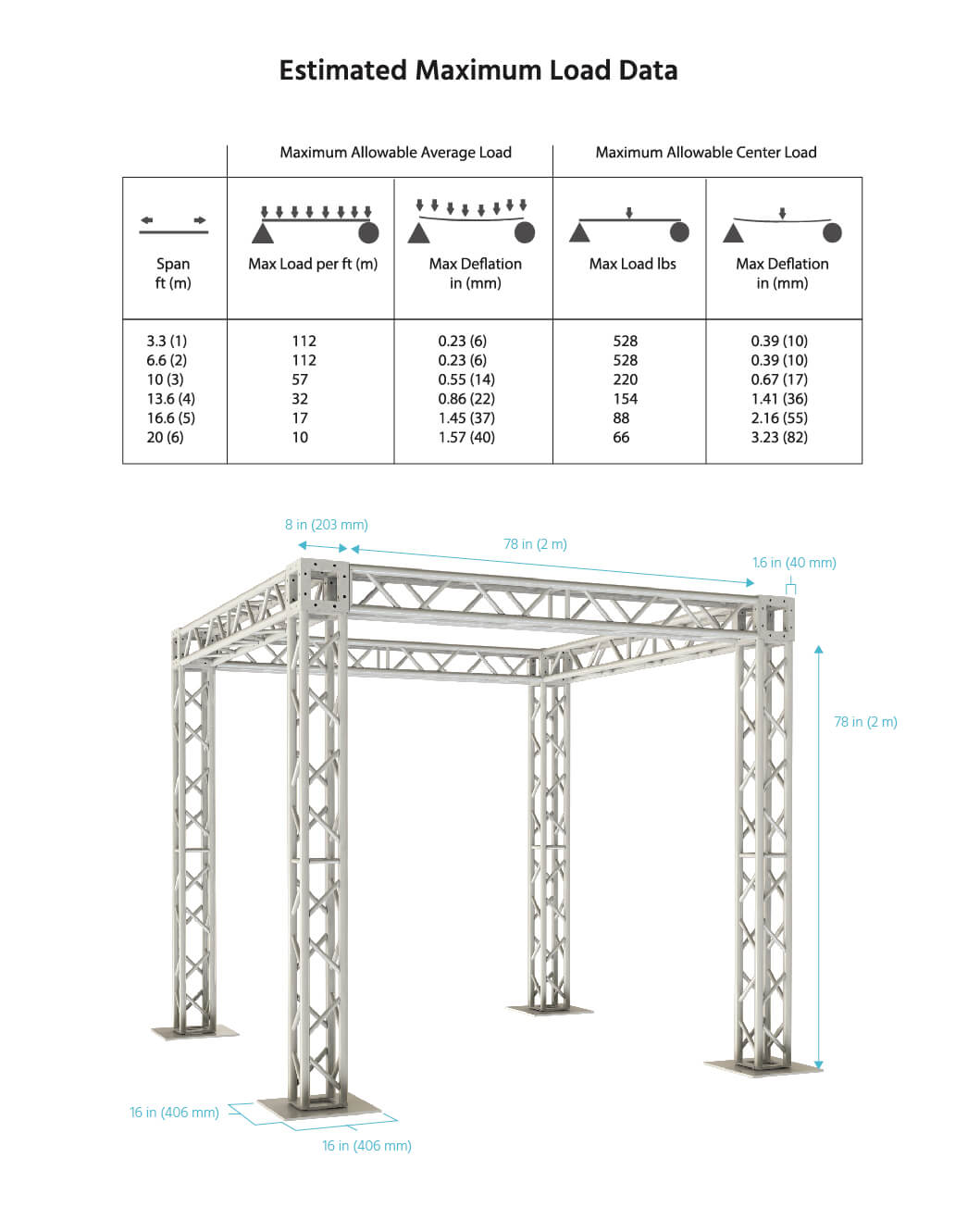 Support Files:
SIGN UP FOR EMAIL DEALS