MP Thunder Dock - Thunderbolt 2.0 Expansion HUB ( Thunderbolt 2,Firewire 800,eSata,USB 3.0 )
Quantity:
In Stock
This item will ship in 3-5 days
Description
MP Thunder Dock - Thunderbolt 2.0 Expansion HUB ( Thunderbolt 2,Firewire 800,eSata,USB 3.0 )
Monoprice Thunder Dock powered by AKiTiO
The Thunderbolt™ dock links past, present and future technology to your computer with just one Thunderbolt cable. The Thunder Dock allows you to access your data on both legacy and future storage drives by providing multiple host ports for USB 3.0, eSATA and FireWire® 800. It also has two Thunderbolt ports for daisy chaining additional Thunderbolt devices and storage.
Features
Two Thunderbolt ports for lightning fast speeds up to 10Gb/s
Daisy chain up to 6 Thunderbolt devices
Two eSATA host ports (up to 6Gb/s)
One 7 watt bus-powered FireWire 800 host port
Two bus-powered USB 3.0 host ports (supports UASP)
Durable and rugged aluminum casing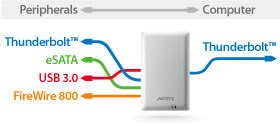 Linking past, present and future technology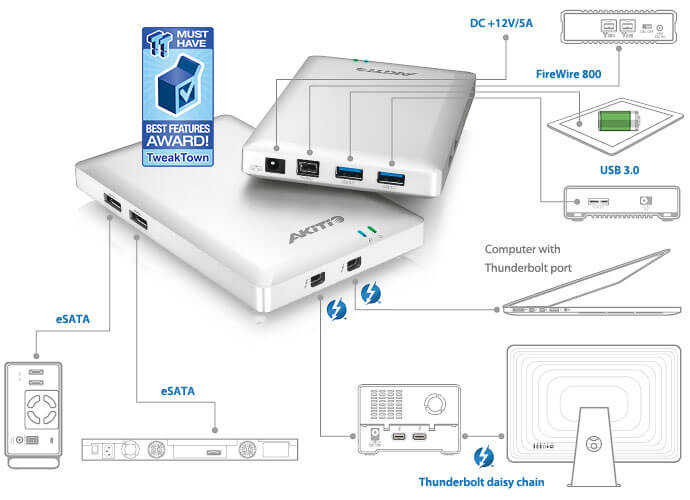 USB 3.0 supporting UASP
The two USB 3.0 ports both support UASP (USB attached SCSI protocol) for increased performance over USB 3.0 but the same ports can of course also be used to connect the older USB 2.0 storage drives. Note: The maximum transfer rate for each USB port is about 370MB/s.
FireWire with bus-power (7W)
Long a favorite of Mac users but now replaced by Thunderbolt and USB 3.0, the FireWire interface can still be used through the Thunder Dock. Simply hook up your legacy FireWire drives (bus-powered and self-powered) to the dock and you can access all your existing data without having to buy new hard drive enclosures.
eSATA storage (6Gbps)
Not as common as the other interfaces but PC users will be happy to know that there are also two eSATA ports available to hook up external eSATA drives.
High-Speed I/O Performance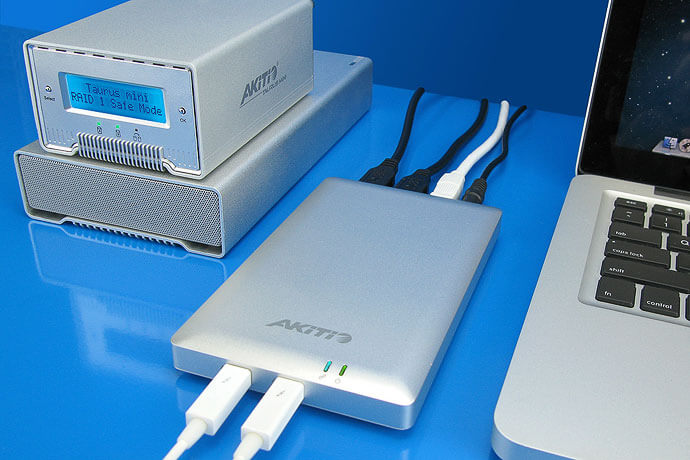 Thunderbolt I/O
Thunderbolt is a revolutionary connection technology that simultaneously supports high-resolution displays and high-performance data devices through a single, compact port. Thunderbolt I/O technology gives you two channels on the same connector with 10 Gbps of throughput in both directions. That makes Thunderbolt extremely fast and flexible. In comparison, it is up to 20 times faster than USB 2.0 and up to 12 times faster than FireWire 800.
Thunder Dock
One Thunderbolt cable to connect them all. Simply connect the dock to your computer with just one cable and get instant access to all the additional storage drives that are hooked up to the dock. The lighting fast Thunderbolt interface guarantees that you can achieve the best possible data transfer rates.
Thunderbolt Daisy Chain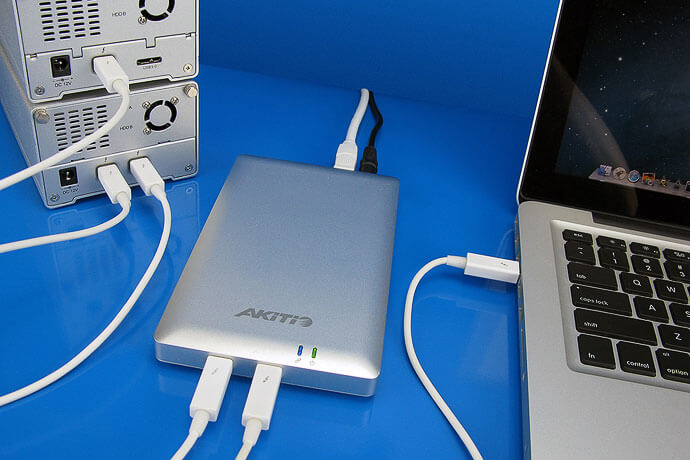 Storage & Display
The second Thunderbolt port allows you to connect up to 5 additional Thunderbolt devices (storage or display) in a daisy chain.
eSATA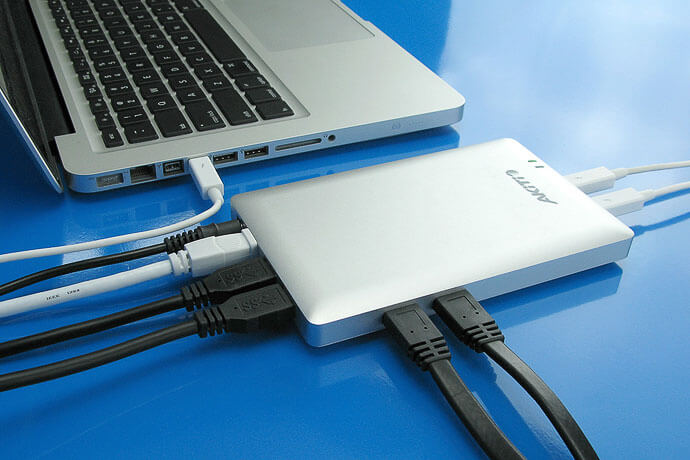 Independent eSATA controllers
Two independent eSATA controllers guarantee that the performance doesn't drop, when a second eSATA storage device is connected at the same time. Note: The maximum transfer rate for each eSATA port is about 370MB/s.
USB charger (2.1A)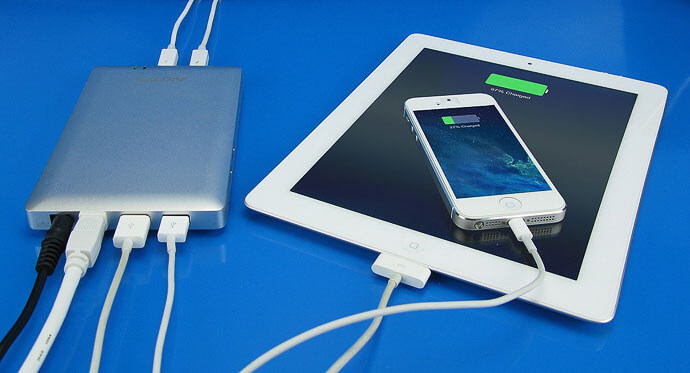 Recharge mobile phones & tablets
The USB ports can be used to recharge your electronic devices (e.g. iPad® or iPhone®) over USB on Mac® OS X® 10.9.2 or above. Providing up to 2.1A, the Thunder Dock can even recharge your larger devices such as the iPad. It also provides power for the Apple® Keyboard and the Apple SuperDrive® for computers that do not have a built-in SuperDrive.
Compatibility
This product is not supported on Boot Camp®
This product is not supported on Windows® but works with limited functionality (e.g. no hot plug)
This product does not support FirmTek's SeriTek™/5PM eSATA hard drive enclosure
External drives that are connected to the docking station do NOT spin down unless the power to the drive(s) is turned off
Support Files:
Thunderbolt is a trademark of Intel Corporation in the U.S. and/or other countries.
Apple, FireWire, iPad, iPhone, Mac, OS X, SuperDrive, and Boot Camp are trademarks of Apple Inc, registered in the U.S. and other countries. iPad mini is a trademark of Apple Inc.
Microsoft and Windows are either registered trademarks or trademarks of Microsoft Corporation in the United States and/or other countries.
FirmTek and SeriTek names and logotypes are trademarks of FirmTek, LLC.
IOS is a trademark or registered trademark of Cisco in the U.S. and other countries and is used under license.
Full Specs
Specifications
Certifications
Case material
Interface/Ports

2x Thunderbolt ports


2x eSATA host ports (supports port multiplier)


2x USB 3.0 SuperSpeed host ports (supports UASP)


1x FireWire 800 host port (supports bus-power)

Data transfer

Thunderbolt up to 10Gbps


eSATA up to 6Gbps


USB 3.0 up to 5Gbps


FireWire 800 (1394b) up to 800Mbps

System requirements (PC)
System requirements (Mac)

Mac® OS X® v10.9 or later


Computer with Thunderbolt connector

System environment

Operating Temperature: +41 ~ +95°F (+5 ~ +35°C)


Storage Temperature: -4 ~ +140°F (-20 ~ +60°C)


Relative Humidity: 5 ~ 95% (non-condensing)

Power supply

External power supply (UL, cUL, CE, TUV approved)


Input: 100~240 VAC


Output: +12 VDC, 5A

Dimensions (LxWxH)

6.25" x 3.83" x 0.71" (15.88 x 9.75 x 1.8 cm)

Package contents

10946 Thunder Dock


Thunderbolt cable


Power adapter


Setup guide

Remarks

This docking station does not have any internal storage. All data is stored on
external drives that are connected to the dock.


In order to recharge an iOS® device over USB (e.g. iPhone, iPad or iPad mini™),
the Thunderbolt cable has to be connected to the computer and the system has
to be running (S0 or S3). The OS has to be updated to Mac OS 10.9.2 or
above and a driver has to be installed.


The maximum transfer rate for each eSATA and USB port is about 370MB/s.


This Thunderbolt product is not compatible with Apple's Boot Camp®.
* Officially, Windows is not supported but the docking station can be used on a Windows computer as long as the Thunderbolt cable is connected to the computer before the system is booted up and it is never disconnected while the system is running. Also, make sure that both the Thunder Dock and all the devices that are attached to the dock are turned on before starting up the system.
5/5
Works as expected although, I didn't have any Firewire 800 peripherals to test. I connected it to my Mac Mini (mid 2011) and used PID 8119 to output to another screen via HDMI. I also connected a USB 3.0 ethernet adapter and an eSATA HDD dock. Again, it worked as expected.



My only concern is the device becomes rather hot during operation.
SIGN UP FOR EMAIL DEALS