R-S300 - Yamaha Natural Sound 2.1 Stereo Receiver
Description
R-S300 - Yamaha Natural Sound 2.1 Stereo Receiver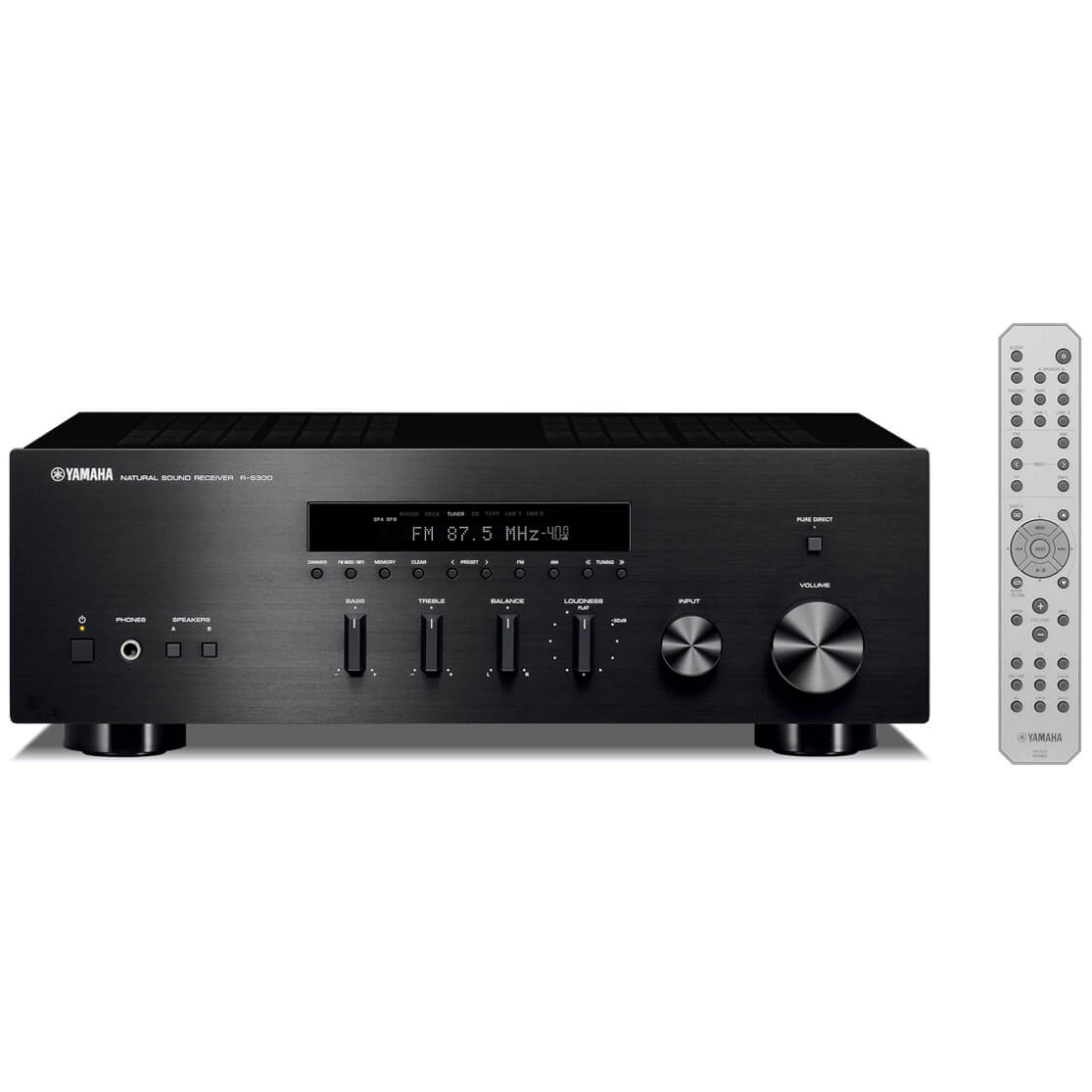 R-S300
MSRP: $329.95
Affordable stereo receiver combining ToP-ART technology and ART Base chassis construction for crisp, clean sound. Advanced features include continuously variable loudness control, Pure Direct, along with Yamaha iPod® dock connection and a 40-station AM/FM for great music enjoyment.
This item has free ground shipping to destinations within the 48 Contiguous United States. Other shipping options are available for destinations within the United States, including Hawaii, Alaska, and territories of the United States. This product cannot be shipped to destinations outside the United States.
Features
Main Features
---
High-end design similar to the A-S2000—the look and feel of the control knobs, for example
ToP-ART and ART Base chassis construction fully protect audio signals from noise and vibration
High grade parts selected and tested to meet Yamaha standards and provide the best possible sound
An iPod dock port provides highest quality sound from an iPod. iPod video out allows connection to a TV
Connect two sets of speakers; switch between them or listen to both at the same time
Auto Power Off automatically turns off the power after a certain amount of time to save energy
Advanced Features
---
50W x2 high power output
40-station AM/FM random access preset tuning
Pure Direct for short and direct signal path
Aluminum-extruded front panel
Subwoofer out
Continuously Variable Loudness Control
Slim-design remote control
Dimensions (WxHxD): 17-1/8" x 6" x 15-1/4"
Zone Control
---
Remote (IR) One In/Out
These terminals let you connect an IR signal receiver for wireless remote control between the Main Zone and Zone 2.
Speaker A/B and A+B Selection
Enjoy music in a second room! Just connect a second pair of speakers to the Speaker B terminals and you can listen to either pair or both of them at the same time.
The Look and Texture of Quality
Offers the look and feel of the top-class A-S2000, with elegant aluminum front panel and silky touch volume/selector knobs. You can feel Yamaha's commitment to quality when you touch the knobs.
ToP-ART Sound Quality Design
ToP-ART (Total Performance Anti-Resonance Technology) design uses a symmetrical layout for accurate sound field reproduction and the ART Base to eliminate effects from external vibration.
Pure Direct
Music signals travel the shortest possible route, bypassing the buffer amp and tone, loudness and balance controls to virtually eliminate any signal degradation for the purest sound quality.
New Speaker Terminals
These high grade speaker terminals have silver plating for best connection and outstanding durability. The pitch between jacks is wider for easier insertion.
Highest Quality Parts
The quality of each individual part, as well as how they work together, basically determines the sound quality of any component. Yamaha uses only very high quality parts, carefully selected and tested.
Continuously Variable Loudness Control
Our ears lose sensitivity to high and low frequencies at low volume levels. This control lets you turn down the volume while maintaining the optimum frequency response.
Special Power Supply for Clear iPod Sound
The iPod dock has an independent power supply to prevent operating or charging current from the iPod from flowing into the amp ground signal. This ensures optimum iPod sound quality.
Balanced System for Minimal Noise
An unbalanced interface is subject to commonmode voltage noise, so Yamaha uses a balanced system to receive the iPod signal. This makes a significant contribution to reducing noise in the system for higher sound quality.
Technology
Made for iPod and iPhone (Docking Station)
---
The "Made for iPod and iPhone" combination logo indicates that the product is equipped to use an optional Yamaha Universal iPod/iPhone Dock that lets you connect your iPod or iPhone to this product. With the optional dock you can listen to your music and operate the iPod/iPhone via the product's remote control while at the same time charging the battery. Depending on your product's specifications, some will allow you to use the On-Screen Display feature on your video monitor to navigate your music. Some products can even allow you to view your photos and movies from your iPod/iPhone on your video monitor (view the Specifications of each product for iPod/iPhone playback compatibility).
Full Specs
| | |
| --- | --- |
| ToP-ART Technology | Yes |
| Output Power (RMS) | 50 W x 2 |
| iPod Compatibility via Yamaha Universal Dock | 1 (for optional YDS-12, YID-W10 or YBA-10) |
| Pure Direct Switch | Yes |
| THD | [0.04%] |
| Linear Damping Factor (Speaker A) | 150 or more |
| Continuously Variable Loudness Control | Yes |
| REC Out | Yes |
| Remote Controllable Master Volume Control | Yes |
| Preset Tuning for Radio Stations | 40-station |
| IR Ports | 1 In / 1 Out |
| Product Dimension (W x H x D) / Weight (lbs.) | 17-1/8" x 6" x 15-1/4" / 19.4 |
| Phono Input | Yes |
© 2014 Yamaha Corporation of America and Yamaha Corporation. All rights reserved.
Apple®, iPod®, and iPhone® are trademarks of Apple Inc, registered in the U.S. and other countries.
Reviews
A perfect fit
This receiver has the exact set of features I require and no more. Very hard to get that mix right with most manufacturers trying to stuff the kitchen sink in their units. The minimalist design helps it blend right in with the rest of the furniture, and all the knobs and switches give just the right amount of resistance, imparting an impression higher quality.
February 20, 2017
Purchased
1 year ago
Good Stereo Receiver
I now have two of these and love them. I can hook up my turntable or my Ipad. Sounds great.
August 29, 2017
Purchased
6 months ago