Blackbird 4K HDBaseT Extender, 4K at 100m, USB, HDCP 2.2, PoC, EDID
Out of Stock
ETA: 2/9/2018
Note:
Due to limited supply, all products are sold on a first-come first-serve basis. Auto Notification does not guarantee either availability or price. All prices are subject to change without notice.
*Your information will only be used to notify you when this item becomes available.
Description
Blackbird 4K HDBaseT Extender, 4K at 100m, USB, HDCP 2.2, PoC, EDID
Monoprice's Blackbird 4K HDBaseT Extender uses the latest HDBaseT™ 2.0 technology to extend uncompressed HDMI® video, audio, USB 2.0 connectivity, control signals, and power over a single Cat5e/Cat6 cable. It transmits video at resolutions up to 4K up to 328 feet (100 meters). The Power over Cable (PoC) features allows the receiver to be installed in locations that lack AC power. Three USB 2.0 ports on the receiver allows you to connection a keyboard, mouse, and exernal drive.
Features:
Supports resolutions up to 4K@60Hz
Supports HDBaseT 2.0
Transmits to distances up toi 328 feet (100 meters)
Supports HDCP 2.2
Supports Power over Cable (PoC)
Includes RS232 control option
Three downstream USB 2.0 ports
Includes EDID pass-through
IR accessories not included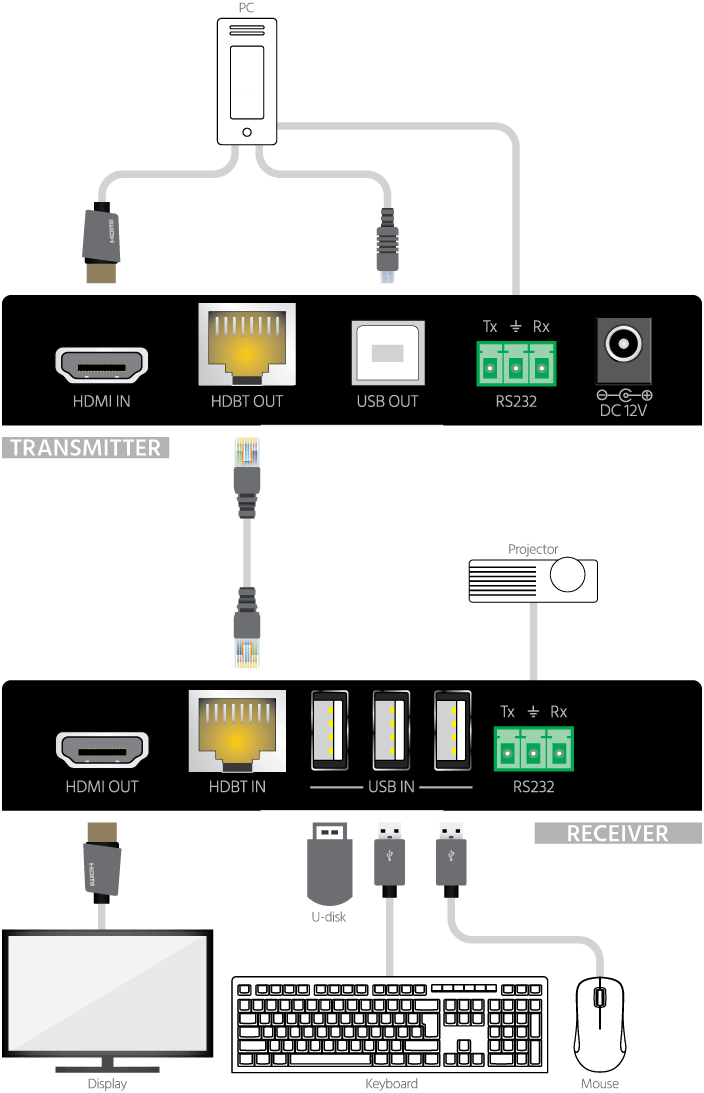 Full Specs
Model
21669
Transmitter Inputs
1x HDMI®, 1x RS232
Transmitter Outputs
1x HDBT (RJ45), 1x USB (Type B)
Receiver Inputs
1x HDBT (RJ45), 3x USB (Type A), 1x RS232
Receiver Outputs
1x HDMI
Maximum Resolution
4K@60Hz
HDCP Version
2.2
Transmission Standard
HDBaseT™ 2.0
Transmission Distance
up to 328 feet (100 meters)
Operating Temperature
+14 ~ +131°F (-10 ~ +55°C)
Operating Humidity
10 ~ 90% RH, noncondensing
Input Power
12 VDC, 2A
AC Adapter Input Power
100 ~ 240 VAC, 50/60 Hz
Maximum Power Consumption
18 watts
Transmitter Dimensions
4.6" x 0.9" x 3.7" (116 x 22 x 95 mm)
Receiver Dimensions
4.6" x 0.9" x 3.7" (116 x 22 x 95 mm)
Transmitter Weight
6.9 oz. (197g)
Receiver Weight
7.0 oz. (198g)
Blackbird™ is a trademark of Monoprice Inc.
HDBaseT™ and the HDBaseT Alliance logo are trademarks of the HDBaseT Alliance.
HDMI®, the HDMI Logo, and High-Definition Multimedia Interface are trademarks or registered trademarks of HDMI Licensing LLC in the United States and other countries.