YSP-2500 Yamaha Sound Bar with Bluetooth and Wireless Subwoofer
Quantity: ( Limit 2 per customer )
Note:
Due to limited supply, all products are sold on a first-come first-serve basis. Auto Notification does not guarantee either availability or price. All prices are subject to change without notice.
*Your information will only be used to notify you when this item becomes available. Carrier charges may apply for SMS text messages.
Description
YSP-2500 Yamaha Sound Bar with Bluetooth and Wireless Subwoofer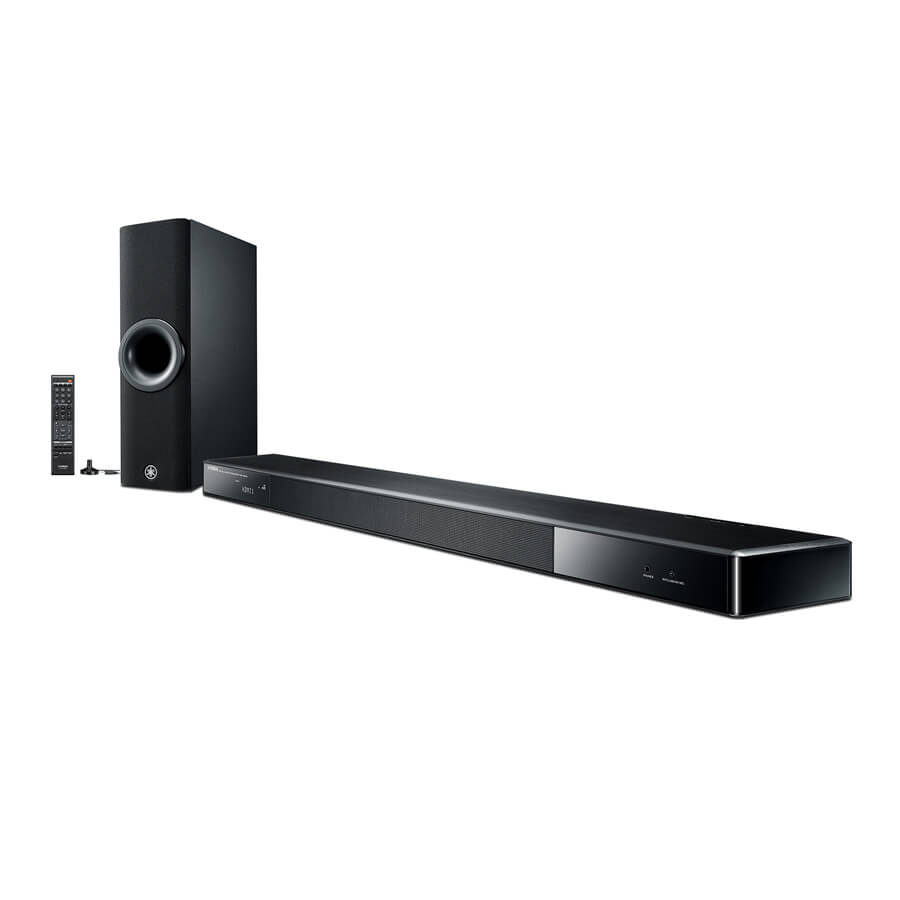 YSP-2500
MSRP: $999.95
Immerse yourself in true 7.1-channel surround sound from an ultra-slimsound bar. With 16 speakers powered by 16 amplifiers, the YSP-2500delivers lifelike sound with remarkable presence, detail and clarity. Dolby® True HD and DTS-HD Master Audio™ provide high-definitionaudio processing. HDMI® inputs ensure the highest-quality connectivitywhile Bluetooth® makes it easy to wirelessly stream music from your iPhone®, iPad® and Android™ devices.
True 7.1-channel surround sound for incredible realism
Wireless subwoofer provides rich bass with flexible placement
Bluetooth wireless music streaming from a smartphone or tablet
Easy set up with three HDMI inputs
Incredibly slim design with luxurious, brushed-metal finish
This item has free ground shipping to destinations within the 48 Contiguous United States. Other shipping options are available for destinations within the United States, including Hawaii, Alaska, and territories of the United States. This product cannot be shipped to destinations outside the United States.
Full Specs
Features
---
True 7.1-channel Surround Sound for Incredible Realism
---
While most sound bars offer a "virtual surround" experience, the YSP-2500 uses exclusive Digital Sound Projector technology to produce sound beams that reflect off the walls of your room to deliver true 7.1-channel surround sound. The result is an expansive and immersive listening experience that brings your favorite TV shows and movies to life.
How Does Digital Sound Projector Technology Work?
---
The YSP-2500 employs a high-performance processor to precisely control the timing of 16 digital amplifiers and 16 speakers, creating controlled "beams" of sound. The sound beams are then aimed — either directly or by reflection off your walls — to arrive at your ears from discrete, channel-appropriate directions.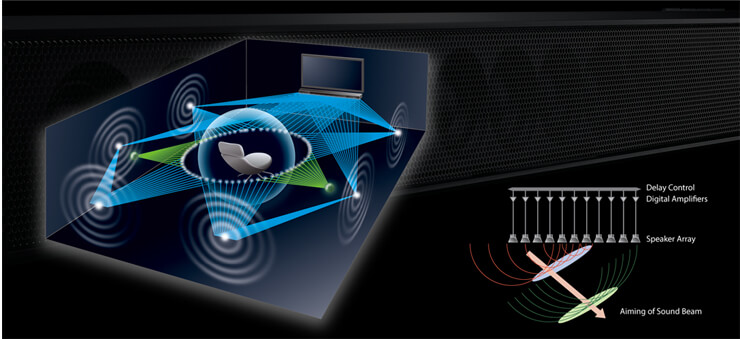 Easy Sound Calibration for Your Room
---
The exclusive Yamaha IntelliBeam™ auto calibration system makes setting up your sound bar easy. Using the supplied microphone to measure room acoustics, IntelliBeam automatically sets the best beam angles while optimizing the level and frequency response of each beam. This makes initial setup both extremely simple and acoustically perfect.

Great Sound for Every Situation
---
Whether you're watching a movie or sports, or just playing some music, the YSP-2500 offers a variety of ideal listening modes. For late-night, when you don't want to disturb others, a special target playback mode points the sound to a single location or you can connect to the front panel headphone jack for an immersive surround sound experience.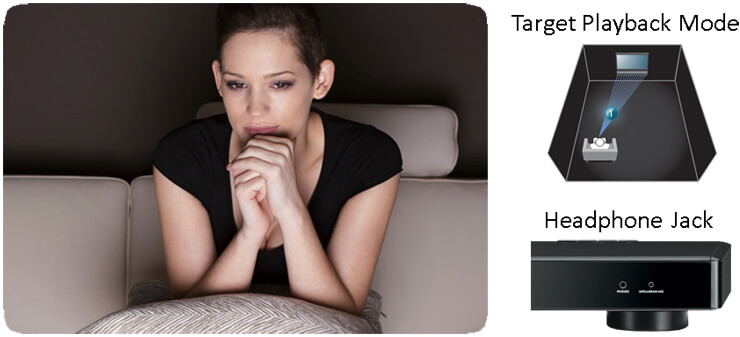 Music Streaming with Bluetooth
---
Play music wirelessly from your smartphone or tablet. Supports aptX® for superior sound quality with compatible devices. In addition, a Bluetooth standby mode provides the convenience of having the YSP-2500 turn on and off automatically.

CINEMA DSP Digital™ Brings Home the Sound Fields of Concert Halls and Theaters
---
Ultra-sophisticated Yamaha CINEMA DSP Digital technology re-creates the sound fields of some of the world's most famous performance venues. Select from 10 different settings for your listening preference. CINEMA DSP Digital programs are created by recording actual sound field data in performance spaces around the world and then applying ultrasophisticated digital processing. Yamaha was the first, and is still the leader, in providing this truly amazing, realistic surround sound experience.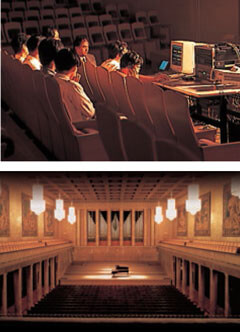 HD Audio Format Decoding
---
The YSP-2500 decodes HD Audio signals to ensure that you hear the best possible sound from Blu-ray Disc™ players, as well as from all other digital sources.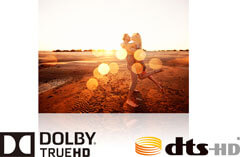 Compressed Music Enhancer
---
When music is encoded into a digitally compressed format like MP3, the frequency response suffers. This function restores what was lost, so your music always sounds the way it should.
Incredibly Slim Design for Easy Positioning
---
The YSP-2500 stands at a mere 2-7/8" high with the feet installed and only 2" without. The super-slim design allows you to place it in front of a TV without blocking the viewing area of the screen. It is also wall mountable with the SPM-K20 (optional) bracket.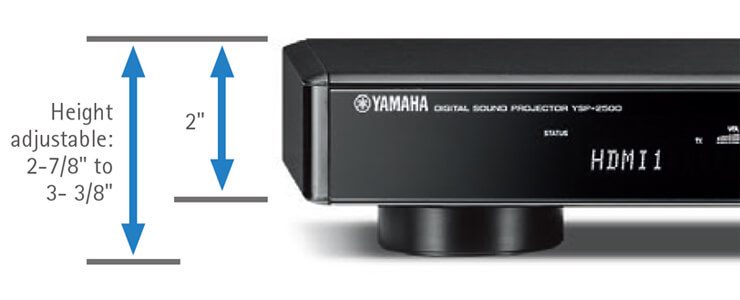 Easy-to-place Wireless Powered Subwoofer
---
The 130W active subwoofer offers a rigid body construction that reduces unnecessary resonance to produce rich and solid bass. A circuit board with an intricate grounding scheme ensures stable current supply. And, because there is no need to connect cables, your wireless subwoofer is easy to setup and place – either vertically or horizontally.
Highly Rigid Aluminum Chassis with Thick Aluminum Top Panel Ensures Clear and Rich Sound
---
With an aluminum front and top panel, the YSP-2500 is designed to prevent unnecessary vibration to ensure the best sound clarity. In addition, the internal structure has been precisely calculated and systematically arranged, optimizing the layout of the speaker drivers to improve sound dispersion. The result is highly accurate, invigorating surround sound.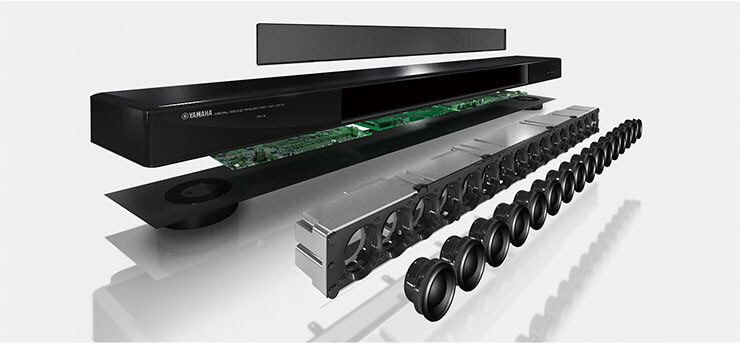 Easy Operation from Your Smartphone or Tablet
---
Download the free Home Theater Controller app for iOS® and Android to easily perform a variety of functions. Select surround sound listening modes, Cinema DSP modes or adjust sound beams for the best listening experience.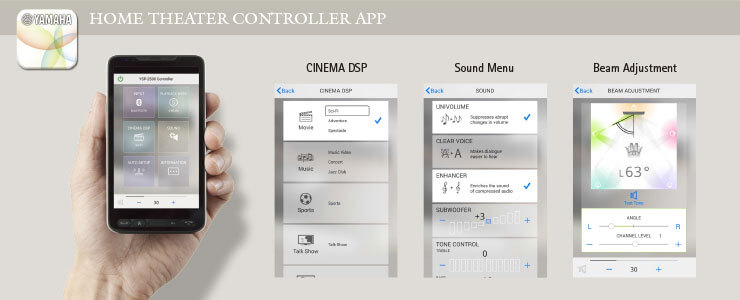 HDMI Inputs Support 4K Ultra HD 50/60p Pass-through and 3D
---
The YSP-2500 supports the latest version of HDMI for 4K Ultra HD 50/60p transmission of super high resolution images. Three HDMI inputs mean you can connect three high quality digital sources, each with just a single cable. 3D compatibility allows the transmission of 3D video.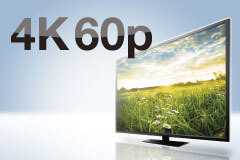 TV Remote Repeater for Signal Transmission
---
Even if the YSP-2500 blocks the TV remote's signal, the TV Remote Repeater transmits the signal to the TV so operation is unaffected.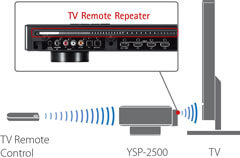 Other Notable Features
---
Easy-to-see on screen menu viewable in 10 languages (English, Germany, French, Spanish, Italy, Swedish, Dutch, Turkish, Japanese and Chinese)
Memory function for recording up to three of your favorite settings
ECO mode for energy conservation
Optional accessory: SPM-K20 wall mount bracket for wall mounting
UniVolume™ maintains the same volume level
Audio delay for adjusting Lip-sync (0-500 ms)
Specs
---
Sound Bar
General
Output Channel
7.1-channel
Output Power
162W total power: 2W x 16 beam drivers + Dynamic 130W subwoofer
Power Consumption
25W (Center Unit) , 75W (Subwoofer)
Standby Power Consumption
0.4W (Center Unit) (HDMI Control off, Bluetooth standby off), 1.6W (Subwoofer)(Wireless subwoofer mode)
Beam Drivers
1-1/8" x 16 beam drivers
Subwoofer
Dual 4" cone woofers
Dimensions (WxHxD)
37-1/8" x 2-7/8" (with stands) x 5-5/8"; 37-1/8" x 2" (without stands) x 5-5/8" (Center unit), 5-3/4" x 17-1/2" x 13-7/8" (Vertical subwoofer)
Weight
8.8 lbs. (Center unit), 17.4 lbs. (Subwoofer)
Input / Output
HDMI
3 in / 1 out
Digital Optical
2 in
Digital Coaxial
1 in
Analog Audio
1 in
Surround Headphone Jack Output
Yes
Subwoofer Output
Yes
HDMI
4K Pass-through
Yes (60p)
Deep Color
Yes
x.v.Color
Yes
3D Pass-through
Yes
ARC
Yes
CEC
Yes
Auto Lip-Sync
Yes
Sound Technology
Surround Technology
Digital Sound Projector
CINEMA DSP Movie
3 (Sci-Fi, Adventure, Spectacle)
CINEMA DSP Music
3 (Music Video, Concert, Jazz Club)
CINEMA DSP Entertainment
4 (Sports, Talk Show, Drama, Game
Listening Mode
5 Beam, 5 Beam Plus2, Stereo+3 Beam, Stereo+3 Beam PLUS2, 3 Beam, My Surround
UniVolume
Yes
Compressed Music Enhancer
Yes
Audio Formats
HD Audio Format Decoding
Yes
Dolby TrueHD
Yes
Dolby Digital Plus
Yes
Dolby Digital
Yes
Dolby Digital EX
Yes
Dolby Pro Logic®
Yes
Dolby Pro Logic II
Yes
Dolby Pro Logic IIx
Yes
DTS-HD Master Audio
Yes
DTS-HD High Resolution
Yes
DTS-HD
Yes
DTS
Yes
DTS-Neo 6
Yes
DTS-ES
Yes
DTS 96/24
Yes
LPCM
Yes
Connectivity
Wireless Music Streaming
Yes (with Bluetooth)
Bluetooth Version/Profile
(Version) Ver. 2.1 + EDR (Profile) A2DP, SPP
Wireless Subwoofer
Yes
Other Features
IntelliBeam
Yes
On-Screen Display
Yes
On-Screen Display Languages
English, German, French, Spanish, Italy, Swedish, Dutch, Turkish, Japanese and Chinese
ECO Mode
Yes
App Control
Yes
Other Features
TV Remote Repeater, System Memory
Accessories (Optional)
Wall Mounting Bracket
SPM-K20
Technology
---
CINEMA DSP Digital
---

Conventional multichannel audio reproduction systems base their sound on Dolby Digital and DTS Digital Surround™ decoding, using matrix and steering technologies to create surround sound effects. Yamaha CINEMA DSP Digital is much more advanced; actually creating independent sound fields that envelop you in an unmatched surround sound experience. With dialogue, music and effects located in separate sound fields, you will hear sound with directionality, smooth movement, exceptional clarity and presence.
IntelliBeam
---

This unit creates a sound field by reflecting sound beams on the walls of your listening room and by broadening the cohesion of all the channels. Just as you would arrange the speaker position of other audio systems, you need to set the beam angle to enjoy the best possible sound from this unit. This unit employs the beam optimization and sound optimization features with the aid of the supplied IntelliBeam microphone, allowing you to avoid troublesome listening-based setup and achieving highly accurate sound adjustments that best match your listening environment. We call these two features "IntelliBeam" generically.
Dolby TrueHD
---
Dolby TrueHD is Dolby's next-generation lossless technology developed for high definition disc based media. Dolby TrueHD delivers tantalizing sound that is bit-for-bit identical to the studio master, unlocking the true high definition entertainment experience on next generation discs. When coupled with high definition video, Dolby TrueHD offers an unprecedented home theater experience that lets you enjoy sound as stunning as the high definition picture.
DTS-HD®
---

DTS-HD featured products have the ability to decode all streams required for DTS-HD Master Audio and may have limitations in channel output and/or sampling frequency or may utilize unique post processing.
Bluetooth®
---

Bluetooth is a technology for wireless communication between devices within an area of about 33 feet employing the 2.4 GHz frequency band, a band which can be used without a license.
Qualcomm® aptX™
---

Qualcomm aptX audio coding delivers CD-quality wirelessly over Bluetooth, enabling users to lose the wires without compromising on audio quality. With the aptX audio codec source material is transparently delivered over the Bluetooth link, whether it is stored uncompressed or in an alternative compression (MP3, AAC, FLAC) format. Low audio coding delay minimizes latency and lip-sync issues.
Compressed Music Enhancer
---

Yamaha employs sophisticated digital signal processing with exclusive algorithms to enable playback that improves the performance of compressed music formats, including MP3 and WMA. With the Compressed Music Enhancer, highs and especially lows are richer and smoother, bringing music back to life to be as close to the original as possible.
UniVolume™
---

UniVolume is a Yamaha technology that maintains a consistent volume level between different channels, programs, commercials and input sources. For instance, when watching TV while using UniVolume, the volume of commercials will not be louder than the program being viewed. The same is true when switching sources to watch a DVD or Blu-ray Disc movie or to listen to music on a CD. This is particularly helpful for late night watching and listening when spikes in volume can disturb others in the house.
HDMI
---

HDMI (High-Definition Multimedia Interface) is the first and only industry supported, uncompressed, all digital audio/video interface. With the ability to deliver crystal clear, all digital audio and video via a single cable, HDMI dramatically simplifies cabling and helps provide consumers with the highest quality home theater experience. HDMI can provide an interface between most audio/video sources, such as a set-top box, Blu-ray Disc player, DVD player or AV receiver and a video monitor, such as a high definition television (HDTV) over a single cable. Depending on the model of product, HDMI can support standard, enhanced or high definition video, plus multichannel digital audio on a single cable. It can support all currently available compressed audio formats (such as Dolby Digital and DTS) and most newer HDMI devices can support lossless digital audio formats like Dolby TrueHD and DTS-HD Master Audio. (View the specifications of each product for details on HDMI compatibility.)
Trademarks
---
© 2012 Yamaha Corporation of America. All rights reserved.
Dolby®, Pro Logic®, and the double-D symbol are registered trademarks of Dolby Laboratories. Dolby TrueHD™ is a trademark of Dolby Laboratories.
DTS®, DTS-HD®, the Symbol, and DTS + the Symbol together are registered trademarks, and DTS-HD Master Audio™, DTS Digital Surround™, and the DTS-HD Master Audio Logo are trademarks of DTS, Inc.
HDMI®, the HDMI Logo, and High-Definition Multimedia Interface are trademarks or registered trademarks of HDMI Licensing LLC in the United States and other countries.
The Bluetooth® word mark and logos are registered trademarks of Bluetooth SIG, Inc.
Apple®, iPhone®, and iPad® are trademarks of Apple Inc, registered in the U.S. and other countries.
Android™ is a trademark of Google Inc.
IntelliBeam™, CINEMA DSP Digital™, and UniVolume™ are trademarks of Yamaha Corporation.
Qualcomm® is a trademark of Qualcomm Incorporated, registered in the United States and other countries. CVC and aptX™ are trademark of Qualcomm Technologies International, Ltd., registered in the United States and other countries. Qualcomm® aptX™ is a product of Qualcomm Technologies International, Ltd.
Blu-ray Disc™ is a trademark of the Blu-ray Disc Association.
IOS® is a trademark or registered trademark of Cisco in the U.S. and other countries and is used under license.
SIGN UP FOR EMAIL DEALS