Monoprice Retro Bookshelf Speakers 4-inch 2-way, Black (pair)
Full Specs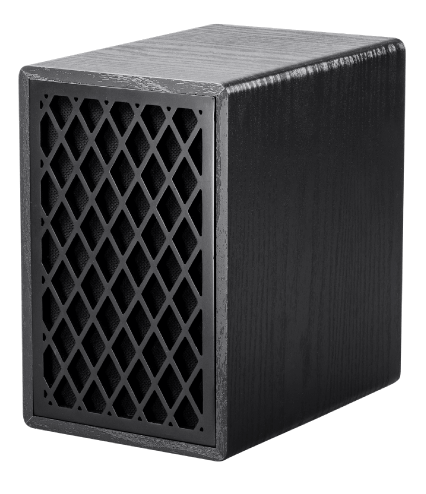 Model
16074
Speaker Type
2-way bass reflex with rear-firing port
Woofer
4" Polypropylene/Mica cone with rubber surround
Tweeter
1" Silk Dome
Crossover Frequency
2.5kHz
Frequency Response
65Hz ~ 20kHz
Nominal Impedance
4Ω
Max Input Power
100 watts
Sensitivity
81dB ±3dB @ 1W/1m
Dimensions
8.7" x 5.7" x 8.2" (220 x 145 x 208mm)
Weight
6.6 lbs. (3kg)
Questions and Answers
Browse 3 questions
Browse 3 questions and 9 answers
"8.7" x 5.7" x 8.2" (220 x 145 x 208mm)" -- are these really the dimensions? none of the faces look remotely "square" (8.7 x 8.2)
BEST ANSWER:
Hey! So the speaker shape is a rectangle. yes these are the dimensions. If you convert it to cm it's 22 cm in Height (up/down), then 14.5 cm in width and then 20.8 cm in depth (front to back). These are great speakers. Hopefully this helps you out! :-)
Brendon R

on Aug 11, 2018

Purchased on Apr 20, 2018
Which monoprice speakers would the 25W tube amp hybrid work well with? Can it power the 13778 (select 4in) and the 13706 (select 5.25in) speakers well? What about the retro 4 in bookshelf?
Monoprice Retro Bookshelf Speakers 4-inch 2-way, Black (pair)
BEST ANSWER:
Thank you for your interest in this tube audio system. The 5.25" Select's will give best bass performance, the Retro's are the best overall sounding, and the 4" Select's are the lowest priced. All three will work very well with this amp. The choice is up to you, your style, and your budget.
Has anyone had the opportunity to hear this amp with both the Retro and the 5 inch select speakers? I'm trying to choose which setup to buy and I would appreciate any input anyone has. I'm leaning towards the Retro speakers just because they have a smaller footprint and I plan to use this in my bedroom.
Monoprice Retro Bookshelf Speakers 4-inch 2-way, Black (pair)
BEST ANSWER:
Josh, I'd recommend the 5" speakers. They have a higher sensitivity, which means they will play louder using less power. I also think the bigger driver will produce better results, even (or especially) at lower volumes. If the measurements are too big for your space that's one thing, but based on sound I'd lean toward the 5". Just imo.