Fixed TV Wall Mount Bracket with Anti-Theft Feature, UL Certified (Max 88 lbs, 37~70 inch)
Quantity:
In Stock
This item should ship tomorrow (2/21/2017) if ordered
within 21 hours 20 minutes
Description
Fixed TV Wall Mount Bracket with Anti-Theft Feature, UL Certified (Max 88 lbs, 37~70 inch)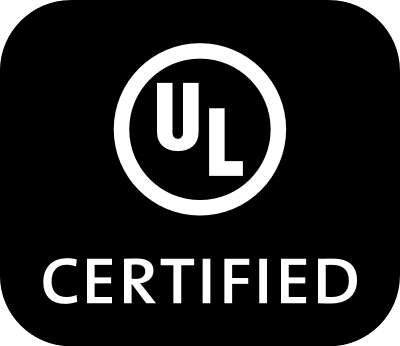 Don't leave your flat panel TV on a table or stand where it can be knocked over and damaged, or even worse injure a child or pet. Instead, mount it securely and safely to the wall using this Fixed Wall Mount Bracket from Monoprice!
This is a fixed wall mount bracket with no adjustment ability. It includes a security bracket, which allows you to lock the TV in place, making it ideal for hospitality settings. It has undergone extensive safety testing and has been certified by Underwriters Laboratories (UL), which ensures that it will perform safely and reliably.
This bracket is designed to mount an LCD, LED, or Plasma display with a VESA mounting pattern between 300x300 and 600x400, which includes most 37" to 70" TVs*. It can be mounted to any type wall (brick, concrete, wood stud, etc.) and can safely hold up to 88 lbs (including the weight of the mount itself). A built-in level makes it easy ensure the mount is properly installed. Mounting hardware is included.
* Note that the display screen size is only an approximation. Your TV is compatible with this mount as long as your display has a VESA mounting pattern and weight that fit within the size and weight limits listed above.
Support Files:
Full Specs
Specifications
Model #
12988
Type
Fixed
Minimum VESA
300 x 300
Maximum VESA
600 x 400
Maximum Weight
88 lbs
Minimum Display Size
37"
Maximum Display Size
700"
Minimum Extension
0.9"
Maximum Extension
N/A
Tilt Range
N/A
Swivel Range
N/A
Rotation Range
N/A
Construction
Steel
Color
Black
Wall Plate Dimensions
30.9" x 9.8"
Front Plate Dimensions
N/A
Built In Level
No
Cable Management
No
UL Certified
Yes
RoHS Compliant
Yes
Notes:
Includes security bracket
(padlock not included),
No logo on mount
Works as promised.
Used this to mount a 60" Vizio at my dad's. His wall framing was 24" centers, with a stud directly in the center of the wall. Used the wall anchors on the outsides and screwed directly to the stud in the middle. The wall anchors that came with this didn't work worth a darn. I was extra careful after the 1st one started to turn when installing the screw. All 4 anchors turned in the wall. Used a dollars worth of toggle bolts instead. Problem solved. Very minor.

PROS: price, built in level, easy to install

CONS: if your studs don't line up and you need wall anchors, use toggle bolts instead of the anchors that come with this.
Does what it say
Easy to use mount for the spare room. I have mounted plenty of TV's before so this was simple. Top and bottom middle screws went up in a stud. I figured it was coming with the crappy plastic anchors which it did They don't do anything, they didn't. I grabbed four toggle bolts from the store before it arrived. Went up in about 20 mins.

PROS: Basic, Cheap, effective, easy to install.

CONS: none
Great value, Included level is nice feature
I bought this to mount a TV at work, and it was easy to install and is working just fine. Per other reviewer's recommendations, I used toggle bolts instead of the included drywall anchors. The mount provides sufficient flexibility, and matched up well with the bolt holes in the TV. The included spacers are a nice touch, allowing you to vary the spacing of the TV off of the bracket if necessary to allow clearance for cords. The included level is a clever feature.

PROS: Price
Works as advertised
Included attached level
Spacers that allow variation in gap behind TV for cords

CONS: I wouldn't trust the included drywall anchors - used toggle bolts instead.
SIGN UP FOR EMAIL DEALS