Adjustable Tablet Desk Mount for 7-12 Inch Tablets
$14.49
$15.99
On Sale
9.38% OFF
Description
Adjustable Tablet Desk Mount for 7-12 Inch Tablets
This fully-adjustable tablet desk clamp brings convenient ergonomic adjustability to tablets, perfect for using them at work, or even in the bedroom, living room, and kitchen. Based on the popular fully adjustable monitor mounts, this smaller version includes an adjustable adapter that holds a wide range of tablet sizes. It allows users to position their devices more ergonomically, providing instant adjustments for less eye and neck strain for improved workplace health and comfort.
Suspending the tablet up and off the desk, this mount reduces desktop clutter and frees up valuable desk space. Full adjustability means it is easy to position a tablet right next to a computer monitor, at the perfect viewing angle, or within easy reach for comfortable use. The stand provides a stable base that clamps on most desktops, or that mounts through a grommet hole for lots of installation options. Quality aluminum arms provide provide a stable and secure platform for viewing and light use, but would benefit from the support of the user's hand when using heavy or continuous screen inputs.
Features:
Adjustments are easy to make, change positions throughout the day or depending on your immediate needs
Full range motion allows for swivel, rotate, and tilt movements
Expanding adapter fits 7-12" tablets weighing up to 2.2 pounds
Small footprint takes very little desk space
Clamp on a desk edge or through a grommet hole for stability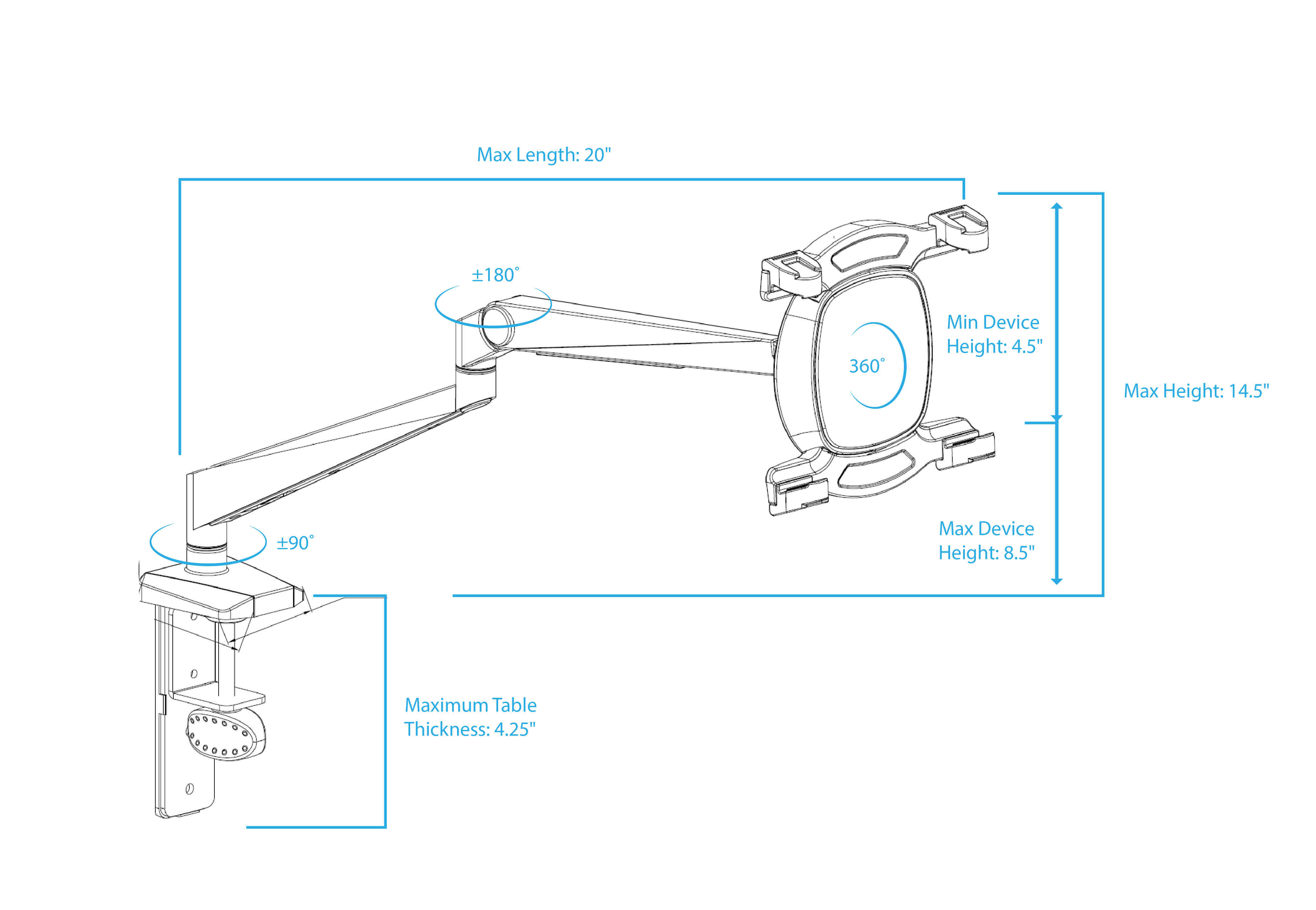 Support Files:
Reviews
Size, looks great - not good for heavy devices
I purchased a few of these to hold Surface Pro 4s. It was one of the few mounts I could find that would actually fit the larger size of the device.

Pros:
Looks excellent
Holder stretches very wide
Clamp and arm are very maneuverable, giving you lots of flexibility for various sizes of surface mounting

Cons:
If I even barely tap the Surface, the whole thing wobbles like crazy. This is the case for all of the mounts that I have. I have opened it up and tightened everything I could, but nothing seems to work
"Cable management" could be much better

Luckily mine are used for scan stations, so there should be no handling of the device. However, I guess you get what you pay for with a $20 mount. I wish there was some way to fix the extreme wobbling. I'm almost afraid of the things breaking.
August 10, 2017
Purchased
5 months ago
Response from Monoprice
Hi, thanks for your purchase and for your feedback. This mount was really primarily designed for easy adjustments and convenient reading and viewing, this is why everything is easy to adjust and to maneuver. If using for screen input, this mount handles the weight of the device (so it won't be tiring for the user) but it would still need the support of the user's hand for stability. Thank you.