Description
Tt eSPORTS ISURUS PRO Detachable Microphone In-Ear Gaming Headset (HT-ISF-ANIBBK-19)



DUAL MICROPHONES

Consist a dual microphones design where you can choose either to speak through the inline microphone or via the detachable microphone. If you do not want to use the detachable microphone, you are always able to speak via the in-line microphone!
QUALITY COMPONENTS
ISURUS PRO offers you the best sound quality and is perfect for all gamers. You can listen to music, watch movies or use it with your phone to communicate with friends. It is the perfect headset for you with premium audio technology and an exception design!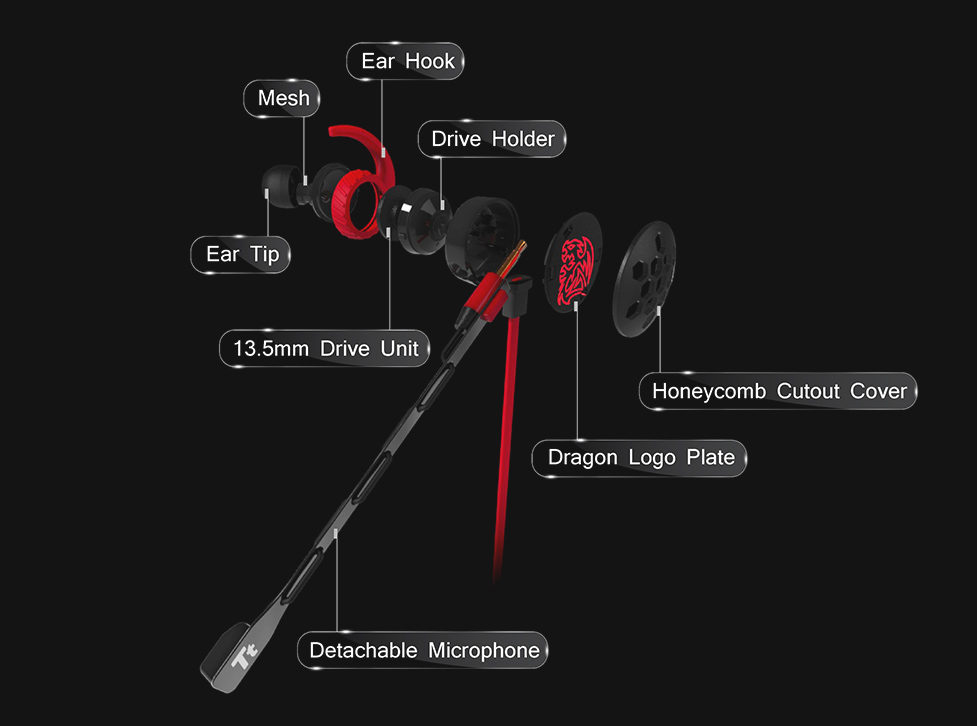 INLINE 3-BUTTON REMOTE

Never stop playing! Change your music on-the-fly with the 3 button in-line remote (previous, next, play & pause button) with integrated microphone, allowing you to answer your calls and control the music with just the push of a button. ISURUS PRO is the perfect headset when you are on the move or in a gameplay!





TANGLE-FREE FLAT CABLE

ISURUS PRO consist with tangle-free flat cables, so say goodbye to those frustrating cable tangles and have fun with the great designed for functionality and enjoy your game and music every day!




SECURE FIT SYSTEM

Designed to nestle in the ear without entering your ear canal, the ISURUS PRO spreads contact equally across the ear for supreme coziness and forms a cap that gives the headphones a full-spectrum of noise reduction!



POWERFUL 13.5MM NEODYMIUM DRIVER

Deliver unbeatable in-ear audio, with natural high-reliability, crisp trebles and powerful bass - allowing you to hear and retain your daily soundtracks perfect and experience the true gaming atmosphere! Whatever your mood you have for the day, just immerse yourself in the best quality of sound!




3 SIZES EAR SLEEVES

ISURUS PRO comes with 3 sizes of silicone sleeves where you can choose the pair that best fits you naturally. These awesome washable, soft silicone sleeves were designed to provide comfort in your ear canals for long hours of use!
Full Specs
Warranty  2 Year Warranty
COLOR:   BLAZING RED
CABLE LENGTH:   1.515 MM ± 20MM
CONNECTOR:   3.5MM PLUG
DRIVER UNIT (MM):   13.5MM
IMPEDANCE:   16±15%Ω
SENSITIVITY:   92±3DB
CHANNEL:   STEREO
FREQUENCY RESPONSE:   20HZ ~ 20 KHZ
MAX INPUT:   10MW
PLUG&PLAY MICROPHONE:   YES
EXTERNAL IN-LINE CONTROLLER:   YES
DETACHABLE MIC DIRECTIVITY:   OMNI-DIRECTIONAL
DETACHABLE MIC SENSITIVITY:   -44DB ± 4DB AT 1KHZ
DETACHABLE MIC FREQUENCY:   100HZ ~ 5 KHZ
DETACHABLE MIC IMPEDANCE:   2V2.2KΩ
IN-LINE MIC DIRECTIVITY:   OMNI-DIRECTIONAL
IN-LINE MIC SENSITIVITY:   -42DB ± 4DB AT 1KHZ
IN-LINE MIC FREQUENCY:   100HZ ~ 5 KHZ
IN-LINE MIC IMPEDANCE:   2V2.2KΩ
Questions and Answers
Browse 1 question
Browse 1 question and 3 answers
Are these compatible with the Xbox 360 controller port?
BEST ANSWER:
Thank you for your question. As another answer mentioned, the Xbox 360 controllers will use a 2.5mm port and these earphones will require a 3.5mm port. So it would not work as is.

I would recommend searching for an Xbox 360 3.5mm to 2.5mm TRRS adapter. Be sure that it states it is for the Xbox 360 and not the Xbox One. I hope this helps.
Reviews
Great headset for mobile
Love this headset, really good sound, good mic, careful with the mic no noise cancellation.
good bass with music, good mids and lows, equivalent to the DJ headphones

PROS: weight, mic, great sound.

CONS: no noise cancellation mic