Select Series USB-C to Gigabit Ethernet and USB-C (F) Dual Port Adapter
Description
Select Series USB-C to Gigabit Ethernet and USB-C (F) Dual Port Adapter

The versatility of the USB-C port means that it can simultaneously perform several different functions, including data transfer and power input. Rather than being forced to choose one or another, you can enjoy the superior security and increased data transfer speeds of a wired Ethernet connection, while charging your laptop's battery. A true plug & play device, no drivers or software installations are required to use this Gigabit adapter on a Windows® or Mac® OS X® machine.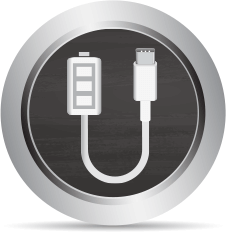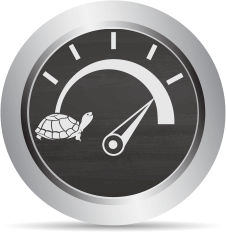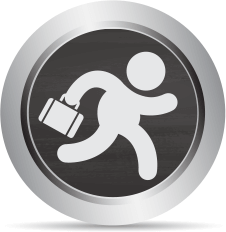 USB-C Power Port
Wired Gigabit Ethernet
Portable
USB-C Power Port: The USB-C charging port allows you to connect your original USB-C charger, so you can charge your laptop's battery rather than draining it, while using this adapter.
Wired Gigabit Ethernet: Enjoy the superior security and increased data transfer speeds of a wired Gigabit Ethernet connection, without the need for drivers or software installations when used on a Windows® or Mac® OS X® machine.
Portable: Small and portable, you can easily slip this adapter into your laptop case and have it ready for use wherever and whenever the need arises.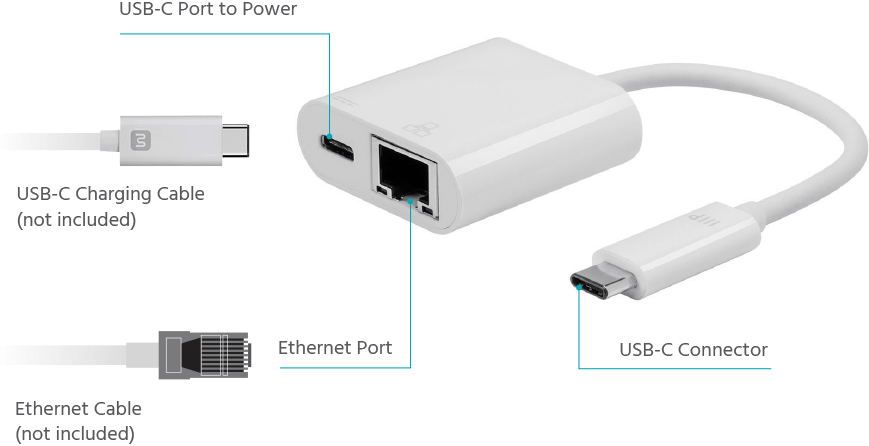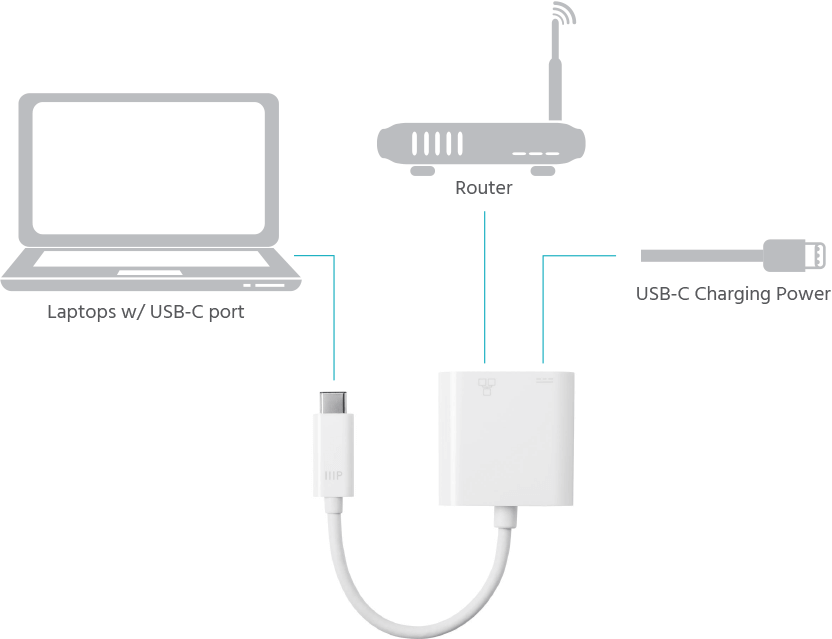 Compatible with USB-C equipped laptops, such as the Apple MacBook® and Google Chromebook™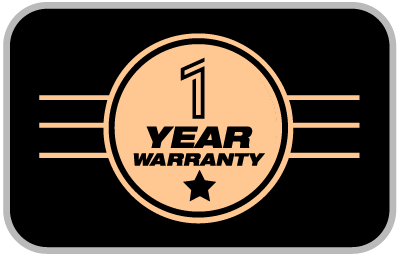 Warranty
Monoprice not only stands behind every product we sell with a 1 year replacement warranty, we offer a 30-day money back guarantee as well! If the product you purchase does not satisfy your needs, send it back for a full refund.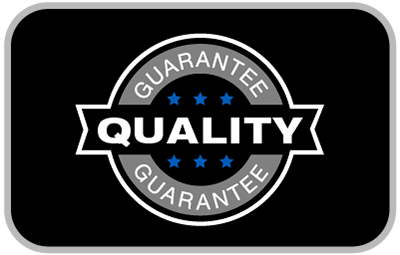 Quality at a Fair Price
Monoprice's rugged design and rigid quality control standards deliver high quality products at fair prices.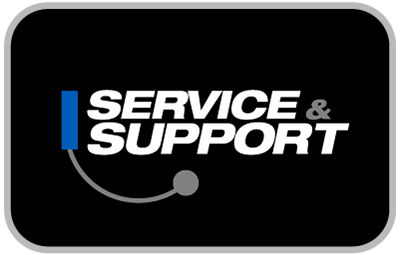 Service & Support
You're never on your own with Monoprice products! We have a full team of friendly and knowledgeable technicians available to answer your questions, both before and after the sale. Contact our technical support team for questions about our products, troubleshooting, or even suggestions for products to fit your particular needs. Not to be outdone, our friendly and helpful customer service team is here to make your ordering, delivery, and any possible returns a quick and painless operation, from start to finish!
HDMI®, the HDMI Logo, and High-Definition Multimedia Interface are trademarks or registered trademarks of HDMI Licensing LLC in the United States and other countries.
Apple®, Mac®, MacBook®, and OS X® are trademarks of Apple Inc., registered in the U.S. and other countries.
Google™ and Chromebook™ are trademarks of Google Inc.
Questions and Answers
Browse 3 questions
Browse 3 questions and 4 answers
What does the "(F)" stand for in "Select Series USB-C to 3x USB-A 3.0, Gigabit Ethernet & USB-C (F) Adapter"... USB-C port to power?
Select Series USB-C to Gigabit Ethernet and USB-C (F) Dual Port Adapter
BEST ANSWER:
It refers to the "female" USB Type C port on the bulky portion of the adapter.

For reference, the USB Type C jack/plug that protrudes from the adapter (and connects to the host device) could also be referred to as a "USB Type C Male".
We are not seeing NetBoot support from this adapter on the MacBook (Retina, 12-inch, Early 2015) models. However, we do see support on the new MacBook Pro (13-inch, Late 2016). IS this to be expected?
BEST ANSWER:
This actually has to do with the EFI BootROM on the computers. Apple was add USB drivers for ethernet to the new BootROMs starting in late 2016, but the older machines only had drivers for the Apple USB 10/100 ethernet adapter.
Rob P

on Feb 2, 2017

Purchased on Jun 15, 2016
Are these adapters supported on Linux? I plan to use to with them with the Dell XPS 13 9360 with Ubuntu.
Select Series USB-C to Gigabit Ethernet and USB-C (F) Dual Port Adapter
BEST ANSWER:
Hard to tell. While these are hardware converters and should work in all instances, they might not work. They work for me when plugged directly into the computer. Howver, they did not work with a hub in between.
Richard H

on Jul 5, 2017

Purchased on May 16, 2017