Cabernet Ultra CL2 Active High Speed HDMI® Cable, 25ft
Quantity:
In Stock
This item should ship today (2/27/2017) if ordered
within 1 hour 10 minutes
Description
Cabernet Ultra CL2 Active High Speed HDMI® Cable, 25ft

Description:
The Cabernet series of Active High Speed HDMI Cables is designed to meet the demanding needs of home theater installers and contractors. The CL2 fire safety rating means that these cables can be safely routed through the walls, while the attractive zinc-alloy connectors offer a simple elegance and beauty to the exterior portions of your installation. Rated for 18Gbps for lengths up to 50 feet, these cables are certified to accurately transmit all of the features supported in the latest HDMI specification. With Monoprice's Lifetime Warranty on all cables, you can rest assured that we stand behind you, our cables, and your clients.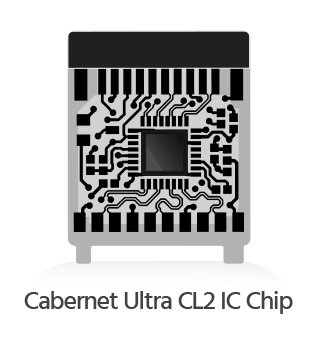 ---
Cabernet Ultra CL2 High Speed HDMI® Cable, up to 100 feet

---
Features:
Safe for in-wall residential installations with the Underwriters Laboratories-approved CL2 fire safety rating
More reliable signal transmissions to greater distances using the built-in active signal processing IC chip
Thinner, more flexible cables are easier to route and snake
Supports more High Speed HDMI features, including 4K@60Hz, to greater distances with superior performance over passive High Speed HDMI Cables (18Gbps vs 10.2Gbps)
Superior conductivity and long-term signal reliability using 100% pure copper conductors
Resists electromagnetic and radio frequency interference with shielded zinc-alloy connector heads
Connects to a wide variety of source (PlayStation®, Xbox®, Satellite Receivers, Blu-ray Disc™ players, etc.) and destination devices (HDTVs, DVRs, switches, extenders, etc.) with HDMI connectors (Type A)
Available in lengths from 25 to 100 feet, up to 4K@60Hz, depending on length and cable guage
You can rest assured that Monoprice stands behind you, our cables, and your clients with our Monoprice Lifetime Warranty on all cables

---
Applications:
✚ Home Theaters ✚ High Definition Video Conference Systems ✚ High Definition Video Surveillance Systems
✚ Digital Signage and TV Walls ✚ Churches and Schools ✚ Special Events

---
Cabernet Ultra CL2 High Speed HDMI® Cable Drawing:

---
Comparison between Cabernet Ultra CL2 HDMI Cable,
Active HDMI, and Passive HDMI Cables:
| | | | |
| --- | --- | --- | --- |
| | | | |
| Transmission Medium | Multi-mode Fiber | Tin Plated Copper | Tin Plated Copper |
| Maximum Length | 330 feet | 100 feet | 100 feet |
| Cable Thickness | 5.0mm | 7.5mm | 11.5mm |
| Supports HDCP | Yes | Yes | Yes |
| Supports DDC | Yes | Yes | Yes |
| Maximum Resolution | 4K@60Hz | 4K@60Hz | 720p |
| Weight | 4.4 lbs. | 7.2 lbs. | 11.9 lbs. |
HDMI, the HDMI Logo, and High-Definition Multimedia Interface are trademarks or registered trademarks of HDMI Licensing LLC in the United States and other countries.
PlayStation is a trademark or registered trademark of Sony Corporation.
Microsoft and Xbox are either registered trademarks or trademarks of Microsoft Corporation in the United States and/or other countries.
Blu-ray Disc and Blu-ray are trademarks of the Blu-ray Disc Association.
Browse 2 questions
Browse 2 questions and 2 answers
Currently upgrading my components and need cable help. My components consist of the following... LG OLED65C6P, Marantz SR7010, PS4, and the new Oppo UDP-203. Aside from my PS4, all my new components are up to date with the latest technology. Where my problem lies is, from my receiver to the TV I need a 45FT cable. I have been looking at your Cabernet series which is rated 18gbps and can support all my 4K/3-D needs including 4K/60 Hz at 4:4:4:. Most reviews are great, however some say they don't work. I need help! Also, once the 45FT is taken care of I need help choosing the best 18gbps cables to hook my components to my receiver at a length of 3-6FT. Also, will these throughput HDR and Dolby vision content?
BEST ANSWER:
Call Customer Service. That's what they are there for.
Besides the HDMI cable, what else is needed to watch HULU TV on a TV ?
BEST ANSWER:
You need an internet connection, either wired or wireless. You will also need a smart TV, or a device like a Roku or Chrome-cast.
Molly S

on Feb 9, 2017

Purchased on May 2, 2016
SIGN UP FOR EMAIL DEALS