BitPath AV SDI Extender Over Single Cat6 Cable with IR, 120m
$129.99
$179.99
On Sale
27.78% OFF
Full Specs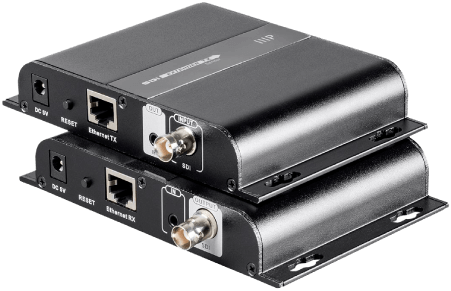 Model
16227
Video Standard
SD-SDI, HD-SDI, 3D-SDI
Maximum Video Resolution
1080p@60Hz
Transmission Protocol
BitPath AV™
Maximum Transmission Distance
394 feet (120 meters) using Cat6 cable
328 feet (100 meters) using Cat5e cable
262 feet (80 meters) using Cat5 cable
IR Extender Bandwidth
20 ~ 60 kHz
Maximum Power Consumption(each)
6 watts
Power Source
5 VDC, 2A AC power adapters
Operating Temperature
+32 ~ +140°F (0 ~ +60°C)
Dimensions (each)
5.4" x 3.5" x 0.9" (138 x 105 x 24 mm)
Transmitter Weight
6.4 oz. (182g)
Receiver Weight
6.3 oz. (180g)
Support Files:
Bit-Path AV™ is a trademark of Monoprice Inc.
Questions and Answers
Browse 3 questions
Browse 3 questions and 4 answers
Will this product carry audio signal as well as video?
BEST ANSWER:
Yes, as long as it is embedded into the SDI signal (no separate inputs). I'm not sure if it does only 2 Channels of embedded audio, or the full 16 SDI is capable of.
Jacob A

on Feb 12, 2018

Purchased on Jun 7, 2017
What IEEE standard is the BitPath AV protocol built on?
Has anyone had any reliability issue with this device?
Reviews
Great Devices
I have a fiber network all over a campus and use these to get video from point A to point B on the existing network. They work great.

A few notes:
-Only put these on VLANs (or completely separated networks) and each on an individual VLAN. If 2 transmitters are on the same VLAN, they will compete with each other.
-You can have multiple receivers to 1 transmitter
I've tried using a HDMI receiver with an SDI transmitter and it 'usually' works.
-Delay is about 2 seconds
-Bitrate is about 15MBps
February 15, 2018
Purchased
4 weeks ago