BitPath AV SDI Extender Over Single Cat6 Cable with IR, 120m
$129.99
$179.99
On Sale
27.78% OFF
Full Specs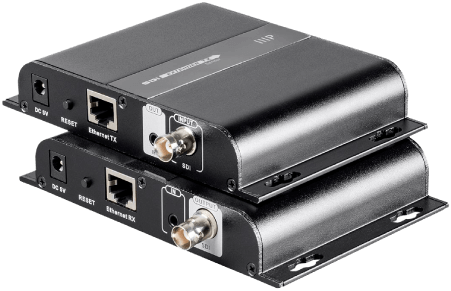 Model
16227
Video Standard
SD-SDI, HD-SDI, 3D-SDI
Maximum Video Resolution
1080p@60Hz
Transmission Protocol
BitPath AV™
Maximum Transmission Distance
394 feet (120 meters) using Cat6 cable
328 feet (100 meters) using Cat5e cable
262 feet (80 meters) using Cat5 cable
IR Extender Bandwidth
20 ~ 60 kHz
Maximum Power Consumption(each)
6 watts
Power Source
5 VDC, 2A AC power adapters
Operating Temperature
+32 ~ +140°F (0 ~ +60°C)
Dimensions (each)
5.4" x 3.5" x 0.9" (138 x 105 x 24 mm)
Transmitter Weight
6.4 oz. (182g)
Receiver Weight
6.3 oz. (180g)
Support Files:
Bit-Path AV™ is a trademark of Monoprice Inc.
Questions and Answers
Browse 3 questions
Browse 3 questions and 4 answers
Will this product carry audio signal as well as video?
BEST ANSWER:
Yes, as long as it is embedded into the SDI signal (no separate inputs). I'm not sure if it does only 2 Channels of embedded audio, or the full 16 SDI is capable of.
Jacob A

on Feb 12, 2018

Purchased on Jun 7, 2017
What IEEE standard is the BitPath AV protocol built on?
Has anyone had any reliability issue with this device?
Reviews
Great Devices
I have a fiber network all over a campus and use these to get video from point A to point B on the existing network. They work great.

A few notes:
-Only put these on VLANs (or completely separated networks) and each on an individual VLAN. If 2 transmitters are on the same VLAN, they will compete with each other.
-You can have multiple receivers to 1 transmitter
I've tried using a HDMI receiver with an SDI transmitter and it 'usually' works.
-Delay is about 2 seconds
-Bitrate is about 15MBps
February 15, 2018
Purchased
3 months ago
Monioprice SDI CAT6 extender
Received the extenders and need to use a camera at the rear of an auditorium which was a little over 300'. Ran our CAT6 cable and plugged everything in. powered up our camera and video switcher and checked the picture quality.. looked great. No noise or color issues and resolution was dead on.
Cat6 is much easier then coax and I can easily swap extenders out if I need HDMI instead of SDI.
Works like I had hoped...!
May 14, 2018
Purchased
1 month ago