Blackbird 4K Pro 1x4 Ultra Slim HDMI Splitter, HDR, 4K@60Hz, HDCP 2.2
$63.99
$79.99
On Sale
20.00% OFF
Description
Blackbird 4K Pro 1x4 Ultra Slim HDMI Splitter, HDR, 4K@60Hz, HDCP 2.2
Monoprice's Blackbird™ 4K Pro 1x4 HDMI® Splitter is a cost effective solution for distributing high resolution HDMI signals. It delivers 18Gbps bandwidth and supports resolutions up to 4K@60Hz 4:4:4. It supports HDCP 2.2 and automatic EDID detection.
Features:
4 simultaneous HDMI outputs
Supports HDCP 2.2
Supports resolutions up to 4K@60Hz 4:4:4
18 Gbps maximum bandwidth
Automatically uses the EDID of the first detected display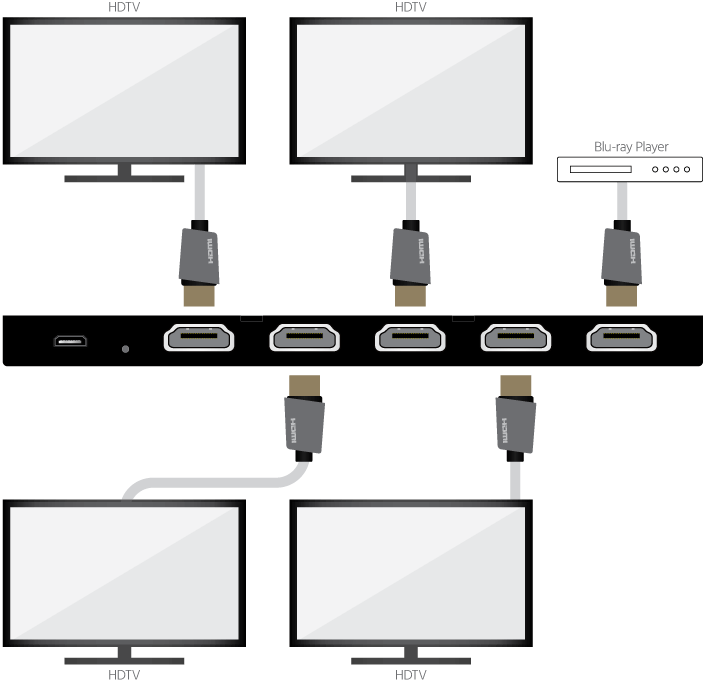 Full Specs
Model
21613
Inputs
1x HDMI
Outputs
4x HDMI
Maximum Bandwidth
18 Gbps
Maximum Resolution
4K@60Hz 4:4:4
HDCP Version
2.2
Operating Temperature
+32 ~ +122°F (0 ~ +50°C)
Operating Humidity
10 ~ 90% RH, noncondensing
Input Power
5 VDC, 2A
AC Adapter Input Power
100 ~ 240 VAC, 50/60 Hz
Maximum Power Consumption
6.5 watts
Dimensions
6.0" x 0.4" x 2.8" (152 x 11 x 70 mm)
Weight
4.9 oz. (140g)
Blackbird™ is a trademark of Monoprice Inc.
HDMI®, the HDMI Logo, and High-Definition Multimedia Interface are trademarks or registered trademarks of HDMI Licensing LLC in the United States and other countries.
Reviews
EXCELLENT Splitter
This splitter is an excellent device and I highly recommend it
June 15, 2017
Purchased
8 months ago
Good But Could Be Better
Ive done initial testing (while waiting for back-ordered cabling) and the picture looked great on secondary (720p) TV. One concern, though, is that the splitter provides all ports a resolution thats scaled down to the lowest common denominator. Thus, if I add a 1080p TV to the mix, it will receive only 720p. (Discovered this in the fine print.).
January 21, 2018
Purchased
3 weeks ago
It works with one caveat
I connected this directly to a DirecTV genie and from there to a couple of TVs and a receiver. The splitter works as expected with one issue. Each time I change channels, I get an HDCP warning stating my cables/TV don't support it. After 5 seconds or so, it seems to properly complete the handshake and then tune in the channel. Removed the switch from the setup, things work as normal. It's extremely annoying. Hoping others can comment on their experience once there are more sales/reviews. It does work, but adding a 5+ second delay when changing channels is unacceptable. For now it's disconnected. I'll connect when I need it; was not my intended use.
May 5, 2017
Purchased
8 months ago