BitPath AV 4K HDMI Wireless Transmitter & Receiver Kit, 200m
Note:
Due to limited supply, all products are sold on a first-come first-serve basis. Auto Notification does not guarantee either availability or price. All prices are subject to change without notice.
*Your information will only be used to notify you when this item becomes available.
Full Specs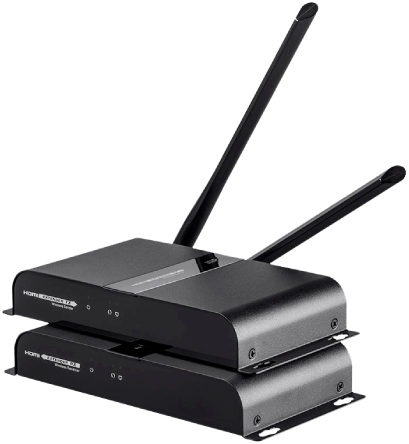 Model
16223
Video Standard
HDMI® with HDCP support
Maximum Video Resolution
4K@30Hz, including 1080p@60Hz
Transmission Protocol
BitPath AV™
Maximum Transmission Distance
up to 656 feet (200 meters)
IR Extender Bandwidth
20 ~ 60 kHz
Maximum Power Consumption (each)
15 watts
Power Source
5 VDC, 3.5A AC power adapters
Operating Temperature
+32 ~ +140°F (0 ~ +60°C)
Dimensions (each)
7.7" x 5.4" x 1.3 (195 x 137 x 32mm)
Weight (each)
19.8 oz. (560g)
Support Files:
Bit-Path AV™ is a trademark of Monoprice Inc.
HDMI®, the HDMI Logo, and High-Definition Multimedia Interface are trademarks or registered trademarks of HDMI Licensing LLC in the United States and other countries
Reviews
Well worth the $
I'd tried an off-brand solution for my client's conference room and it gave us nothing but headaches. Losing connectivity, rebooting each component, etc. it was NEVER a good solution. This unit is like furniture; plug it in and you've got what you need; HDMI wirelessly across the room.
June 13, 2017
Purchased
1 year ago
Did not work with 4k feed
The range was great on 1080P but this product did not work for my 4k feed. I called to troubleshoot and they were helpful but no luck on getting it to broadcast a 4k signal
April 4, 2017
Purchased
1 year ago