Experience the evolution of PC design, form and function: The MILLENNIUM is the first desktop case capable of transforming from a mid tower to full tower with four different motherboard mounting configurations. The top of the line NVIDIA® GeForce® GTX graphics cards make it ideal for a crisp gaming experience with IPS and 4K monitors. Not to mention the highest professionally overclocked processing speeds, combined with ORIGIN PC Liquid Cooling, to deliver the raw power you need.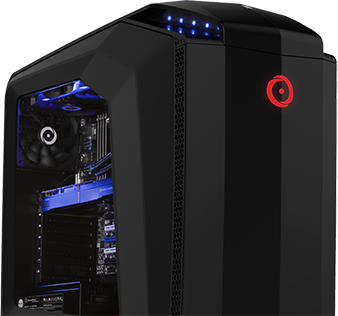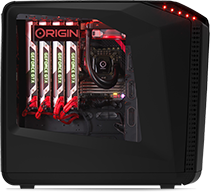 The chassis' server-grade steel frame gives the MILLENNIUM unshakable support while also aiding in heat dissipation. ORIGIN PC maximized airflow through the chassis via their unique internal bay setup, as well as through vents at the front, top and bottom of the system. With or without the CRYOGENIC or FROSTBYTE liquid cooling systems, your components and circuitry stay cool through your toughest and longest gaming sessions. The MILLENNIUM is the first desktop case capable of four different motherboard orientations. Go from a standard ATX mount to a 90 degree vertical mount for better airflow with the turn of a few screws.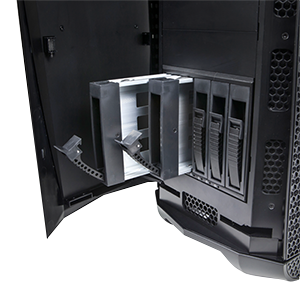 The front bays of your PC is crucial to expansion so you definitely don't want to be limited in what you can place there. With five 5.25-inch front bays for you to fill with an array of options and five hot-swappable hard drives, expansion is near endless.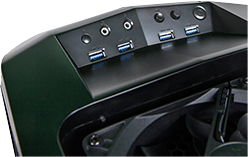 Four top mounted USB 3.0 ports, a microphone input, and a headphone input eliminate the need to reach for the back of your PC. The MILLENNIUM is equipped with essential top mounted I/O ports and buttons. With unlimited options, make your MILLENNIUM a reflection of your personal style. In addition, the MILLENNIUM includes a remote-controlled LED lighting system with sixteen color options and multiple lighting effects adding killer ambient light during those late night gaming sessions.




ORIGIN PC Millennium Desktop PC, GTX 770, Water-Cooled Intel® i7 4770 (3.4 GHz), 8GB DDR3, 120GB SSD + 1TB HDD, Window® 8.1 64-bit


$2,135

ORIGIN PC Millennium Desktop PC, Dual GTX 770, Water-Cooled Intel® i7 4770K (4.0GHz - 4.4GHz), 8GB DDR3, 240GB SSD + 2TB HDD, Window® 8.1 64-bit


$2,856

ORIGIN PC Millennium Desktop PC, Dual GTX 780Ti, Water-Cooled Intel® i7 4770K (4.5GHz - 4.8GHz), 16GB DDR3, 2 120GB SSD in RAID 0 + 2TB HDD, Window® 8.1 64-bit


$4,014

GPU

Nvidia GTX 770

Nvidia GTX 770 x 2 (SLI)

Nvidia GTX 780Ti x 2 (SLI)

CPU

Intel i7 4770

Intel i7 4770K

Intel i7 4770K

RAM

8GB

8GB

16 GB

4K Ready

YES

Water Cooled

YES

YES

YES

Storage

120GB SSD + 1TB HDD

240GB SSD + 2TB HDD

120GB x 2 SSD in RAID0
+ 2 TB HDD
Accessorize your Origin Towers