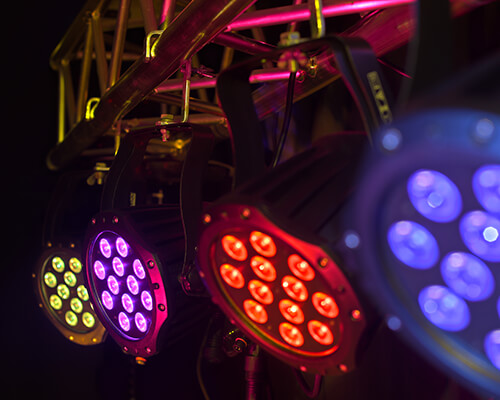 Stage Light
From lectures in large auditoriums to outdoor music shows to intimate theatre performances, stage lighting plays an integral part in setting the mood and creating a successful performance. Monoprice's Stage Right Line understands your needs and strives to create high quality yet affordable stage lighting.
We are proud to offer exceptional features with our selection of LED stage lights and accessories. Our fixtures and stage cans utilize the latest in tri, quad, and hex diodes as well as chip-on-board (COB) components technology. Lighting designers have the ability to generate a rainbow of colors to wash, flood, spot, uplight, and accent any stage, set piece, or performer. Techs can also simulate traditional and classic light sources such as tungsten, lime, and arc lights. Color changes can be made with a press of a button instead of building scaffolding or climbing ladders to change color gels.
Our LED stage lights also offer incredible savings on your electrical bills. Our Ellipsoidal 200W COB, 612751, delivers the same output and throe as a 500-750 halogen while internal dimming eliminates the need for large expensive dimmers. Our LEDs will operate for up to 50,000 hours vs. 300 hour traditional bulbs.
Whether you need an ellipsoidal or a DMX controller, Stage Right will offer you the highest quality products at fair and honest prices.