Amber 6.5-inch Carbon Fiber 3-way In-Wall Column Speaker with Ribbon Tweeter (each)
Quantity:
In Stock
This item should ship tomorrow (2/27/2017) if ordered
within 7 hours 6 minutes
Description
Amber 6.5-inch Carbon Fiber 3-way In-Wall Column Speaker with Ribbon Tweeter (each)

In-wall speakers are the ideal combination of sound quality and styling. Rather than cluttering the room with large box speakers trailing speaker wires, the speakers are virtually invisible, while filling the room with high fidelity audio. Featuring a removable and paintable grille, this 3-way speaker uses a carbon fiber woofer cone with rubber surround for deep, impactful bass, a carbon fiber mid-range driver for tight, articulate mids, and a ribbon tweeter for sweeter and smoother high frequencies.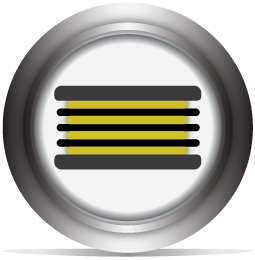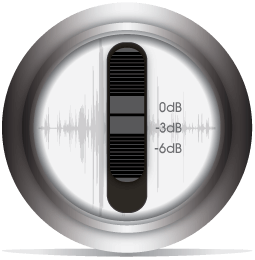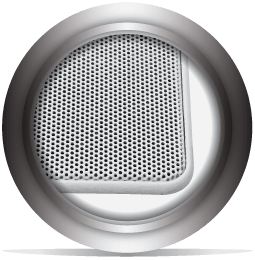 Ribbon Tweeter
Carbon Fiber Drivers
High Frequency Attenuator
Magnetic Grille
Ribbon Tweeter: A ribbon tweeter is composed of a very thin metal diaphragm suspended in a powerful magnetic field. It is capable of very high acceleration, which means that it is very responsive to musical nuances. Ribbon tweeters have a wide horizontal dispersion and a very tight vertical dispersion, thereby increasing the size of the audio "sweet spot".
Carbon Fiber Drivers: Carbon fiber is a very lightweight and rigid material, making it ideal for speaker drivers. The lightweight ensures that the driver can respond quickly to musical nuances, while the additional rigidity results in improved accuracy and a flatter frequency response. The result is a is deep, impactful bass, and tight, articulate mids, without a hint of distortion.
High Frequency Attenuator: The high-frequency attenuator can reduce high frequencies by 0, -3, or -6 dB. This allows you to fine tune the speaker's high-end response to compensate for a particularly "bright" listening environment.
Magnetic Grille: The removable grille attaches to the speaker using powerful magnets, to ensure that the powerful bass does not cause rattle. The grille is paintable and features a slim bezel, allowing it to more easily blend into your home's decor.
Higher sensitivity, deeper bass,
and higher power handling
---
Carbon fiber is a lighter and stiffer material than what is normally used in speaker drivers. This means that the drivers can respond quickly to musical nuances, are more accurate, and have a flatter frequency response. The result is deep, impactful bass and tight, articulate mids, without a hint of distortion.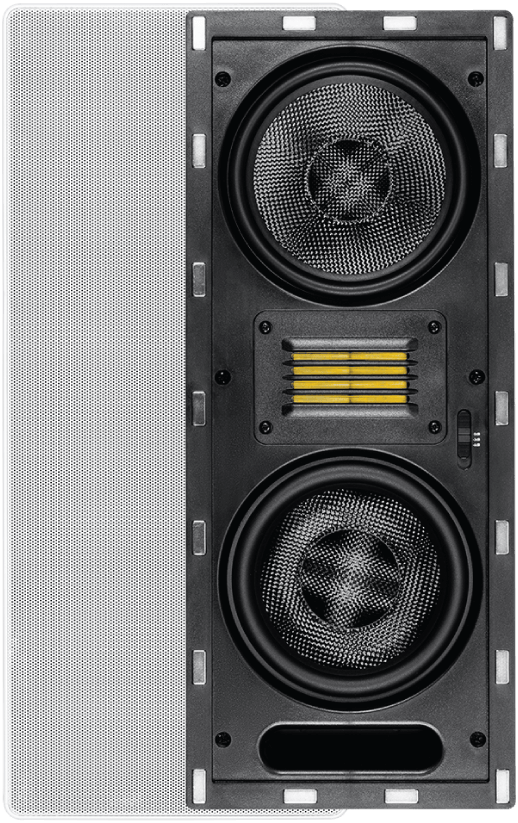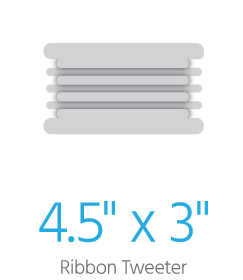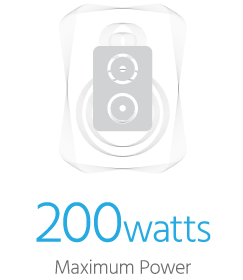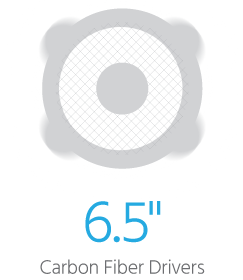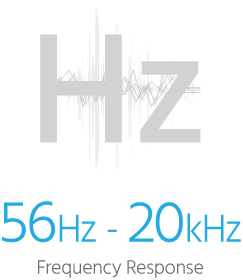 4.5" x 3" ribbon tweeter
100 watts RMS, 200 watts maximum power handling capacity
6.5" carbon fiber bass and mid-range drivers
56 Hz to 20 kHz frequency response
8-ohms nominal impedance
Removable and paintable grille
89dB sensitivity
Magnetic grille
---
Tools Recommended for Installation

Stud finder
Carpenter's level
Marking pen or pencil
Drywall cutter
14AWG CL2 in-wall rated speaker wire (SKU 3845)
Wire strippers
Phillips screwdriver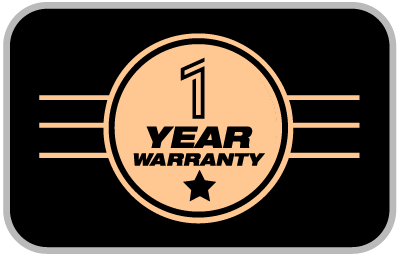 Warranty
Monoprice not only stands behind every product we sell with a 1 year replacement warranty, we offer a 30-day money back guarantee as well! If the product you purchase does not satisfy your needs, send it back for a full refund.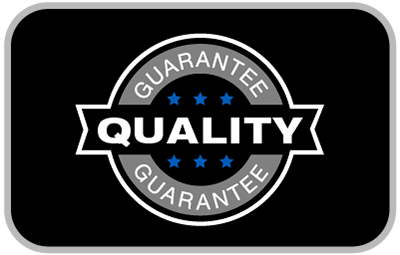 Quality at a Fair Price
Monoprice's rugged design and rigid quality control standards deliver high quality products at fair prices.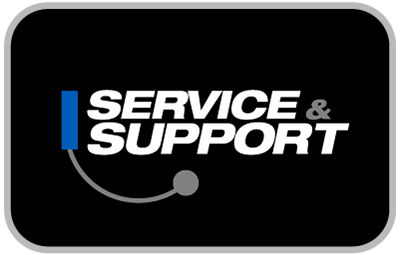 Service & Support
You're never on your own with Monoprice products! We have a full team of friendly and knowledgeable technicians available to answer your questions, both before and after the sale. Contact our technical support team for questions about our products, troubleshooting, or even suggestions for products to fit your particular needs. Not to be outdone, our friendly and helpful customer service team is here to make your ordering, delivery, and any possible returns a quick and painless operation, from start to finish!
Full Specs
Type
3-way in-wall
Woofer
6.5" carbon fiber woofer
Mid-Range
6.5" carbon fiber woofer
Tweeter
4.5" x 3" ribbon tweeter
Frequency Response
56 Hz ~ 20 kHz, -3dB
Nominal Impedance
8 ohms
Power Handling Capacity (RMS)
100 watts
Power Handling Capacity (Max)
200 watts
Sensitivity
89dB
Overall Dimensions
8.2" x 19.2" x 3.6" (207 x 487 x 91 mm)
Cutout Dimensions
6.7" x 17.7" (170 x 450 mm)
Weight
7.8 lbs. (3.54 kg)
Wow....Amazing. DO NOT hesitate to purchase these speakers.
I looked at these speakers for about 2 months before finally purchasing them. So, to be completely honest, I really thought that Monoprice was deleting negative reviews. But I decided to give the following speakers a try ( 2 sets of Alpha In Ceiling Speakers 8 Inch Carbon Fiber 2-way (pair), 2 Amber In Wall Speaker 8-inch 2-way with Ribbon Tweeter (single), 1 Alpha In Wall Center Channel Speaker Dual 5.25 Inch Carbon Fiber 2-way (single), and 2 Amber 6.5-inch Carbon Fiber 3-way In-Wall Column Speaker with Ribbon Tweeter (each).) I purchased these speakers for a Dolby Atmos Home Theater set up. I have these speakers connected to a Onkyo TX-RZ810 receiver. I cannot say enough good things about these speakers. They are very Crisp, and have a very clean and clear sound. The speakers look absolutely amazing as well. I wish I could upload some pictures to show how well they look. I would not hesitate on purchasing these speakers. You WILL be satisfied.

PROS: Great Speakers, Great Price, Look beautiful.

CONS: Shipping is higher than it should be. (Not really a default of the speakers, but I wish Monoprice would have better shipping rates)
Awesome speakers!
Awesome speakers and I can't believe they are so clear! I had the yellow cone speaker from Monoprice and loved hem too but these are truly exceptional. Highly recommended.
February 7, 2017
Purchased
4 months ago
Good speakers but..
Don't get me wrong. These speakers sound good. Almost as good as my custom made mains I've been using, but....This is probably my fault for not looking closer. I bought these speakers and a set of the 8" 2 way ribbon tweeter speakers also. I assumed the mounting would match but the grills attach in a completely different way. These are magnetic and very sleek looking. The 8"s have a permanent trim about 1" wide that the grills press into. Not a huge issue, and like I said probably my own fault but probably should have bought the other kevlar series that have magnetic grills because they look much better.
Also, on one of the two of these i bought the mounting tabs that are inside the wall broke during installation. I mounted 4 speakers and only this one broke, so I'm guessing it is defective. I'm requesting a replacement so hopefully I can give these a higher recommendation. They really are great little speakers for the price. I have them in a fairly large room with vaulted ceilings and they do sound absolutely fantastic. 5 stars for sound and looks. 4 stars for mounting. Very disappointed I'll have to return one speaker and have to live with a hole in the wall until I can get a replacement.
February 9, 2017
Purchased
1 month ago
SIGN UP FOR EMAIL DEALS