HOME > Company Information
Company Information
About Us
Monoprice, (DBA. MonoPrice.com) Inc. is an eCommerce leader specializing in high quality cables, components and accessories for computer and consumer electronics. Established in 2002, we have built our reputation by the word of mouth of our customers. The Monoprice brand's greatest claim to fame is our consistent ability to deliver premium quality products on par with the best known national brands at prices far below the retail average along with unmatched speed and service. Many of our products are produced in ISO9001 and ISO14001 facilities and maintain the highest standards for production and work environment. Currently, the vast majority of products we sell are RoHS compliant, reducing their environmental impact. We are a CCR Trading Partner, a Better Business Bureau Accredited Business and have been named an Inc 500 company for the last 3 years in a row, 2008, 2009 & 2010.
We review thousands of products in search of the best products and value to bring to our customers. Our product catalog currently includes thousands of home theater products, PC peripherals, and other accessories.
Our overall business philosophy focuses on the needs of our customers. We consistently strive to deliver higher quality products in less time and at a lower cost and our huge inventory is ready for immediate delivery.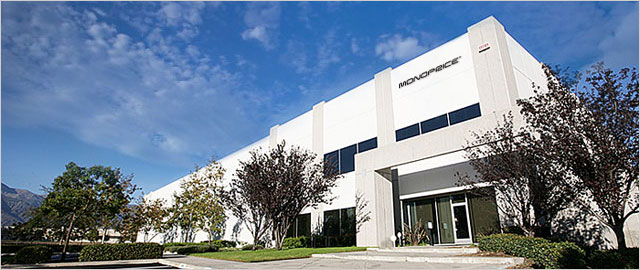 Why Our Prices are the Best
Customers often ask us how we can maintain our business when we sell at such low prices, especially considering the high quality of the merchandise we deliver. Monoprice's formula is simple, we eliminate the high costs of fancy packaging and middlemen while leveraging economies of scale by purchasing in large volumes. You, as a customer, are only paying for the materials and workmanship of the cables and accessories. We go further to ensure customer satisfaction by pricing our products as closely as possible to the wholesale cost.
Another simple way to look at it is this; with regards to cables for example, though the cost of commodities such as copper, silicon, plastics and labor maybe high, in a high volume production would the cost of each component that goes into the manufacture of a cable really add up to the price you paid at the retail store? In other words, does the sum of its parts add up to what you paid for that 6 foot cable? Chances are, if you bought it from somewhere else, it does not. The fair price is what you'll find on our site.
Because we remain highly focused on customer satisfaction, we like to think of Monoprice.com as a service rather than a store. Please don't forget to check our resellerratings.com customer ratings and reviews. If you haven't yet purchased online, this is the best way to start!!
Getting The Most For Your Money
It's not just about getting a great price. There's no sense in buying a product that doesn't perform or won't last. Quality is a high priority at Monoprice. In addition to the comprehensive testing that is done at the factory level, we have a local product testing lab and experienced technicians that test new products as well as sample test current items to make sure that quality standards are being adhered to.
The results of these efforts have been supported by the high rankings given by users in the product reviews on our website and in professional reviews by well known technology media.
A few websites that have reviewed or mentioned our products include:
Cnet
Gizmodo
Audioholics
Engadget
New York Times
CNN Money
GeekBrief.TV
Maxim Magazine
A quick search on AVS Forum and YouTube will also result in many positive user reviews of our products.
Rapid Growth and Order Fulfillment
In a fairly short time, Monoprice has grown from a small in-home operation to huge enterprise employing over 150 full and temporary employees. The company has recently moved to a 173,000 square-foot centralized office and warehouse facility with plans for further expansion for greater coverage in the future. New automated and computerized order fulfillment systems have been implemented to ensure greater accuracy and efficiency. We are constantly looking for ways to improve the order fulfillment process including better ways to train customer service and warehouse personnel, stronger supply side relations and using the latest warehouse technologies.
Privacy and Security
At Monoprice.com, we understand and respect your concern about the privacy of any information you supply while on our site. We do not sell or share information about our customers to any third parties. Any information we collect from you is only used in fulfillment of your order. Please see our privacy statement for more information.
Office Address
Monoprice, Inc.
11701 6th Street
Rancho Cucamonga, CA 91730
Telephone : (877)271-2592
Fax : (909)989-0078
Customer Support Hours

Telephones

Monday ~ Friday:

6:00AM ~ 7:00PM PST

* Technical Support is not available by telephone. Please use Live Chat if you have any questions regarding technical support for products.

Live Chat

Monday ~ Friday:

6:00AM ~ 7:00PM PST

Saturday ~ Sunday:

9:00AM ~ 6:00PM PST
Will Call Hours

Monday ~ Friday: 9:00AM ~ 6:00PM PST